SAN TAN VALLEY — There will be many familiar faces on the junior college softball diamond the next few years as more and more Pinal County athletes are signing with in-state schools.
On Friday morning, Poston Butte's Kayla Lopez and Dawn Morris signed their letters of intent to continue playing ball at Central Arizona College and Paradise Valley Community College.
Poston Butte head coach Rob Westover has coached both Lopez and Morris since middle school and had a front row seat to witness their growth for nearly half a decade.
"Both have excelled well in the classroom and have definitely represented our school well," Westover said. "These girls, they leave everything on the ball field for us, they work extremely hard. It's been amazing to see their growth and maturity levels come a long way."
While it's not direct, there's always some type of connection between the game of softball and legendary coach Mike Candrea.
Before taking over the University of Arizona program, he coached at CAC, which is where Lopez is headed.
The Candrea connection with Morris is through her next head coach, Nick Candrea, Mike's older brother.
"I've never had a left-handed pitcher in 15 years, so that I'm looking forward to because it's so hard to find pitchers," Paradise Valley coach Candrea said. "One of the things about today is it's great to have athletes who also excel in the classroom, that's the most important things now-a-days. When I recruit, very seldom do I talk about softball, but I talk a lot of academics because that's what it's all about."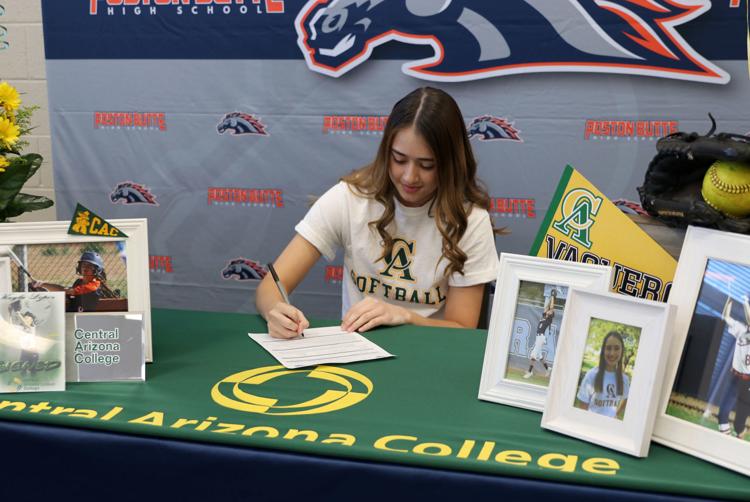 Lopez added her name to a long list of Pinal County athletes to be part of the CAC softball team. She is also the second in her family to sign on to play in college, as her older sister Lindsay is a pitcher at Arizona State.
"Ever since I saw her sign, it's made me want to experience that too," Lopez said. "I want to keep playing what I love to do."
Lopez has been playing softball since she was eight and over the past two seasons with the Broncos, she has a .337 batting average with a .523 slugging percentage. She also has a .900 fielding percentage with only two errors.
The speedy outfielder decided on becoming part of the storied CAC program, after she garnered a lot of interest from head coach Shelby Davis and the rest of the coaching staff.
"They were very welcoming and after I started talking to them, they seemed really interested with the videos that I was sending them," Lopez said. "The campus was really nice, and it was really close to home, but I'll be able to stay in the dorms and experience that."
Lopez really emphasized that the dorm life is what she's really looking forward to and being able to live on her own.
"I feel that if I went out of state, I'd probably be more homesick," she said. "Just knowing that I'm closer but still having that experience and not taking that giant step where I feel like I'm not really ready. But hopefully transferring somewhere else once I'm ready."
Academically, she's interested in animal science but doesn't know what exactly. All she knows is she wants to do something with animals.
Like other spring sport athletes Lopez is hoping she gets one final season with her teammates before heading off to college.
"I want to play as much as I can," she said. "Just get my name out there, get good stats and play with everyone one last time."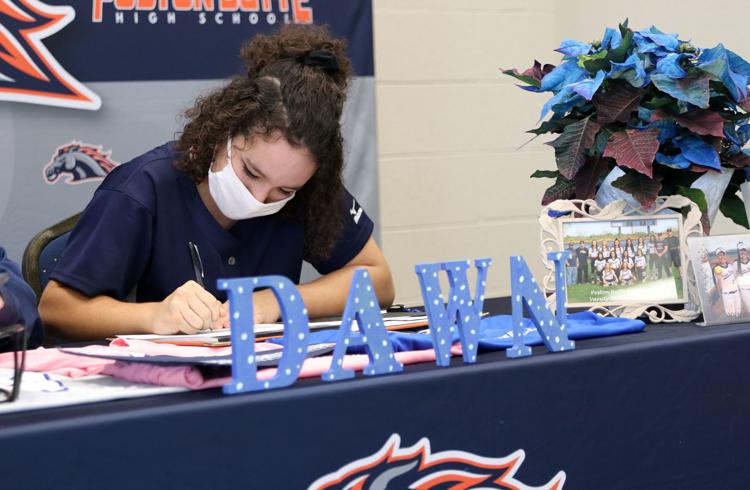 Similar to her two other teammates who have signed on to play college ball, Morris initiated the communication with Paradise Valley by sending footage to the coaches.
"I was just emailing a lot of coaches thinking maybe one will answer and eventually, a couple of weeks later there was an email," she said. "I was like, 'Oh my goodness, he's actually talking to me.' It was so exciting."
Morris has seen a lot of time in the batter's box for the Broncos in two seasons; she has 12 extra base hits, 23 RBIs and a .419 batting average.
Her high school appearances have been limited in the circle, since last year's season was canceled early on due to COVID and the year before that, Lindsay Lopez dominated the circle.
"It's really awesome," Morris said about being recruited as a pitcher. "I've worked a lot, I play outfield a lot when I needed to but when I wasn't at a game, I was practicing either for school or club, and I was pitching. I've been pitching for seven or eight years and it's come to this point where I've worked hard enough to earn my spot and it makes me feel really honored about myself because I've come to the point where it's, 'Wow, I've made it. Look at me now.'"
Morris added that she's looking forward to just going to college in general. Even if she wasn't playing softball, she's proud that she can continue on with her academics.
Morris is also interested in working with animals and the veterinarian program at Paradise Valley really caught her attention.
"Just the thought of helping out, even if it's just a little thing like a check-up or whatever, that just makes me feel good inside knowing that I helped somebody's companion and it's super fun," she said. "I'm super interested in it, especially like the lab stuff, that's really interesting. The analysis and stuff, and seeing if they have any diseases or illnesses and if you can figure that out then you can help them and it just makes me feel like I belong in that place."
Once their senior season concludes, Morris and Lopez will go from teammates to opponents when they suit up for their respective colleges.
As past Arizona Community College Athletic Conference schedules show, the Pumas and Vaqueras play four games during the regular season.
Both Morris and Lopez are focused on their last season of being teammates.
"That's for when the time comes," Morris said. "It's just a game, that's all I'm there for."
Lopez added, "I'm sure we'll still be friends, we're just going to make it fun."