QUEEN CREEK — Some San Tan Valley residents got their wish Wednesday to be on their way to becoming part of an incorporated town.
The Queen Creek Town Council voted unanimously to approve the annexation of Ironwood Crossing, located in the northeastern part of San Tan Valley off Ironwood and Pima roads.
Beth Riley and Nancy Naylor, who helped organize the annexation process, sat in the front at the Town Council meeting awaiting the yes vote they expected.
Riley said that after putting so much time into the process, Queen Creek, which is mainly in Maricopa County, wasn't going to vote it down.
Riley, Naylor and other residents had previously gone to the Town Council to express their enthusiasm for joining the town of Queen Creek wearing shirts that read, "IC (heart symbol) QC."
"We relate geographically better to Queen Creek with your marketplace and all of your retail shopping and entertainment," Naylor told the council. "We are excited about the public safety tax. That provides us with more value at considerably less cost than the private service we currently have.
"We love the fact that we get phenomenal police protection on top of (the Pinal County Sheriff's Office)."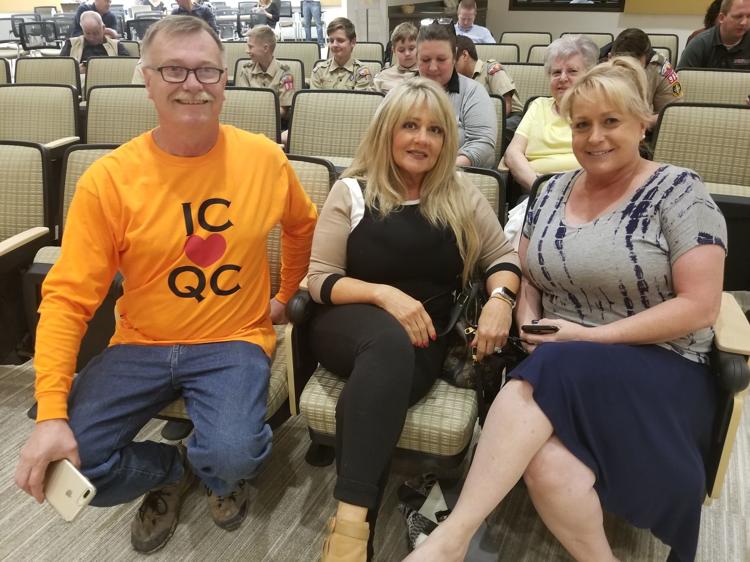 The council voted without deliberation and several council members commented to warmly welcome Ironwood Crossing into Queen Creek.
"I want to recognize residents from Ironwood Crossing and welcome them into our wonderful town," said Mayor Gail Barney.
"There was the rumor in San Tan Valley that we only care about commercial," said Councilman Jake Hoffman. "We are very excited to have you."
The vote came on the heels of an announcement by the steering committee for Vote San Tan Valley that incorporation efforts in their current form were dashed after Shea Homes decided not to give permission to be included. Ironwood Crossing had also been included in the committee's map, but many residents had been vocal in their opposition to being included. They wanted this result, to be annexed into Queen Creek, all along.
Riley was excited about the victory but still wary about the 30-day period in which someone could legally protest the annexation, and said that many entities oppose the annexation, including the Rural Metro fire service company, which stands to lose a large number of paying customers in the neighborhood.
The community had been hit with a deluge of mail fliers trying to convince residents not to annex.
Riley said that opponents "try and challenge the legality of everything. They don't really think they are going to win. It's a nuisance."