SAN TAN VALLEY — The Arizona Department of Transportation, in conjunction with the Federal Highway Administration, has begun construction of the Interim Phase II section of State Route 24, also referred to as Gateway Freeway.
This week workers began paving a section of the new freeway.
This section includes approximately 5 miles of new freeway extending from Ellsworth Road in Maricopa County to Ironwood Drive in Pinal County.
The Interim Phase II segment of SR 24 follows the completion of Phase I in 2014, which opened the segment of freeway between SR 202 (Loop 202/Santan Freeway) and Ellsworth Road.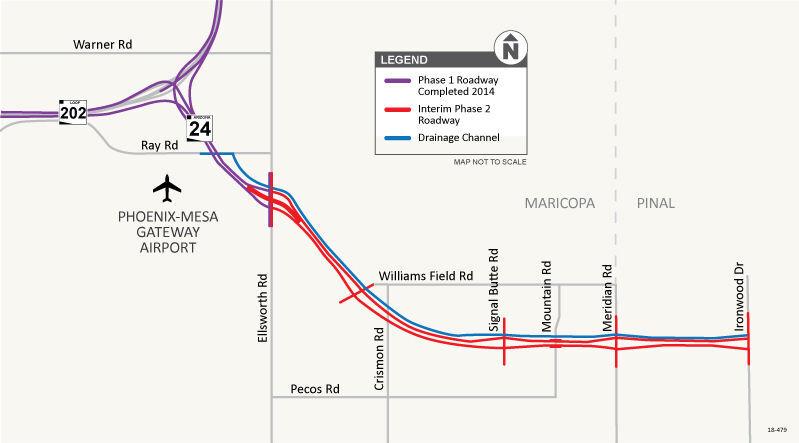 Since the ultimate build-out of SR 24 is not anticipated until Phase V of the Maricopa Association of Governments' Regional Transportation Plan, ADOT and FHWA have planned for an interim facility that will help serve the transportation needs of the region until additional funding is made available.
Project elements include:
Two paved lanes in each direction separated by a graded median.
At-grade intersections at Williams Field Road, Signal Butte Road, Meridian Road and Ironwood Drive.
Bridges over Ellsworth and Mountain roads.
A drainage channel along the north side of the freeway.
Signage, traffic signals, lighting and pavement marking, as necessary.