QUEEN CREEK — Kevin Costner is well-known as a two-time Academy Award-winning actor and star of the hit television series "Yellowstone."
He's also a musician and on Sunday, Nov. 7 — the same day as Season 4 of "Yellowstone" premieres — Costner and his band, Modern West, are scheduled to perform a show at Schnepf Farms.
The show is part of the Kevin Costner & Modern West "Tales from Yellowstone 2021" tour, which promotes the band's album by the same name.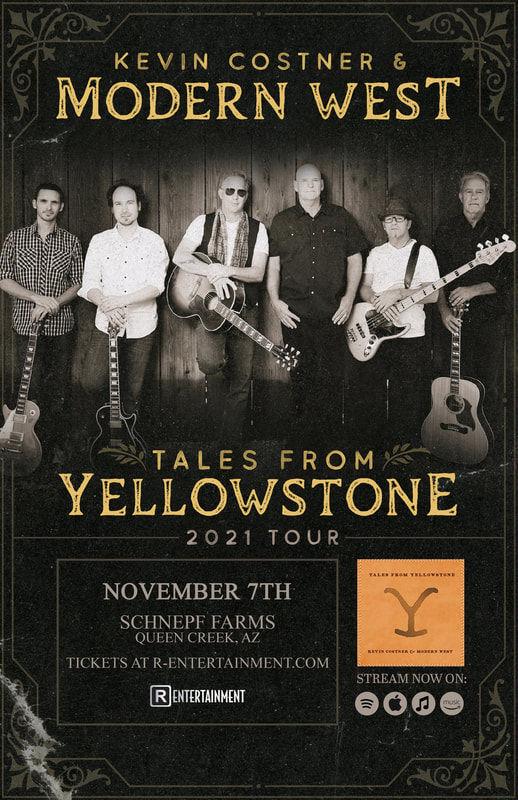 Costner and co-writers wrote the songs on the album. While some of the songs are personal and inspired by Costner's own life, others are inspired by the character he plays in "Yellowstone."
The song "Won't Stop Loving You" is about the Yellowstone character, John Dutton, losing his wife, a press release from concert promoters said.
"It begins to sum up how he (John Dutton) feels," Costner said in the press release. "This man is about the land. And when you share the land with your partner, every place you ever go, you see her on it. He's a man going forward but you never forget the moment. It's immovable. I don't have to look any further than my own life to find what was the strength of it for me."
As well as Costner as the frontman, singer and guitarist, Modern West also includes John Coinman, Blair Forward, Teddy Morgan, Park Chisolm and Larry Cobb, according to the group's website.
Costner founded the band in 2007. Since it began, the group has released four studio albums and has had several tours, performing in spots around the globe sharing their music.
"Untold Truths," the group's first album, was released in 2008 and reached No. 61 on Billboard's Top Country Albums and No. 35 on the Top Heartseekers chart.
The group's second album, "Turn it On," was released in 2010.
Songs from "Tales from Yellowstone" were featured in the third season of the television show.
Tickets go on sale Friday at R-Entertainment.com. Ticket prices range from $50 for general admission to $300 for VIP seating.