PAYSON — Redistricting has already given Republicans improved odds of taking over the House of Representatives in 2022 — especially in the Arizona delegation.
Two Arizona congressional seats now held by Democrats will most likely go to Republicans, including the sprawling District 2 — which includes Gila, Navajo and Apache counties, according to an analysis by the Cook Political Report.
Democrat Tom O'Halleran, a moderate Democrat elected three times in what was the most competitive district in Arizona, now finds himself in a "likely Republican" district, according to the Cook Political Report.
State Rep. Walt Blackman, R-Snowflake, is seeking the Republican nomination to run against O'Halleran in the redrawn district. Blackman has so far emphasized the unsubstantiated idea that the 2020 Arizona presidential election was stolen, as well as the claim that Democrats want to force schools to teach critical race theory in K-12 schools.
Incumbent Republican U.S. Rep. Paul Gosar, R-Prescott, has said he will move to the new Congressional District 9, which has an iron-clad Republican majority.
Democrat Judy Stahl, a health care consultant, has dropped her run for the District 2 seat to endorse O'Halleran. She had originally launched her campaign to run against Gosar, when Gosar and O'Halleran lived in different districts.
The Cook Report also classified the new Arizona District 6 — with no incumbent — as "lean Republican." The district covers much of southeastern Arizona — although Tucson is in adjacent District 7.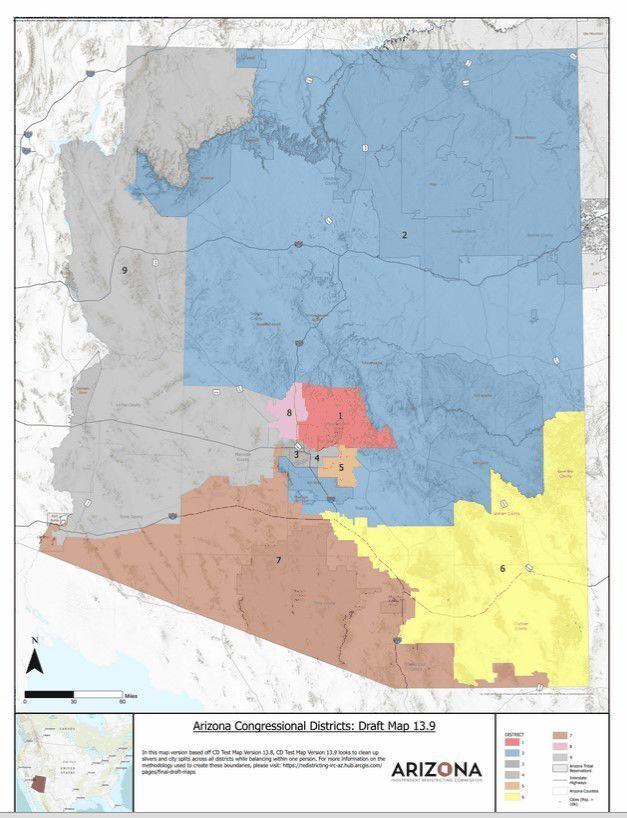 Currently, the Arizona congressional delegation includes five Democrats and four Republicans. If the new District 6 goes Republican and O'Halleran loses his re-election bid, the delegation would end up with three Democrats and six Republicans.
Nationally, redistricting so far has produced 115 safe Democratic seats and 113 safe Republican seats. This means the election will come down to 20 seats that lean Democratic, 14 seats that lean Republican and 14 toss-up contests.
This could mean that a flood of national political money will gush through the state, especially in O'Halleran's District 2 — which has a roughly 7% Republican advantage and includes Flagstaff, Rim Country, the White Mountains, the Navajo, Hopi and Apache Reservations and a chunk of Pinal County. The Independent Redistricting Commission's consultants calculate that Republicans would have won in the redrawn district in each of the last nine statewide contests.
Nationally, five seats held by Democrats are now in the "lean Republican" or "likely Republican" category — including O'Halleran's seat. Only one Republican seat shifted into the "leans Democratic" category.
In the "tossup" category, Democrats hold eight seats and Republicans hold six.
Nationally, the redistricting struggle has given the Republicans an advantage going into the 2022 elections. Currently, Democrats have a 10-seat advantage, plus two independents who most often vote with the Democrats. Based solely on Redistricting so far, Republicans could expect to gain four seats — and enjoy an advantage in the toss-up contests. The odds could tilt further as more states finish their redistricting plans, since Republicans have uncontested control of more state legislatures. The US Supreme Court has curtailed federal oversight of state redistricting plans, leading to an increase in partisan gerrymandering.
Peter Aleshire is consulting publications editor for the Payson Roundup and White Mountain Independent, divisions of Kramer Media. He can be reached at paleshire@payson.com