CASA GRANDE — While Union Pacific Big Boy No. 4014 is scheduled to spend the night in Casa Grande on Wednesday the historic train will not be accessible to the public during the stop.
The Casa Grande visit, which originally was scheduled as a stop at West First Street and West Wilson Street, is listed as "No Public Access" by officials scheduling the train's heritage tour of the Southwest.
"Our Casa Grande stop has no public access due to safety and security concerns, so the public won't be able to view the train at that location," said Tim McMahan, media contact for Union Pacific. "There should be a number of public areas where folks will be able to get a good view of the train."
Those wishing to get a close-up look at the train will have to watch as it enters Casa Grande from Gila Bend on Oct. 16 or departs the following morning on its way to Tucson.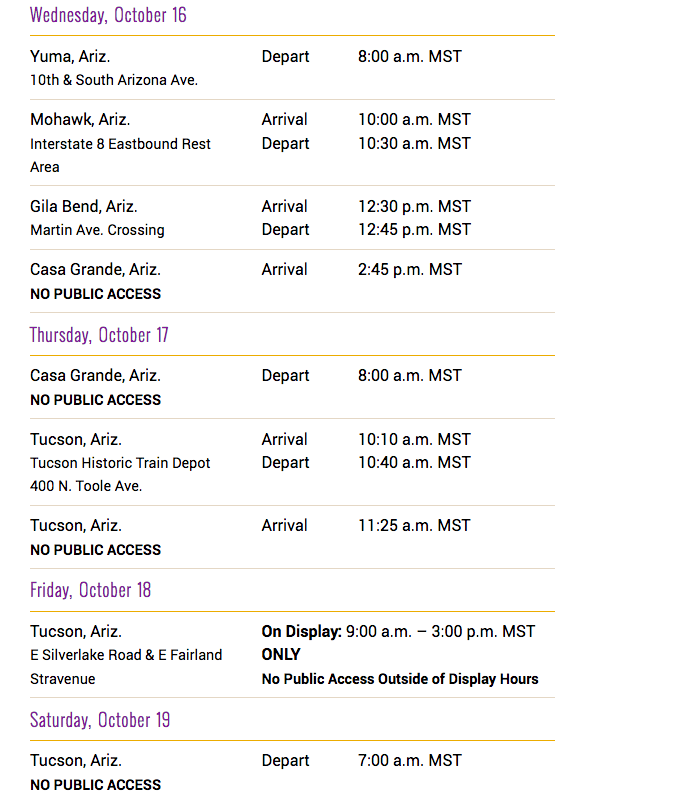 The nearest scheduled stops along Big Boy's route on Oct. 16 are:
Gila Bend, from 12:30 to 12:45 p.m.
Mohawk, near the Interstate 8 eastbound rest area, from 10 to 10:30 a.m.
Big Boy's first stop in Arizona is in Yuma, where it's scheduled to arrive at 4 p.m. on Tuesday. It departs Yuma at 8 a.m. on Oct. 16 on its way to Mohawk.
UP's Steam Tracking Map, online at upsteam.com, shows the route the train will take.
"The best bet is to use our Steam Tracking Map, which shows the Big Boy's entire route including into and out of Casa Grande," McMahan said.
On Oct. 17, the train is scheduled to depart Casa Grande at 8 a.m. en route to Tucson. It is scheduled to visit at the Tucson Historic Train Depot, 400 N. Toole Ave., from 10:10 to 10:40 a.m.
It will be on display on East Silverlake Road and East Fairland in Tucson from 9 a.m. to 3 p.m. on Oct. 18.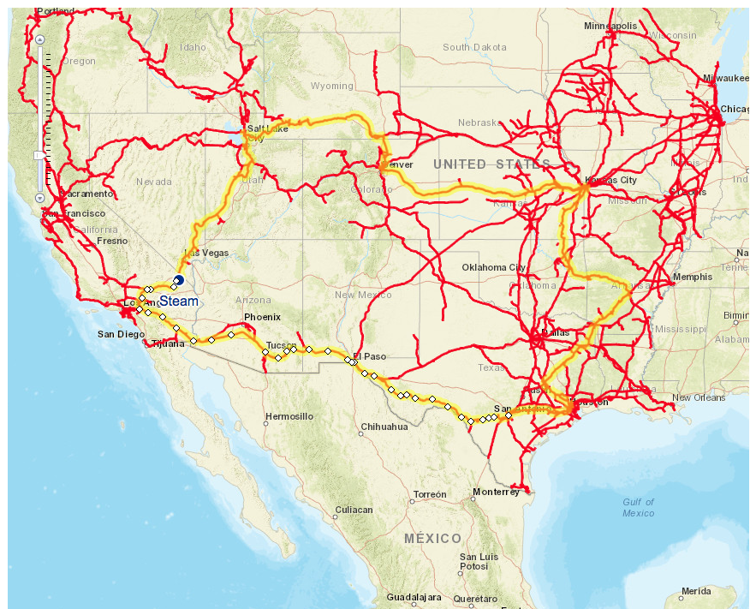 Other Arizona stops set for Oct. 19 are:
Benson, 8:45 to 9:15 a.m.
Willcox, 11 to 11:15 a.m.
Bowie, noon to 12:30 p.m.
The train is scheduled to arrive in Lordsburg, New Mexico, at 3:30 p.m. on Oct. 19.
Those wishing to see the train during stops or as it travels should remain at least 25 feet back from the railroad tracks and refrain from trespassing on railroad property, UP's website says.
This year marks the 150th anniversary of the first transcontinental railroad. The heritage tour is part of the celebration.
Twenty-five Big Boy steam locomotives — named for their size of 132-feet in length and about 1.2 million pounds — were made for Union Pacific in the 1940s and '50s.
"During World War II, Union Pacific operated some of the most modern and powerful steam locomotives ever built. Among them were the famous Big Boys, the largest steam locomotives in the world," UP's website says.
Locomotive No. 4014 is the only operating Big Boy. It was delivered to Union Pacific in 1941 and was retired in 1961 after traveling more than 1 million miles, according to the railroad's website.
It underwent a multimillion-dollar restoration in 2013 and was returned to service to celebrate the company's 150-year anniversary.