MARICOPA — Three new male cheerleaders are joining the ranks of Sequoia Pathway Academy cheer team ahead of their 2021 competition season, bringing a new dynamic to the team.
The boys are three of eight new recruits gearing up for competition season, and they will come together with middle and high school cheer teams for a large competition team of 27.
Head Cheer Coach Patty Torbert said the boys and additional teammates were added after a recent tryout held post-football season.
"One girl — her boyfriend was actually on the football team. She recruited him and then a couple other boys just kind of joined. They had never cheered before, but they were curious about trying it out," Torbert said. "It was definitely the girls' persuasiveness that brought them out. And then now that they realize that they actually enjoy it, that's why they've stayed."
The three boys are the first male cheerleaders in the history of Pathway, and provide valuable strength to the team. Torbert says she mainly looks for the skills that come naturally: teamwork and drive.
"For me, being dedicated and trying new things and having the heart to do it are more important to me than the talent — the talent can be taught," Torbert said. "A lot of the boys were kind of intimidated about coming, they're like, 'We can't do a split, 'We can't do a jump,' And I'm like, 'That's not what I need, I need people who are going to be punctual and show up and do a good job and be supportive of their team.'"
The boys will be asked to do technically challenging stunts, pyramids and routines alongside their teammates as part of their role on the team, and Torbert says they are already progressing.
Carter Nebeker, 15, is one of these new additions. At 6 foot, 6 inches tall, he is a force on the court and is excited to become a member of the team. Torbert's values are clear in her choice of Carter, who saw cheer as a great way to expand his teamwork capabilities.
"One of the main reasons why I like it is, not only am I being able to show cooperation with other people, but (also) team building," Carter said. "What I'm most excited about is being able to work with everyone, and try out new things."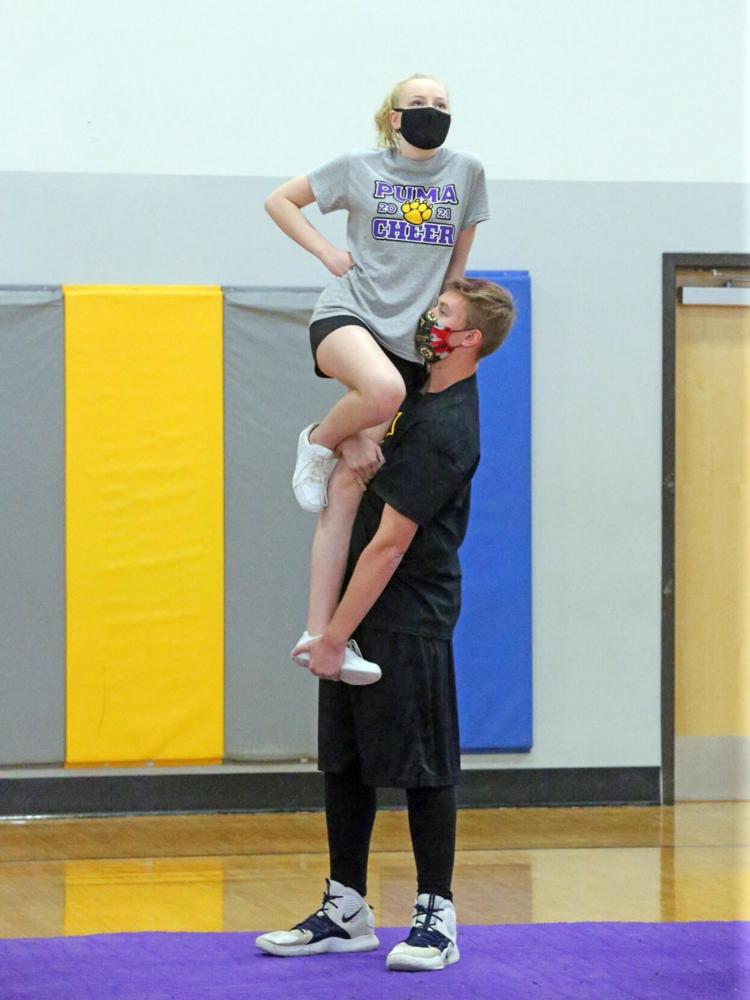 He originally played basketball, but lost interest in the sport as he grew up. He then went after the mascot, but it was filled by a close friend, so instead he chose Cheer.
His parents were excited when he told them he'd made the cheer team, and his mom says it's indicative of his hard working attitude on and off the court.
"He's a hard worker," said Jen Nebeker, Carter's mom. "He and (his brother) have both been entrepreneurs, they've had their own business since they were 10 and 11."
Carter has kept side jobs throughout his teen years, even paying for his own membership fee for cheerleading.
"It was important for him to do that on his own, he didn't want to have to ask us for money," Nebeker said. "So he asked me to make a post on the Maricopa (Facebook) page to see if anybody had yard cleanup or work that they needed done so that he could earn the money for here — and he did, he made it in like four days."
Carter is now booked through January with lots of different odd jobs to fund his cheer commitment, and Nebeker said some people even reached out with donations. One woman who donated told Nebeker that her male high school friend had been forbidden by his parents to become a cheerleader, something that was echoed by many adults in the comments of Nebeker's Facebook post.
This is a belief that is all too familiar to Torbert. She hopes that by being the first, Carter and his teammates will help change the discussion about cheerleading.
"Maybe they'll inspire some other boys to come out and realize that it's not just 'the girl sport,' it's an all-person sport." Torbert said. "I think once people see how much work goes into it and how technically hard it actually is, that it might drive some others to come out and join the team next year."
Nebeker said she and her husband are fully supportive of their son's choice in sport, though initially surprised.
"He waited to tell us until he could make sure that that's what he wanted to do and see what he was in for and he's doing great with it," Nebeker said. "It was really neat to kind of see how the community supports it. There's always gonna be the people that kind of make fun of it, but he loves it — he doesn't care."
Now that Carter successfully funded his participation, the next step is to put in an order for team uniforms. But ordering for Carter is a tall order, literally. Torbert will need to find dress pants and a uniform shirt to fit his 6-foot-plus frame, and find cheer shoes in a size 18.
In the meantime he is working hard in practice, waking up early to head to the gym, and has already started some of the stunts they will be debuting this next semester.
"They needed some help with back spotting and they needed someone to make them stand out more. I'd say that they've gotten a lot more attention," Carter said. "We've been really improving recently on a lot of stuff now that we have a couple new hands."
Torbert has noticed a shift in the team since the boys' arrival, something that may give them an edge in their upcoming tournaments.
"Having the male cheerleaders on the team actually really changes the dynamic with all the girls," Torbert said.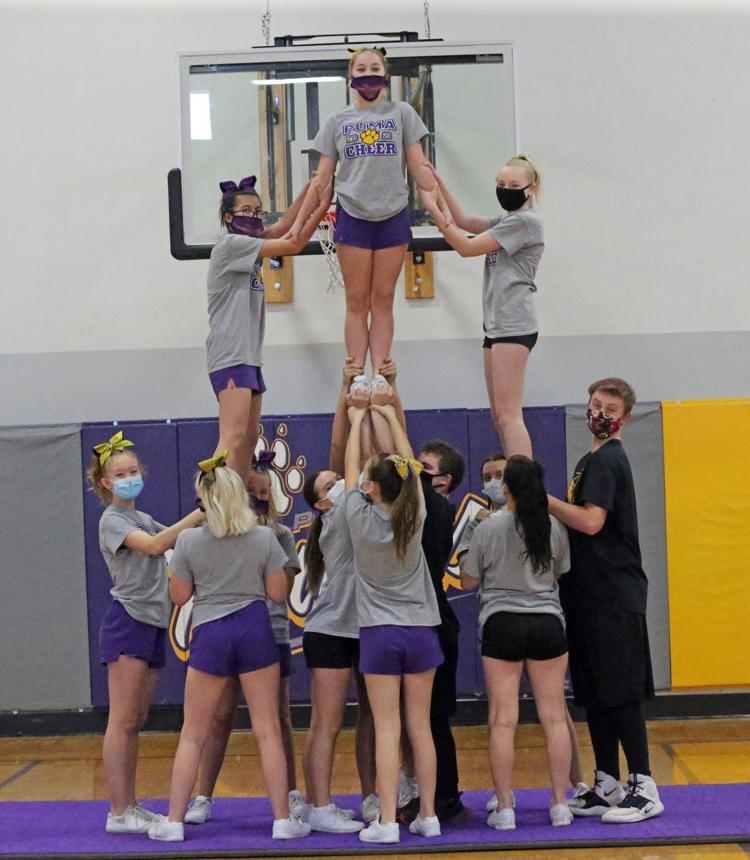 The senior level one team will most likely be competing virtually at first due to COVID, and might need to change categories in competition to accommodate their new co-ed roster. Torbert says the expansion is welcome.
"I'm really excited that we have such a large team this year, and I'm just going to keep building the program," Torbert said. "I'm looking forward to how the season goes."