MARICOPA — Danica Gutierrez strikes out boys on a baseball diamond and runs her opponents ragged on a softball field. She plays six or seven days a week and even wears out her coach and father, Daniel Gutierrez.
"There are days I don't want to go out there and she tells me, 'Let's go,'" Daniel said.
Danica's work paid off when she earned an all-expenses-paid trip to Cleveland earlier this month as a national finalist in Major League Baseball's youth skills competition Pitch, Hit & Run. The 12-year-old from Maricopa finished in second place among the three finalists in her division of 11- to 12-year-old softball players.
The competition, held July 6 at Progressive Field, home of the Cleveland Indians, was part of a week of activities surrounding the All-Star Game.
As a national finalist, Danica toured Progressive Field, including the clubhouse, and spent time at Play Ball Park, a five-day interactive baseball festival. Danica got a baseball card made with her picture and wore a wristband that allowed her to cut to the front of lines.
"It was fun, cool, awesome," she said.
She attended the celebrity softball game and the MLB Futures Game. She received a plaque for her second-place finish and a swag bag with uniforms, clothing, batting gloves and caps.
"They treated her special," Daniel said.
Danica's favorite part of the trip was shagging balls in the outfield during the major league Home Run Derby and the buffet breakfasts, where she estimates she ate about "6 pounds of bacon" during the four days she was there.
Each participant in Pitch, Hit & Run is scored in three areas. Pitchers throw six balls to try to hit a designated strike-zone target. Hitters hit a ball from a tee, and their results are measured for distance and accuracy. Runners' speed is measured, as they run 120 feet from second base or a designated line to home plate. Runners must touch third base and the plate.
To reach the national finals, Danica had to work her way through three levels of competition.
The first competition was locals, organized by Maricopa Little League and held at Copper Sky Regional Park. The winners in each of the three categories and the overall winner advanced to sectionals. Often, someone different wins each category, and three or four competitors advance. Not this time. Danica won each category and was the overall champ.
At sectionals in Casa Grande, Danica again swept all three categories and was the all-around champion. As impressive as that was, it didn't automatically qualify her for the next level.
The third and final level before nationals is the MLB Team Championship hosted by the local major league team. Although there are more than three sectional champions in the Diamondbacks' (or any major league team's) designated area, only the three with the best overall scores are invited. About a week before the Team Championship, the Gutierrezes received a phone call. Danica made the cut and was invited to Chase Field.
Danica was the top performer among the three qualifiers, joining 29 other girls around the country as MLB team champions in the 11-12 softball division. Only three of the 30 would be invited to nationals. The three qualifiers were Danica; Mariah Harrison of Fort Mitchell, Alabama; and Elizabeth Peery of Ridgefield, Washington. Harrison won, with Danica second.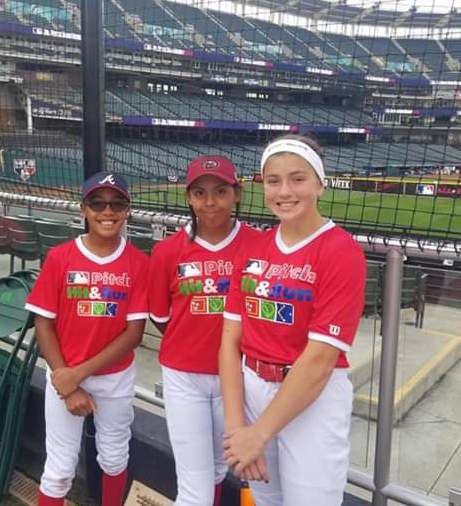 Competing in the first three rounds, "I felt a little nervous but really excited," Danica said. At nationals, "I was a little bit nervous but way more excited."
Danica has returned to her club softball team, the 14-and-under Gila River Elite, and baseball team, where she's the only girl on the 12-and-under Copa Thunder. She will continue toward her goal of earning a scholarship to play softball in college.
"I'm extremely proud of the way she's come around," Daniel said. "I told her it's not OK for her to brag about it, but it's OK for me to brag about it."
Two other girls from Maricopa qualified for the MLB Team Championship. Kiersten Cope finished second in the 7- to 8-year-old softball division, and Madison Brandon was third in the 13- to 14-year-old softball division.