MARICOPA — A water park company is considering building in Maricopa, carving out a wet oasis in the desert complete with water slides, wave pools and a lazy river.
PHX Surf has submitted plans for a sprawling 71-acre water park on the southwest corner of Smith-Enke Road and North Loma Road, directly west of the future Estrella Gin Business Center and West Maricopa Village. Referring to it as the PHX Surf Park in the pre-application narrative, developers touted it as a multi-entertainment area including a water park.
"Active entertainment sits at the helm of the PHX Surf Park, tying together retail, dining and hospitality experiences. A broad range of year-round experiences are planned for all ages including surfing, water play, beach play and fitness," the narrative states.
Of course, the main excitement for many is the draw of a water park. The water park is to feature some traditional elements found at water parks like water slides and a lazy river, and it would also have real sand beaches, an infinity, or "zero-edge," pool and surfing experiences.
In addition to the water play areas, early descriptions include a spa, a concert stage, grassy lawn seating and retail spaces. Lots for future restaurants make up the north side of the property, and to the south is an RV park and hotel space.
One of the hotel spaces is designed as a "tiny home village" where guests could stay the night in themed huts. Developers envision a nightlife element too, with restaurants and bars staying open in the evenings for surfers and swimmers alike.
"Hospitality will capitalize on patron demand from throughout the state, other nearby areas and internationally, who will come to 'stay and play' with direct access to the sand beaches, aquatic experiences and surfing," the narrative states.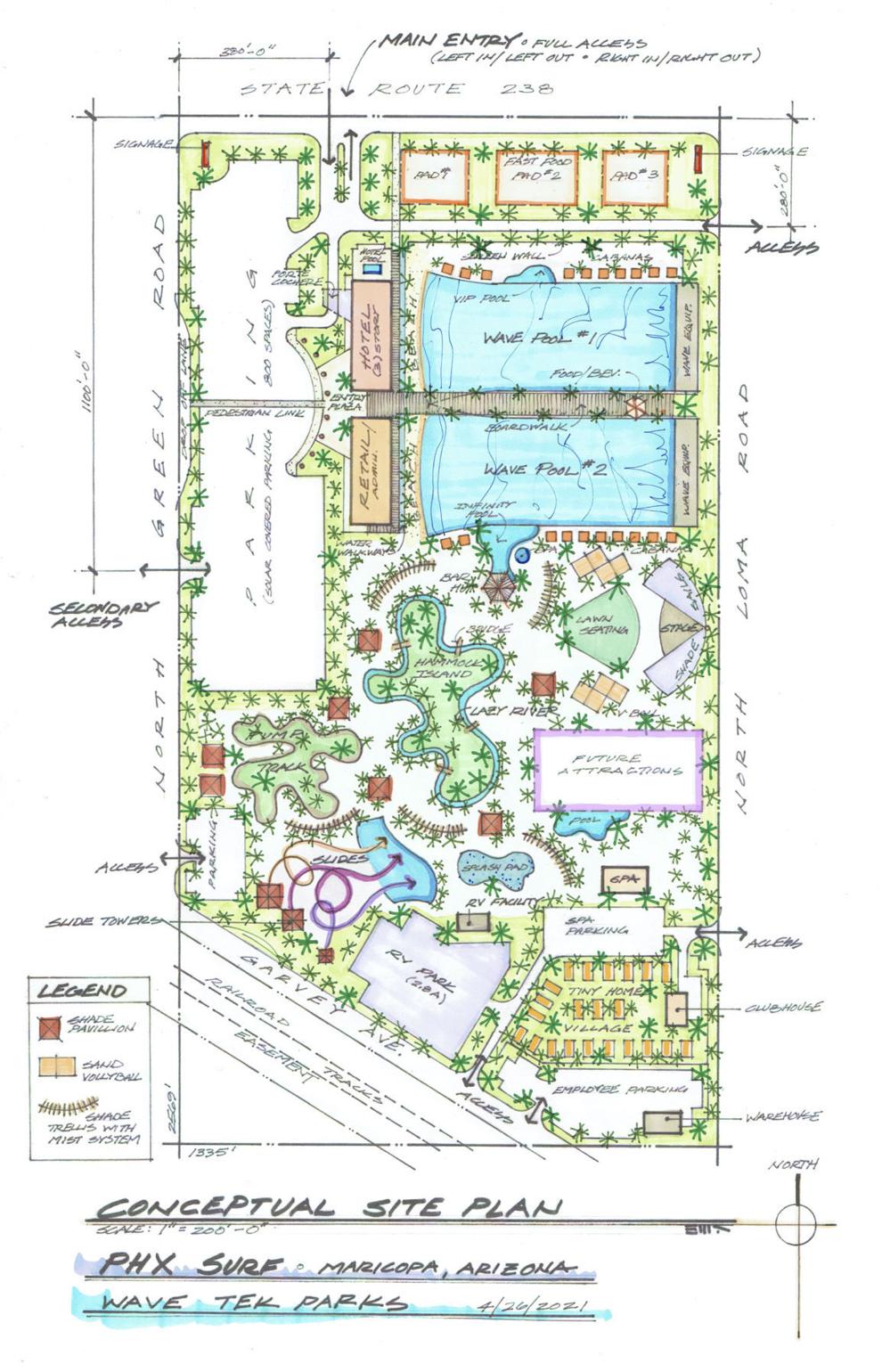 The Maricopa City Council approved a four-month lease agreement last Tuesday night with PHX Surf, under which the city and the applicant will continue to work on any issues.
"(The approval) is a first step … a very promising first step, but still a first step," said City Manager Rick Horst. "As with any application, staff will study the issue against all city, county, state and federal guidelines and rules, seek to mitigate any concerns, and ultimately, take our findings to the Planning and Zoning Commission and thus the people for final public vetting."