CASA GRANDE — Season five of "60 Days In" wrapped last week, marking the end of a behind-the-scenes exploration of the Pinal County Adult Detention Center.
Viewers of the television series on the A&E Network got to watch a group of civilians go undercover and pose as inmates for two months inside Pinal County's jail in Florence. Over the course of 10 episodes, viewers got to see plenty of fights, taunts and threats — some inmates even speculated the jail was haunted by demonic spirits.
Pinal County Sheriff's Office Chief Deputy Matthew Thomas said he thinks the show was a "success" for the law enforcement agency, as it helped administrators gather insight on how the jail operates.
"We gained a lot of information," Thomas said during an event Monday in Casa Grande.
Thomas, a 26-year veteran of PCSO, is second-in-command at the agency and could occasionally be seen on "60 Days In." During the season's last episode, Thomas confronted and criticized one of the undercover inmates who nearly blew their cover and jeopardized the safety of other participants.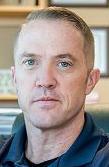 One big change PCSO made in response to the show was installing a body scanner that can detect drugs and contraband inmates may try to smuggle into the jail.
The show further helped PCSO discover tricks and tactics inmates used to communicate with each other. For example, there'd be an inmate on one side of the jail and another housed on another side, the chief deputy said, and officials didn't know how they were getting messages to each other.
The jail has had some dangerous incidents take place over the last few years. In 2017, three inmates were convicted in court of conspiring to kill a guard by stabbing him repeatedly with shanks made out of bed frames. An inmate died in 2015 after another inmate pushed him to the ground over a dispute during a basketball game.
During Sheriff Mark Lamb's first two years in office, PCSO has boosted its presence on a national level thanks to "60 Days In" and another reality show, "Live PD," which has camera crews follow deputies out in the field.
PCSO officials have said these shows help the public better understand the work of law enforcement officers and "60 Days In" particularly showcased an oftentimes neglected group: detention officers.
Another season of "60 Days In" is probably not in the future for PCSO, Thomas said, because the undercover element of the show would be more difficult to accomplish.
"Keeping it secret from staff and keeping it secret from inmates is very hard," Thomas added.
Lamb and Thomas will appear in a special reunion episode of "60 Days In" that will be broadcast Thursday night.