MARICOPA — Chants rang out from a street corner in Maricopa on June 1 and passing cars blared their horns in approval as peaceful demonstrators led a protest against police brutality.
It started as an organized event that spread through social media, but following a post by the Pinal County NAACP saying the source of the event was unclear, the organizer canceled it. The NAACP then held its own candlelight vigil on Friday at Copper Sky Regional Park.
However, people still decided to show up to express their grievances following the death of George Floyd under the knee of a Minneapolis police officer.
A handful of protesters started gathering on the northeast corner of Edison Road and State Route 347 shortly before 7 p.m. By the time the crowd calmly dispersed at 8 p.m. in compliance with the state curfew, there were more than 30 people waving signs with messages such as "Black Lives Matter" and "No Justice No Peace."
For Maricopa residents DJ Kali and Vonzell Cash, being out Monday night was a way to support the cause while making sure everyone is safe. Kali in particular was a vocal presence throughout the night, leading chants and providing information about what else can be done.
"Being a victim of police brutality myself, this is my way of getting some self-therapy as well," Kali said. "I wanted to be able to share my experience, and to use that as a testimony versus how some people unfortunately have used it in other ways."
He said no city is perfect, but he hopes Monday's protest shows that such demonstrations, when done in good faith and with law enforcement and not interested in escalating the situation, can be purely productive. This comes amid large protests around the country that have started out peaceful before conflict led to vandalism and looting.
"In some other areas, the destruction and the violence they see is not being caused by the protesters," Kali said. "It's being caused by the police and other people who are planted into the protesters who are disrupting the protests. We're out here being peaceful. Then things are always provoked and only one side of the story is told. So I'm out here to get things out of my mouth — and I have a big mouth, and I don't care who don't like it or who do like it."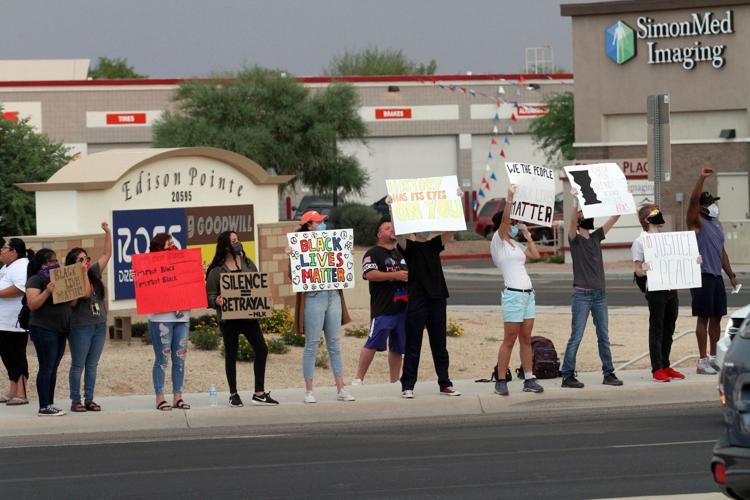 A small group of police officers were on hand to monitor the protest, but nothing tense occurred. In fact, Maricopa Police Chief Steve Stahl walked along the sidewalk meeting with anyone willing to talk to him. He also joined protesters in taking a knee near the end of the evening.
"We want to set the example, to be the example, to let them know that every life is important to us," Stahl said. "Some people just need to be heard, so a lot of what I'm doing is listening. I don't have all the answers, but I want to hear what people have to say."
Cash said he grew up in a city where people of color were often targeted by law enforcement just for going about their lives. Working with local police in Maricopa, he doesn't think it gets to that point here.
"It makes me feel good because what the media often portrays is just a lot of violence, a lot of aggravation, a lot of disruption," Cash said. "That can happen, but as you can see, we can also protest peacefully."
Maricopa City Councilman Henry Wade showed up to the protest with a group bringing cases of water for the protesters and police officers. He said he never worried about tension in the city, but was happy to see everyone together that night honoring the memory of Floyd and all those like him who were killed due to racism.
"I'm glad to see the activism of folks," Wade said. "I think it shows the tide is changing as far as the conservative nature of our community. It's positive."
Wade praised the relationship between the police and the community on issues like this, and he said it comes down to leaders showing empathy and not adversarial rhetoric that he said he's seen coming out of the White House.
"We've got a respectful relationship with each other, and that goes a long way," Wade said. "I've traveled around the world as a veteran, and I can say we've got the best thing going here in the United States. But we've still got work to do. We've definitely got work to do in regard to race relations and privilege."
Wearing a T-shirt with Floyd's picture on it, Melissa Knox brought her 13-year-old son with her so he could start seeing what it takes to make change in his community. Knox is a Native American woman married to a black man, and they both want their son to have a more tolerant world in which to live.
"He needs to know he can stand up for change," Knox said. "He's gonna face those racial issues sometime in his life. God forbid it isn't anything like this. God forbid he loses his life. But he needs to know it's time to take a stand, and not everything is with violence."
Knox said she hopes everywhere from Maricopa to Minneapolis the message is heard that racial ignorance and white privilege will not be tolerated and that people of color demand to be treated with the respect and dignity of anyone else.
"The biggest thing is change," she said. "Just because my color of skin is different and I can't scrub it off doesn't make me any different."
When the clock struck 8 p.m., meaning the beginning of the state-ordered curfew, Kali thanked everyone for coming out and urged them to continue the fight by joining future demonstrations.
Stahl said he admired that the protesters had a message they wanted to get across, but that they were doing so in an uplifting way rather than through anger. He said that showed him they want to be a part of the solution. As for the message he wants them to receive from the Police Department, it's that every officer values human life and works hard to help all people in the community.
"I'm so impressed with the city of Maricopa, the people here, the diversity in this city, the humanity in this city," Stahl said. "The people who called me all week long once this started coming out, whether they were black or they were white, were concerned about the safety of the city. Was this sending the right message and on the proper platform?"
Pinal Black Lives Matter Protests 6/3/20