MARICOPA — With its "True Wit at True Grit" live comedy shows, True Grit Tavern and Comedy Road Shows are teaming up to bring professional comedians to Maricopa audiences.
"True Wit at True Grit" debuts at 7 p.m. Friday at True Grit Tavern, 20800 N. John Wayne Parkway
Paul Diedrich, an Arizona-based professional comic and writer, is set to perform his standup act for the first show.
Diedrich has entertained audiences from Washington state to Washington, D.C., with a brand of humor he calls "highbrow naughty," a press release from show organizers said.
"I joke about adult topics in a clever, fun way, without crossing into the obscene," Diedrich said.
He entertains using "old-school jokes and observational humor based on experience earned being a father, teacher, dog rescuer and amateur life coach. He regularly performs at comedy clubs, casinos, nonprofit fundraisers and private events," he says on his website, PaulDiedrich.com.
His new full-length comedy album, "Teachable Moments," has recently been released.
"The delay (in the release) can be blamed on a certain pandemic that you may have heard about," he said.
Diedrich is a former teacher.
In "Teachable Moments," Diedrich "touches on life as a father, dog rescuer, son-in-law, teacher, husband and middle age," a description of the album on PaulDiedrich.com says.
The album features an introduction by Frank Caliendo.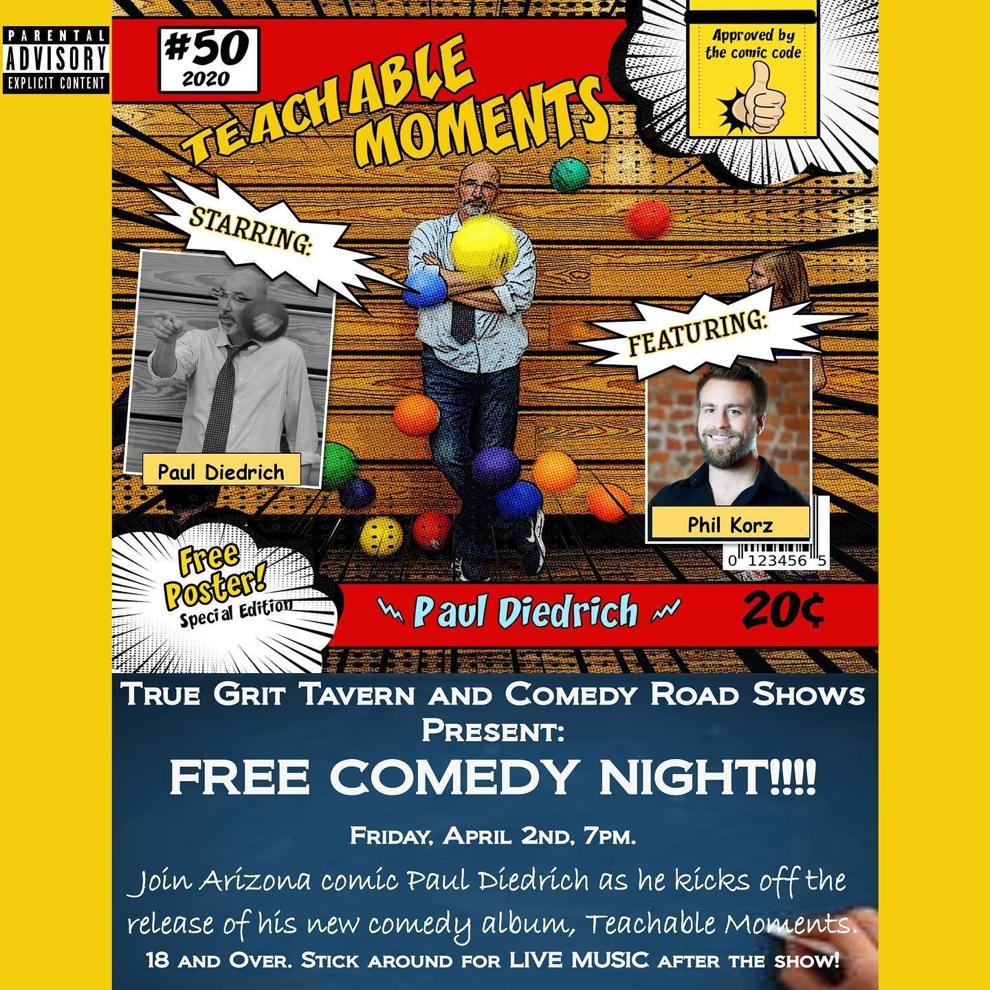 Diedrich is also the writer of the children's book "The Mystery of the Lost Dutchman" in which students on a school field trip discover a treasure map, which leads them on an adventure.
There is no admission charge to see the show. It's open to those age 18 and older.
"True Grit will be presenting the shows for free, giving audiences a chance to see well-regarded professional touring comics without the normal high price associated with these types of shows. Seats will fill up, so make your plans early," the press release said.
After the show, live music will be performed.