MARICOPA -- When Chef Colin Ribble is craving the comfort foods that bring back the taste of his childhood, he makes shepherd's pie.
Ribble said the thick layer of creamy mashed potatoes baked over a stew-like beef mixture is one of the dishes his mom would make when he was a child. And it's one of the dishes that inspired him to become a chef.
"Growing up, I'd watch my mom making the foods I loved, like shepherd's pie, cottage pie, stews, dumplings and great Irish foods," Ribble said. "That inspired my passion for food."
Ribble is the executive chef at Harrah's Ak-Chin Casino, overseeing the facility's various dining experiences — everything from the onsite Dunkin' Donuts and employee meals to fine dining in the casino's upscale restaurants, Chop, Block & Brew and Oak & Fork.
During the coronavirus self-isolation period, when the casino and its restaurants were temporarily closed, Ribble used the off time to rediscover many of his favorite comfort foods while cooking for family and friends. The experience reminded him of why he became a chef.
"Every day during the quarantine was like a 'Chop' challenge. I didn't want to go to the store too often, so I'd look at what I had on-hand and figure out what to make," Ribble said. "So I was making things like homemade tortellini and tomato sauce and, with four children, I was paying attention to the different pallets in my home. It rekindled my passion for cooking."
As he and his culinary team returned to work when the casino reopened, he said, other staffers reported similar experiences.
"Everyone is so excited to be back," Ribble said. "They love to be in the kitchen and the time away jump-started everyone's passion for cooking."
Although Ribble has been chef at Harrah's since 2007 and has created many of the sought-after dishes in the Ak-Chin Casino restaurants, becoming a chef wasn't his first career choice.
His original goal was to be a professional baseball player.
"I went to college on a baseball scholarship. I was a pitcher. I played baseball since I was a child and I always thought that would be my career," he said. "Until I broke my elbow."
Breaking his elbow meant Ribble couldn't play on his college team and it forced him to consider alternative career choices.
"It was around that time that I realized I had a passion for food and cooking," Ribble said. "Since I was 14, I had worked at a mom-and-pop burger place in Rochester, New York. That restaurant is still there and it's one of my go-to places every time I go back to Rochester. It still has the same grill I used to cook on and they still serve the best cheesesteak sandwiches ever."
He went to culinary school and said he never looked back.
"For so many years I had lived and breathed baseball," Ribble said. "I cooked my way through college but once I couldn't play baseball anymore, I realized I had a passion for cooking too."
After culinary school, Ribble worked as a chef for a few family-run restaurants before he moved to Arizona to work for Harrah's.
As the executive chef, Ribble works with a staff of 100 line-level employees, 16 chefs, 12 sous chefs as well as various room chefs, stewards and others.
He said he's happy to be back at work and eager to visit with customers again.
"I love what I do," he said. "I love life and my family and the customers at our restaurants. I encourage anyone to stop in and see me at the restaurants and enjoy some great food."
Two of Ribble's favorite recipes are below.
Submitted by Chef Colin Ribble of Harrah's Ak-Chin Casino restaurants
1 cup chopped yellow onion (¾ cup for meat mixture and ¼ cup for potato water)
2 teaspoons fresh parsley
½ teaspoon ground black pepper
1 tablespoon Worcestershire sauce
2 tablespoons all purpose flour
2 pounds Yukon gold potatoes
8 tablespoons unsalted butter
¼ teaspoon ground black pepper
Heat a deep cast iron pan for 5-6 minutes, add the ground beef to the skillet and break it apart with a wooden spoon. Add the garlic, onion, parsley, salt and pepper. Stir well. Cook for 6-8 minutes, until the meat is browned, stirring occasionally.
Add the Worcestershire sauce. Stir to combine. Cook for 1 minute.
Add the flour. Stir until well incorporated and no clumps. Add the broth, peas and carrots. Bring the liquid to a boil, then reduce to simmer. Simmer for 5 minutes, stirring occasionally.
Set the meat mixture aside. Preheat oven to 400 degrees.
Place the potatoes in a large pot. Cover the potatoes with water. Add onion, bring the water to a boil. Reduce to a simmer. Cook until potatoes are fork tender, 10-15 minutes.
Drain the potatoes in a colander. Return the potatoes to the hot pot. Let the potatoes rest in the hot pot for 1 minute to evaporate any remaining liquid.
Add butter, heavy cream, salt and pepper. Mash the potatoes and stir until all the ingredients are mixed together. Scald cream and butter prior to adding to potatoes. Once potatoes are mixed well, using a pastry bag, pipe potatoes directly on top of the meat and vegetable mixture and place in the oven for 25-30 minutes.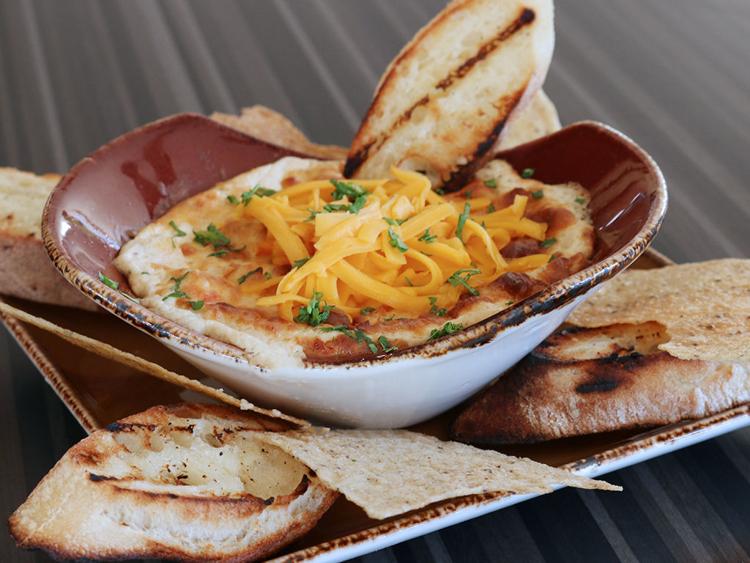 Chef Ribble's lobster dip
1 cup each red and green bell peppers small, diced
1 pound lobster meat, cooked and medium diced
½ cup Parmesan cheese, shredded
1 tablespoon shallots, minced
1 tablespoon minced garlic
1 teaspoon Old Bay seasoning
1 tablespoon parsley, minced
1 tablespoon fresh thyme, minced
½ ounce smoked cheddar cheese, shredded
4 sourdough crostinis, sliced and grilled
In a mixer with a paddle mix the cream cheese till soft, smooth and aerated.
In a sauté pan with the clarified butter, sauté the onions, peppers, garlic, shallots and mushrooms till slightly caramelized. Add crab and lobster over medium heat. Add Parmesan cheese and fold till melted.
Add thyme and de-glaze with white wine and reduce by half. Add lemon juice and remove from heat.
Fold hot mixture and parsley into the cream cheese with a spatula.
Pour 6 ounces of the mixture into the serving bowl and place in a 475-degree oven till top is brown (not burnt)
Sprinkle smoked cheddar cheese over top of dip.
Place bowl on plate and serve with lavash and crostinis.