FLORENCE — Like so many Arizonans, Bryn O'Rourke is not originally from the state. But she loves Arizona like home, which is one reason why she's staying in the Grand Canyon State to play college basketball.
O'Rourke attended high school in Washington state before she transferred to Florence High School heading into her junior year. She immediately fell in love with Arizona, and now she gets to stay in-state while attending college and playing basketball at Ottawa University in Surprise.
During her senior season at Florence, O'Rourke averaged 15.9 points, 4.6 rebounds and 2.3 steals in leading the Gophers to a 25-6 record and the 3A state playoffs. She was the 2019-20 PinalCentral Girls Basketball Player of the Year.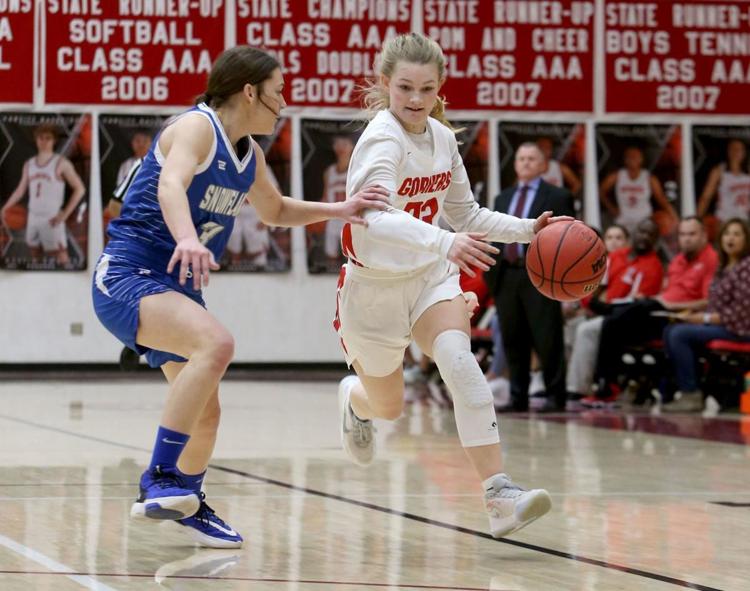 Known not just for her talent, but also her toughness and competitiveness on the court, O'Rourke said much of that comes from growing up with three brothers.
"It's very competitive," she said. "They treat me like another brother. They don't treat me like a girl."
While her brothers — the oldest is 21 and the others are 15 and 13 — are athletic, none of them play basketball. That hasn't stopped them from getting on the court with O'Rourke, where she says they basically "tackle" her because they don't know how to play actual defense.
Having three brothers helped forge her into the driven athlete she is today.
"It makes me a competitive person," she said. "It makes me want to win."
Life during the COVID-19 pandemic has included a lot of quarantine time for O'Rourke. Now that school is over, she's been hanging out, watching Netflix and spending time with her family.
Being forced indoors and not having the ability to play basketball has been tough, but she is grateful for the increased time she's had with family.
And although many high schools ended up holding virtual graduation ceremonies, O'Rourke was elated that Florence administrators and staff put in the effort to deliver an in-person ceremony on the school's football field May 21. She said they kept everyone 6 feet apart, in accordance with social distancing guidelines.
"I'm really thankful they were able to do that," she said of having the live ceremony. "I think it was the best thing they could have done for us ... it was the last moment with the seniors (together)."
Although she hasn't been able to get to a basketball court until the last few days, O'Rourke stayed busy dribbling a ball at her house and taking part in virtual drills through a website link sent by Florence boys basketball coach David Silvas.
When it came to making her college decision, O'Rourke said in addition to Ottawa, there were a couple of other schools interested in her. But when she went on a campus visit to Ottawa — the first college she visited — it became clear that it would be her new home.
The reason she knew Ottawa was the right choice was because the coaches and other players immediately felt like family.
"It felt like that's where I belonged," she said. "That would be my second home."
And it felt welcoming largely due to Ottawa coach Stephen Moss, who O'Rourke said was "inviting and nice." But she added he "didn't sugarcoat anything" and talked with her openly and honestly.
One of the things Moss likes about O'Rourke's game is her shooting ability. She said he called her a "certified sniper." Last season at Florence, she improved her shooting dramatically, hitting 40% (68 of 170) of her 3-point shots.
The improvement did not happen by accident.
O'Rourke went to a gym in the Anthem neighborhood of Florence five days a week to work on her shooting. Former Florence assistant coach Travis Armstrong was also instrumental in improving her shooting accuracy.
While at the gym, O'Rourke also played pick-up games where she was often the only girl on the court, playing against boys and men of all ages.
"Playing against the boys definitely made me better, too," she said.
Her work ethic and passion for basketball are constant, and they have driven her to succeed.
"I have put so much effort into basketball," O'Rourke said. "My life has been about basketball."
That passion was developed at a young age, as her father got her a hoop when she was in second grade. It was a bonding experience for father and daughter.
Going to Ottawa allows her to stay close to home, where she can still have time with her family as she blends in with a new family of teammates.
O'Rourke wants to major in business administration and work as a real estate agent after college.
And she isn't ready to leave her new home state anytime soon.
"I just moved to Arizona, and I love it here," she said.