FLORENCE — The state's "preferred" corridor for a future north-south freeway is less-convenient to downtown Florence than the one supported by Pinal County and area cities and towns.
Arizona Department of Transportation representatives held a public meeting and gathered comments on the future freeway Oct. 1 at Florence High School. The freeway, which is 20 years or more away from construction, is intended to be a low-access, high-speed route from Interstate 10 in the Eloy area to U.S. 60 in Apache Junction. Interested persons may continue to submit comments on the draft environmental document through Oct. 29.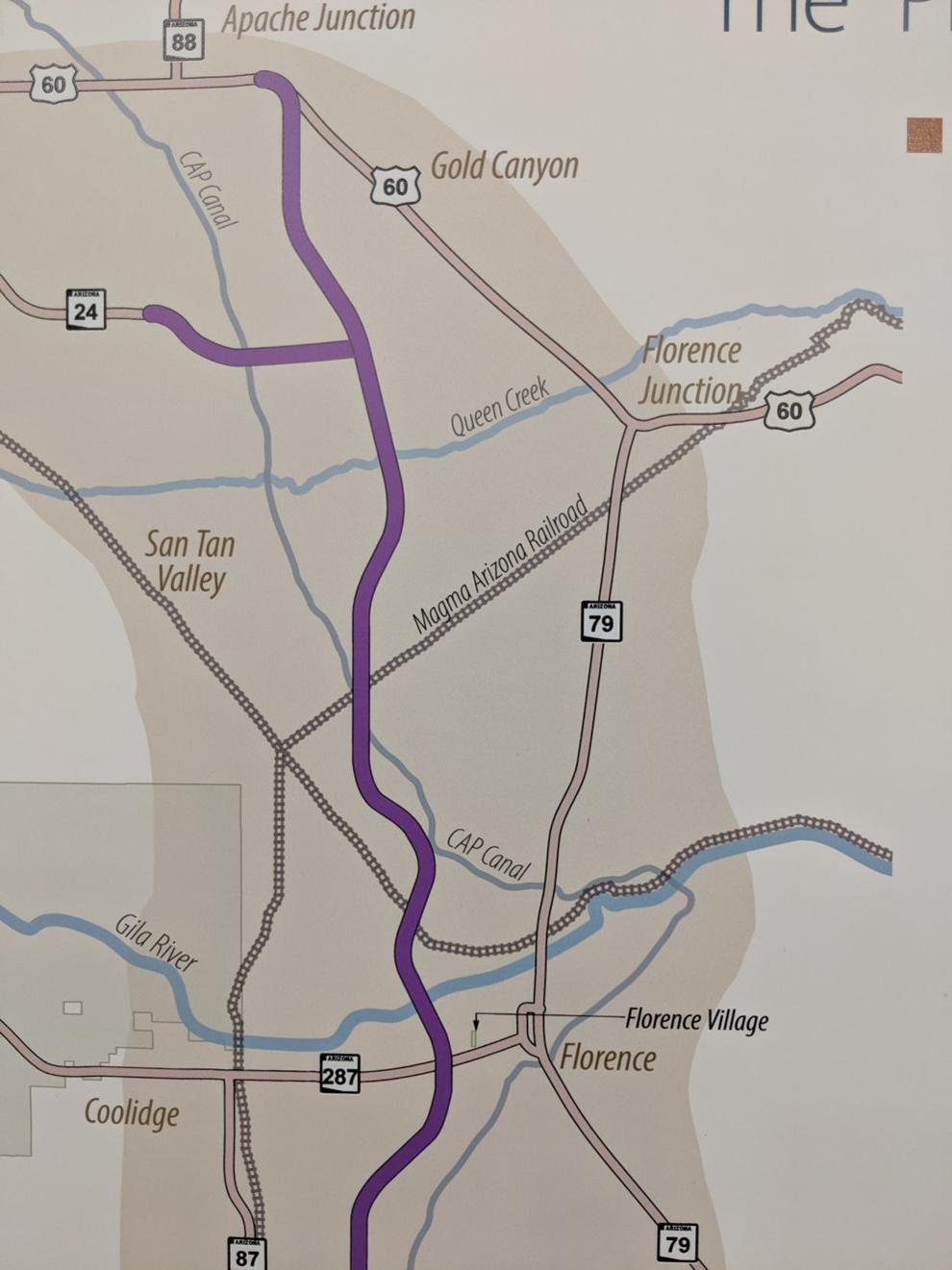 Tom Rankin of Florence told ADOT representatives he was glad to see the freeway effort reach this point but was upset to see ADOT's alignment isn't the one Pinal County voters approved with the Regional Transportation Authority. "You moved it to the west of where we had planned it," he said.
"Folks, let's take a look at Willcox, Arizona," Rankin, a former mayor, said. "When you move that freeway two and a half to three miles out of town — Willcox, one of the oldest towns in the state, is a ghost town downtown. All the new construction — and you know it as well as I do — goes where the freeway interchanges are. You're going to do the same thing to Florence."
Town Manager Brent Billingsley commented before the public hearing that exits are planned on State Route 287, Hunt Highway and Arizona Farms Road, but the town would like to see one closer to downtown.
"You don't take into account the investment, the will of the voters, and working with the county government," state Rep. David Cook, R-Globe, told ADOT representatives. "… The one thing I didn't hear is that you were working with the local officials of the local Pinal County government or their Regional Transportation Authority; I never heard those buzzwords from you."
Cook expressed frustration with the slow progress of an effort that began 19 years ago. The current draft Environmental Impact Statement is required by the National Environmental Policy Act, and "my kids went through their entire K-12 education while going through NEPA on our federal land ranch. That is the problem with government," Cook said.
He said thousands of corrections personnel and others work in Florence, and "we have got to get people to work."
"San Tan Valley, Queen Creek, Florence and Anthem are getting choked down because we don't have the north-south corridors to move these people to their jobs. People leave this area, and it's hard for the prison to get people to work here because of the commute and the time that it takes," Cook said.
"I challenge anyone to go to Ironwood Road and try to head south in San Tan Valley at five o'clock in the afternoon as the traffic is being backed up on U.S. 60. And it's dangerous."
Cook asked ADOT to continue to reach out to the public, "but also remember, the public elects us to do our job for them so they can be at home with their families, and they shouldn't have to be out here doing this.
"… I appreciate you coming out and listening to these people; something needs to be done," Cook said.
Don Dougherty, co-chair of the ADOBE roads committee in Gold Canyon, said a U.S. 60-Gold Canyon bypass has also been in the works for almost 20 years. He urged ADOT to combine this project with the north-south freeway.
Farmer and rancher Stacy Brimhall said, "I know it's taking a long time, but I'd just like to applaud ADOT. I hope it moves faster, but we are very excited to have a new freeway and we like the preferred alignment."
Celeste Adele Carter, a Coolidge hair salon owner, said the alignment goes through her property, the home her grandfather built. She said her family came to the area from Oklahoma in 1934. "I'm the third generation that lives there." She asked if the freeway does come through, that it include a sound barrier and a wall to protect the home from cars running off the road.
"I'm all for the freeway because I do have a business in Coolidge. … But I'd hate to lose my home that my family has built and preserved all these years." The preferred corridor is 1,500 feet wide. After further studies, it will be narrowed to a final alignment of 400 feet, according to ADOT.
Billingsley said in Florence, the corridor goes between the Ironwood Landfill and the Tohono O'odham Florence Village community, crosses the Gila River between Florence Copper and a solar farm and continues north through the eastern portion of Anthem.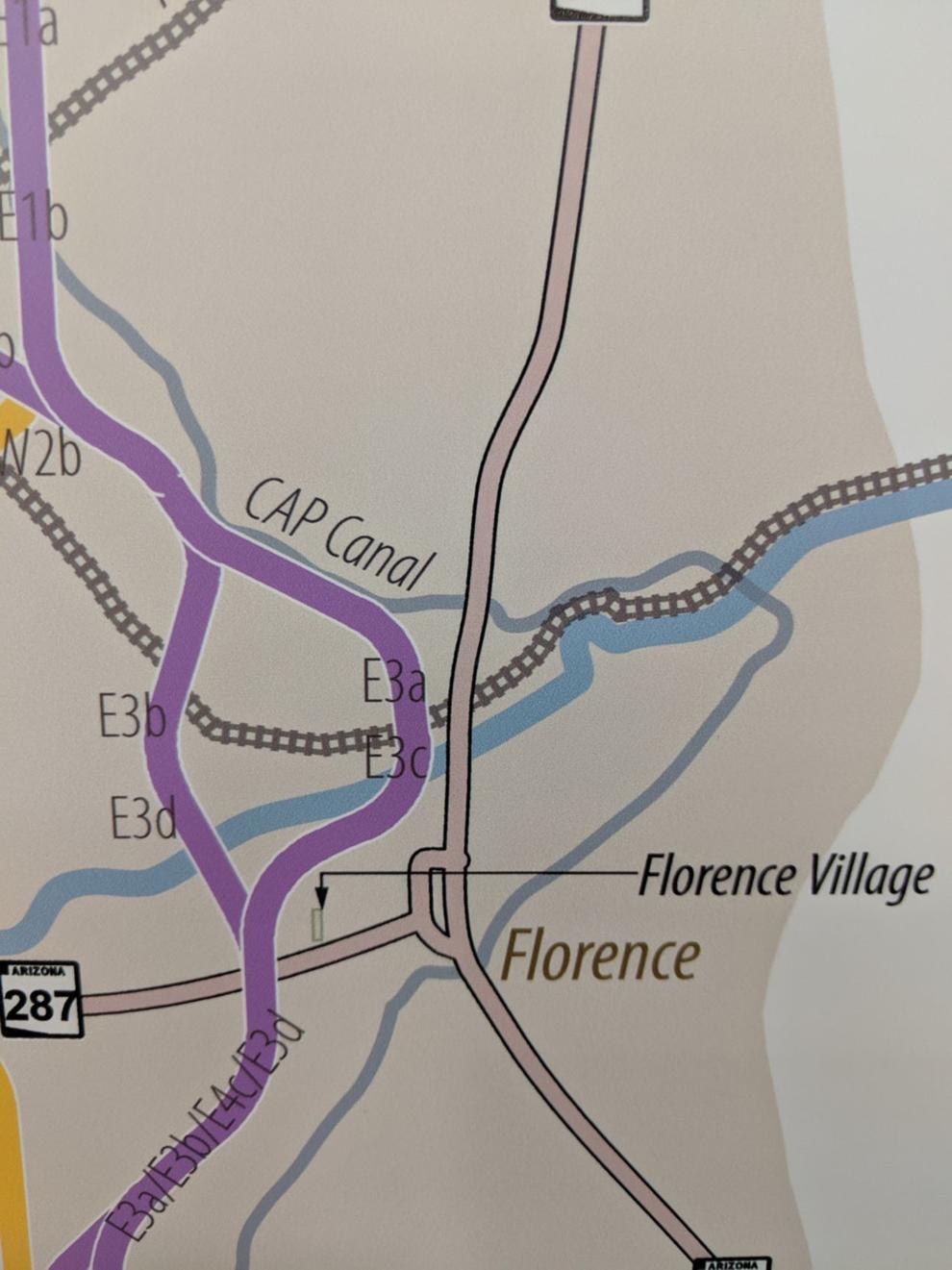 The town hopes to schedule a Town Council work session on the freeway before the Oct. 29 deadline for public comments. The public may submit comments in the following ways: online at azdot.gov/northsouthstudy; by email to northsouth@azdot.gov; by bilingual phone at 1-855-712-8530; or by mail to North-South Tier 1 EIS Study Team, c/o ADOT Communications, 1655 W. Jackson St., Mail Drop 126F, Phoenix, AZ 85007.
The draft EIS can be seen at azdot.gov/northsouthstudy; click on the "Documents" tab. A printed copy is also available to be read at Florence Community Library, 778 N. Main St., and other area libraries.
ADOT has scheduled further public meetings for 5:30 to 7:30 p.m. Oct. 10 at Eloy City Hall and 5:30 to 7:30 p.m. Oct. 15 at Poston Butte High School in San Tan Valley.