GLOBE — For the community of Globe, the Telegraph Fire brings up echoes of the distant past.
Molly Cornwell from the Globe Downtown Association and Lee Ann Powers from the Bullion Plaza Cultural Center & Museum in Miami pointed out that 127 years ago this week, most of Globe burned to the ground after a fire broke out in the business district.
According to a June 9, 1894, edition of the Arizona Silver Belt, Globe's newspaper at the time, the fire broke out in the rear of Rolling & Rogers saloon in a "Chinese chop house" or restaurant around 2 a.m.

"Immediately after the first alarm a column of fire was seen to shoot up from the center of the business part of town, lighting up the heavens with a lurid glare and sharply outlining every building in silhouette," the article states.
The fire spread with "marvelous rapidity" until a whole block was in flames. The residents tried to stop the fire at "the alley known as Push (S)treet" but the intense heat caught a building on the next block south on fire.
Residents pulled items and goods from store shelves and piled them "in a disordered mass in the street where they caught fire and increased the danger and confusion," according to the paper.
The flames then spread to the northeast, burning down multiple buildings including "the handsome Klein store," a bridge over Pinal Creek, a Masonic building, a news shop, another saloon and several other stores, warehouses, homes and outbuildings. One storehouse was torn down in an attempt to save a couple of homes, but the homes caught fire anyway.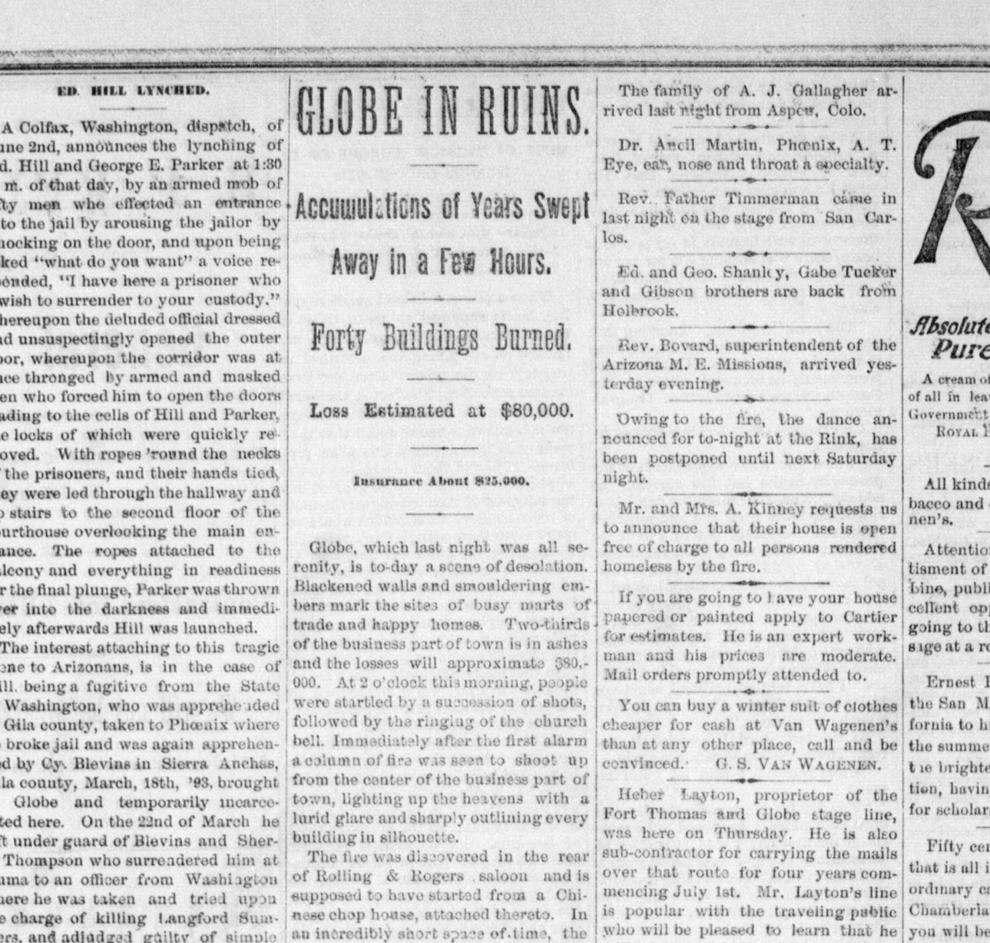 According to the paper, residents were surprised when Kellner's store, which was supposed to be "fire proof," caught fire. The store had to be abandoned to the flames because of its height and the intense heat of the fire.
The fire burned about two-thirds of the business section, about 40 buildings total, and caused $80,000 in damage.