SUPERIOR — A fast-moving wildfire south of Superior had burned an estimated 56,676 acres as of Monday afternoon, authorities said. The fire was 0% contained.
Firefighters are working to protect the community of Top-of-the-World on the Pinal-Gila County line and are trying to keep the fire south of U.S. 60. The Tonto National Forest has described the blaze, dubbed the Telegraph Fire, as "fast moving and dynamic."
Superior Mayor Mila Besich reported via her Facebook page that no structures had burned. She also stated that Boyce Thompson Arboretum has voluntarily decided to evacuate to allow fire crews to work in that area. The Cobre Valley Hospital is expected to remain open, she stated in her post.
The fire is expected to continue to spread to the east due to a large amount of dry grass and brush in the area from the drought and the wind, according to officials. Firefighters are hoping to guide the fire toward the scar from the 2017 Pinal Fire.
Meanwhile, the Gila County Sheriff's Office issued an immediate evacuation order for part of Miami because of another fire. The order specifically applies to those who reside west of the town limits, south of U.S. 60 from Dairy Canyon to Mackey Camp.
Two local schools are open as shelters.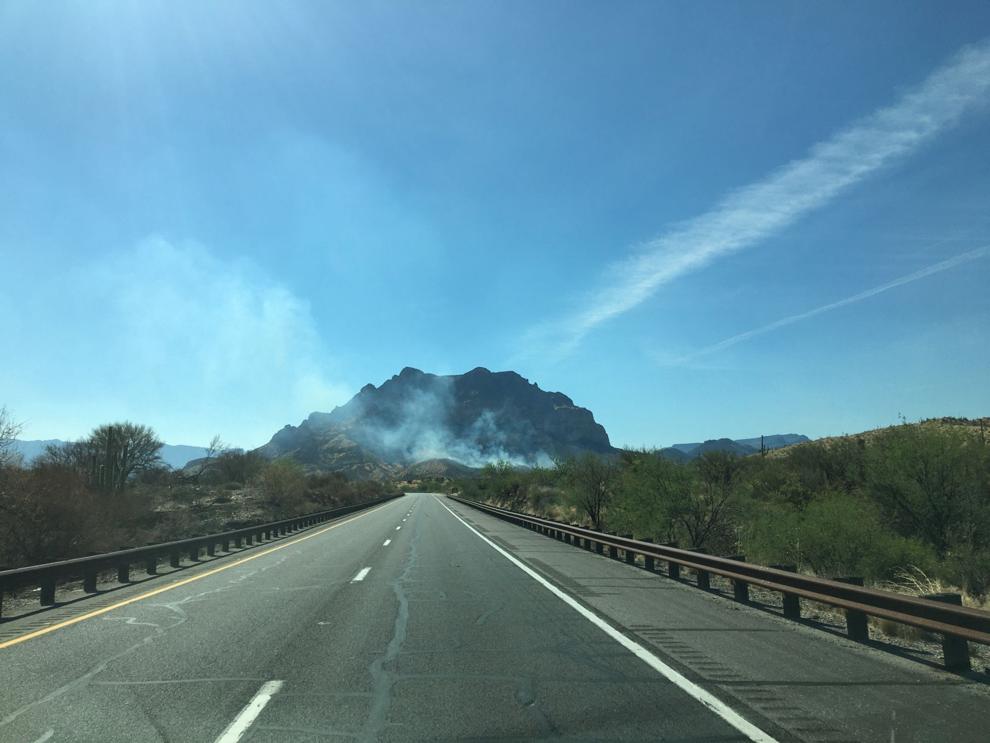 Evacuations were ordered Sunday for the Top-of-The-World area. The Pinal County Sheriff's Office also evacuated the Oak Flats campground.
No deaths or injuries have been reported.
The human-caused blaze has forced closures of stretches of State Route 177, State Route 77, U.S. 70 and U.S. 60.
More than 200 firefighters have been battling the fire since it broke out Friday. It has so far burned mostly shrub and grass but continues to threaten as many as 150 residents, Tonto National Forest spokesman John Scaggs said Sunday.
The largest type of federal incident management team has assumed control of the operation.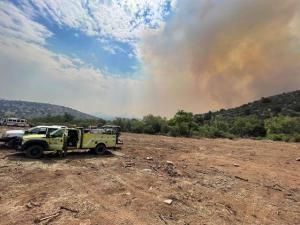 Meanwhile, air tankers and helicopters were assisting more than 500 firefighters who continued to work the Mescal Fire about 12 miles southeast of Globe. It had grown to more than 77 square miles and had mostly burned desert brush, oak and grass.
Some neighborhoods in Globe and Miami have been evacuated along with the community of Coyote Flats.
Estimated containment shrank from 5% Saturday to only 2% by Sunday, according to the U.S. Bureau of Land Management's Gila District Office.
The cause of that fire, which started May 31, is under investigation.