SUPERIOR — It may not be as supercharged as the running of the bulls, but a popular racing spectacle returned this year to Pinal County with the Superior Burro Run on Saturday.
Nearly 80 burros — the Spanish word for "donkey" — ran around the small town of Superior, in either 5-mile or 11-mile "races." According to their owners and handlers, while some donkeys are indeed competitive, for most it's just an opportunity to get some exercise and enjoy the attention of adoring fans who line the route and wait with camera phones at the ready at the end of the race downtown.
"The donkeys love it," said Nancy Anderson, who runs as a "dream team" with partner Sonia Mohl and their burros, McLovin and Zoey. "Ours don't run the whole time, but they definitely have fun."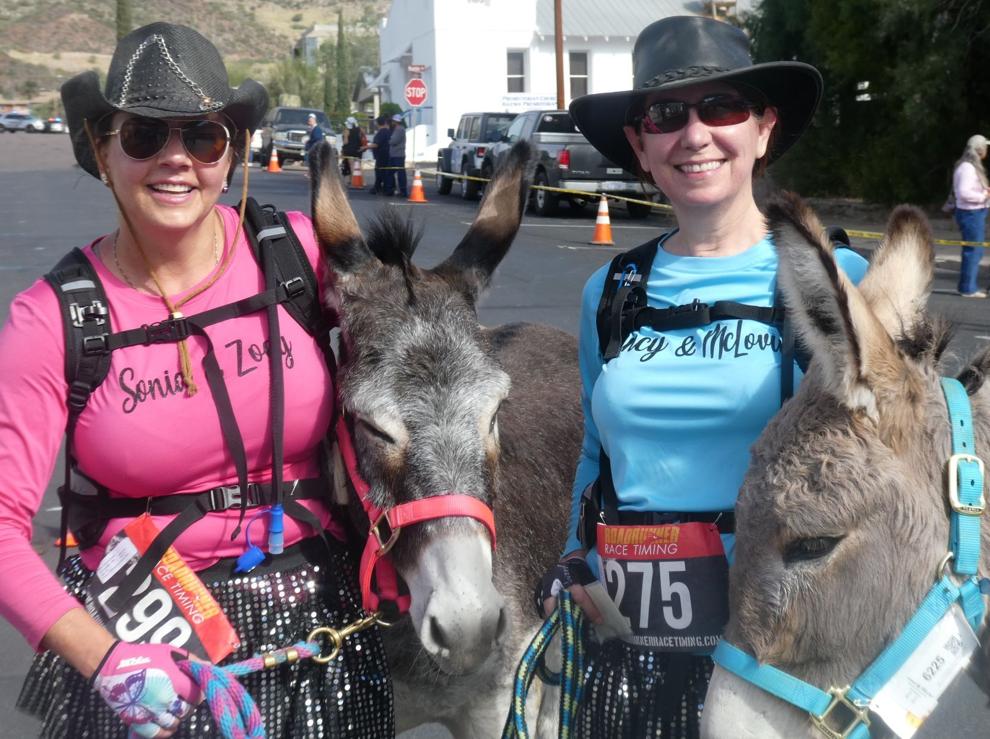 Anderson said their burros race a lot in the Phoenix area; both are rescues, which is how most of the burros are found by their owners. According to Anderson, donkey rescue shelters even offer burros to "rent" for the races for runners who want to participate.
It's a common occurrence for couples, and even families, to take part in the burro runs. Husband and wife Jerry and Vicky Badura said that they know of a couple in New Mexico who got engaged this summer after meeting each other on a burro run.
Jerry Badura said that contrary to popular belief, many burros are very friendly around humans, but they do have to get used to being around them.
"You have to be very patient," Jerry said. "They all have different personalities. It sometimes takes a lot of treats."
Jerry compared his donkeys to a dog, saying sometimes they like hugs and are very smart. However, with the larger animals being around 600-650 pounds, they can indeed be stubborn, and Jerry Badura noted, "If the donkeys don't want to do the race, you can't make them. They are too big, you can't bully them into doing anything."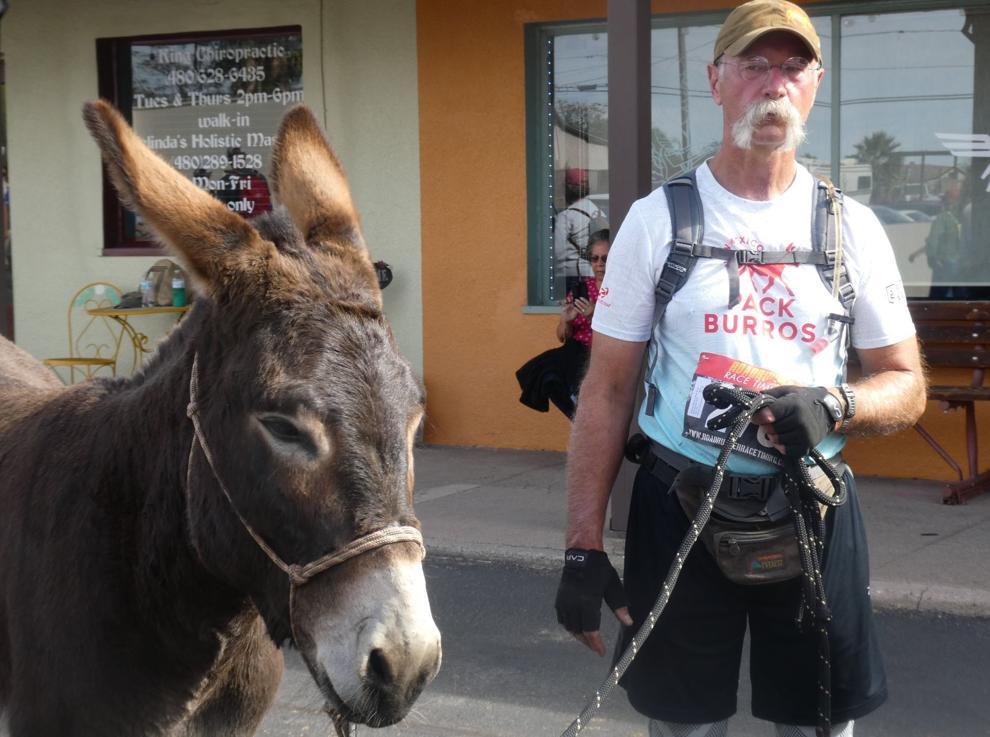 Jerry said his burro, Show Low, trains every Saturday for races, which happen a few times a month.
"He enjoyed the takeoff and was fast out of the gate," Jerry said, "but his favorite part of the race was probably when it ended."
When they're not running, most of the donkeys hang out at shelters or ranches. The burros that participated in Superior came from Arizona, Colorado and New Mexico.
Wild burros are currently overpopulated in the Southwest; rescues are either found in the desert or taken from a bad home. That was how the Baduras got Show Low.
Burros were originally introduced to the area for local mining operations, as they were well suited to the climate. Some burros were used in the original Superior operations in the late 19th century. Once the mines closed down, or new technology emerged, the burros were simply released into the wilderness.
Jerry Badura said that one unusual aspect of the Superior run is that it takes place on town streets and not hiking trails, and they were initially worried about traffic.
The Burro Run was part of the Apache Leap Mining Festival that took place Friday to Sunday. Those looking to learn more about donkey rescue operations and the sponsors of the run, the Burros Rock Arizona & Yonder Club, or "BRAY," is at https://www.bray.club/about.
Apache Leap Festival and Burro Run 2021