GILBERT — The Santa Cruz Valley Dust Devils entered Saturday's semifinal match unbeaten against Class 2A competition, as they had left a path of destruction in their wake, outscoring their conference opponents 280-27.
Santa Cruz lived to tell another tale after defeating St. Johns 27-20 on Saturday afternoon.
"We had to go through some adversity and honestly like I told the boys, I've never seen a championship team not go through some kind of adversity," Santa Cruz coach Rishard Davis said. "I think it was good for us, we're not going to dwell on it. We're going to come out next week and hopefully put on a better show."
It was a game that the Dust Devils are not accustomed to; they entered the half trailing 14-6. It was only the second time this season they trailed at the half; the other time was against 4A Casa Grande Union.
"Just told them to settle down," Davis said. "It was just some things didn't go our way at first, and then it was more like we're pointing fingers and not staying with the game and just playing. We knew before coming in that (St. Johns) was going to be a pretty good team. I'm just glad we got through it."
Many questioned how Santa Cruz would come out in the second half against a St. Johns defense that managed to slow down the Dust Devils' explosive run game and kept them from getting the big runs to which they are accustomed.
St. Johns began the third quarter near midfield after the kick return, but back-to-back penalties negated two runs by quarterback Cael Stewart.
On the next play, Santa Cruz recovered the fumble at the 50-yard line. Hunter Ogle then exploded for a 44-yard run. Ogle and his brother Wyatt then ran it down to the 1-yard line before he scored to cut St. Johns' lead down 14-12.
The Dust Devils attempted the onside kick, which was recovered by Max Rodriguez; unfortunately they ended up turning the ball over on downs after only getting 2 yards.
St. Johns was once again at midfield, and it appeared that on the second play of the drive, Stewart was sacked by Santa Cruz's Sias Lopez and Davin Ethington, but the Dust Devils were called for a holding penalty.
Running back Ira Tullous followed with a 10-yard carry and added a 4-yard run to go with a Stewart 3-yard carry before the junior quarterback found Joseph Bushman for the 19-yard touchdown reception.
Tullous finished with 150 rushing yards on 18 carries.
St. Johns missed the extra-point kick but extended its lead to 20-12.
The Dust Devils threatened on their next possession, marching down to the 30-yard line, but ended up turning the ball over on downs.
St. Johns looked to keep its momentum, but James Thomas had nowhere to run as Robert Maldonado stopped him at the line of scrimmage. St. Johns was later called for a delay of game, which led to it punting the ball away.
Santa Cruz's Steve Calvin was back to receive and ran it all the way for the 67-yard score. David Avilez was tossed the ball and stretched out to get the ball past the goal line for the two-point conversion as the Dust Devils tied the game at 20 with less than a minute remaining in the third quarter.
"I was looking at both sides of the field and which side had more people, so I went to the opposite side that had less and then everybody on my team, they showed up and blocked for me," Calvin said. "I made a few people miss and I saw an open zone and I took it, open lane and gone."
The Dust Devils looked for another onside kick, but St. Johns managed to secure the ball. On the first play of the drive, Stewart was sacked for an 8-yard loss by Ethington, and St. Johns eventually punted the ball.
Santa Cruz began its first possession of the fourth quarter at its own 8-yard line. Hunter Ogle had three carries for 37 yards, then Calvin and Wyatt Ogle each rushed for 4 yards.
Calvin's number was called again, as he charged 47 yards into the end zone to give the Dust Devils the lead with just under nine minutes remaining.
Calvin rushed for 77 yards on five carries with one touchdown. Hunter Ogle had 189 yards and two touchdowns on 28 carries.
"Just play to your full potential every time," Calvin said. "If you play every drive as hard as you can, we should stop them every time. This means a lot, last year we made it (to the semifinals) and we lost, this year we made and we actually got it, now we get to go on to the championship and take it."
The Santa Cruz defense make a statement after Stewart found Bushman with a 15-yard pass. St. Johns went for it on 4th-and-8 as Stewart again connected with Bushman; it seemed St. Johns would have the first down until Wyatt Ogle stopped Bushman and gave Santa Cruz possession, but the Dust Devils couldn't get anything going.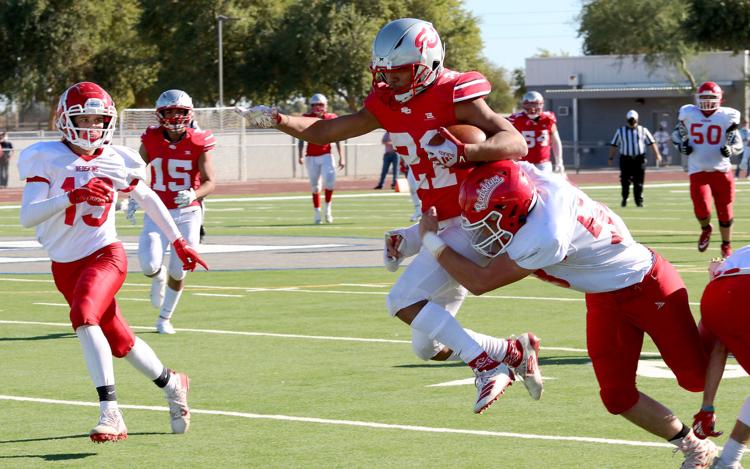 Tullous had two big runs of 26 yards and 44 yards, then almost had the touchdown, but it was called back on a holding penalty.
Stewart lucked out on the next play with the incompletion, as Dylan Hukill came charging right at him but swung around and did not bring Stewart down.
St. Johns kept the drive alive on a 12-yard reception by Slade Nevin and a 2-yard run by Thomas.
"We just decided that we wanted to be able to get the football right down their throat and if we couldn't then we were going to go to our passing game, and that's pretty much what we did," St. Johns coach Mike Morgan said. "We had a little bit of both at times and there at the end of the game, we marched the ball all the way from our 38-yard line and the penalties started flying."
St. Johns was down to the 27-yard line as Tullous was handed the ball, but Ethington came up with the stop and a 3-yard loss.
On the next play, Stewart was tackled by Diego Castillo-Lopez and Tanzor Gil on fourth down with 1:39 remaining to seal the victory for Santa Cruz.
"They played hard," Davis said. "St. Johns played hard and we played hard, it's supposed to be like that around this time of the year. I don't think we played a bad game; we just had a few things not go our way early and then came out in the second half, getting that onside kick was big. Things were going their way the first half and things were going our way the second half, either team could have won this game."
St. Johns began the game recovering a Dust Devils fumble but quickly had a four-and-out.
Santa Cruz's next possession ended in a Hunter Ogle 2-yard touchdown and featured a 25-yard reception by Hukill as well as a 25-yard carry by Calvin.
Hukill and Mauricio Lopez had some big plays for the Dust Devils on defense as they each had a tackle for a loss.
St. Johns' scoring plays in the first half came on a 1-yard run by Stewart. During the touchdown drive, Bushman had two receptions for 72 yards. The second score was a 25-yard reception by Case Heap.
Stewart was 10-for-21 passing with 172 yards and two touchdowns, and Bushman had 88 receiving yards.