ELOY — There's a well-known African proverb, "It takes a village to raise a child."
If it takes a village to raise only one child, then how many people does it take to raise a whole football team? The jury is still out on that one, but one thing that is certain is it takes a whole community to win a state title.
The 2020 high school football season will likely be one that people remember; for the Santa Cruz Valley team and the rest of the Eloy community, it's one they will talk about for generations.
In the middle of a pandemic, the whole city came together. From residents selling face masks and other memorabilia to help raise funds for the team to firefighters and city officials showing off Santa Cruz gear while on the job. And even skydivers were dropping from the sky to show their support for the team that brought home the state championship trophy for the first time in three decades.
Community members like Robert Ybarra, Sally Valenzuela and others made face masks and Santa Cruz memorabilia with the Dust Devil mascot and logo. Some of the proceeds went to football team and also paid for the post game meals, which the parents also helped with during the season.
Last weekend the whole community also pitched in and held a barbecue for the team at Jones Park to celebrate.
"That's Eloy," head coach Rishard Davis said. "They're behind us 100% if we're 0-10 or 10-0, I'm happy for that.
"I've always believed that everything has to be in place to win a state title," he said. "You have to have the community, you have to have admin, you have to have the school population behind you and it's just a good thing to have and it takes pressure off the boys."
Santa Cruz sendoff rally 12/12/20
For the past few seasons, the Eloy Fire District has come out to every single home game and put on a neat pyrotechnic display.
During the playoffs this year, the crews were seen sporting "SC" ball caps instead of their usual fire district ones in support of the team.
Fire Chief Kelly Weddle came up with the idea after reading an article about how the Los Angeles Fire Department let its crews wear Dodgers hats.
During an Eloy City Council work session before the championship game on Dec. 12, Vice Mayor Andrew Rodriguez wore a Dust Devils face mask.
"I support anything with Santa Cruz," Rodriguez said. "I have a lot of family playing on the football team, so it gives me more pride to wear it. I'm an alum, but I also have a nephew, a brother and a cousin playing on the team. I'm always at the games and this is how I show my support."
Fire district Battalion Chief Derrick Ethington is the mastermind behind the fireworks at the football games. His idea started with wanting to do something cool for a homecoming game.
"It just kind of grew from there," Ethington said. "When I was younger, every once in a while, my dad would get tickets and we'd go to the ASU games, and I thought it was cool that they'd set off fireworks every time they scored."
During the semifinal and state championship games, the fire district worked together with the Eloy Police Department and provided an escort for the team from the school all the way up the freeway on-ramp.
"We just needed to do something," Ethington said. "It was obviously not a home game, we talked with PD and came together and came up with a send-off. It's really cool. That's one thing I love about Eloy, is when it comes to the community and the schools, the people are pretty much into helping out and doing cool things like that."
People would meet up at Main Street Park for a send-off and the one on the morning of the state title game also featured help from council members Georges Reuter and Sara Curtis as Curtis' husband Steve skydived with the Santa Cruz Valley flag.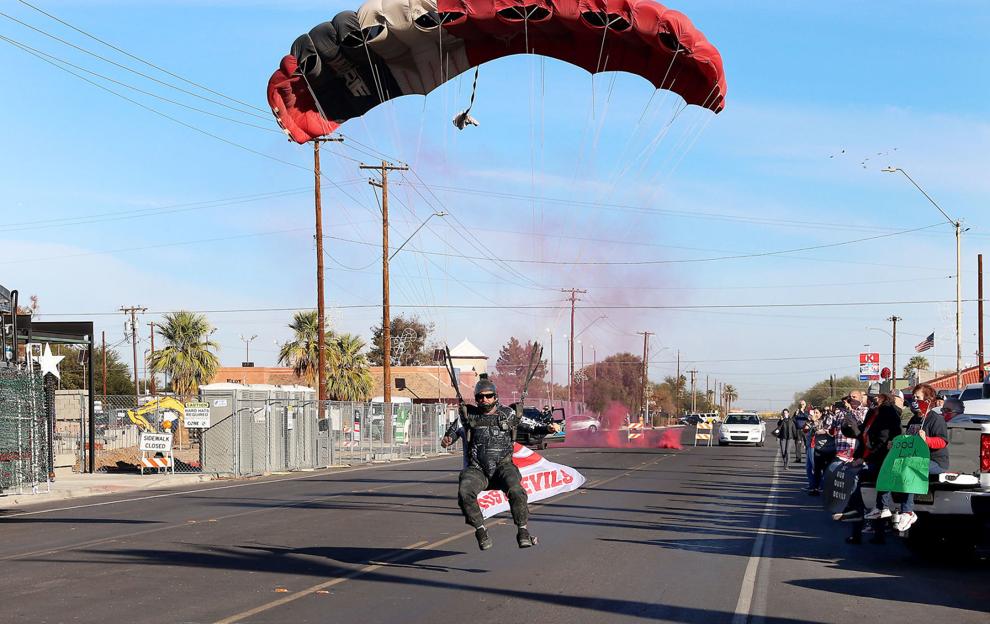 "We were not expecting that," Santa Cruz linebacker Mauricio Lopez said. "We were expecting maybe a little town send-off as we would go down Main Street and you see all the people waving and yelling good luck. This was a totally new experience seeing the skydivers, all the smoke, all the fans cheering and yelling. I think that pushed us towards thinking we need to take it this year, this is our year. All these people come out and support us and we need to show them that we can give back."
Rodriguez added that he's been part of many send-offs over the years for both the high school teams and the junior high.
"It shows a sense that we're prideful and we are embracing them for all that they've done," Rodriguez said. "We want to show them the love and support that we have for them. People who are alumni, came to Eloy, they didn't have any family or friends playing in the game and they showed up to the parade to show their support. With all this stuff going on we can still come together and cheer them on."