ELOY — Karly Chambliss used to wonder if it was possible to dance on air.
With a ballet and gymnastics background, the 14-year-old was introduced to indoor skydiving by her dad and found out that it is possible to dance on air.
"My dad (champion aerobatic and racing pilot Kirby Chambliss) has been a skydiver for a while now and he took me into the wind tunnel," she said. "I thought it would be really cool if I could almost dance in the air and then I saw that it was an actual thing and I started getting more and more involved."
Chambliss recently won first place for best trick at the iFly 2020 U.S. Indoor Skydiving Open National Championship in Fort Lauderdale, Florida.
Additionally she was invited onto the United States team to compete at the 2020 World Cup of Indoor Skydiving in Belgium.
"It was an amazing experience just to be there with all my friends and have an awesome time competing," Chambliss said. "It was just a great experience overall to learn about all the new competitors and meet them."
She added that she feels very proud to be given the opportunity to represent the U.S. in Belgium.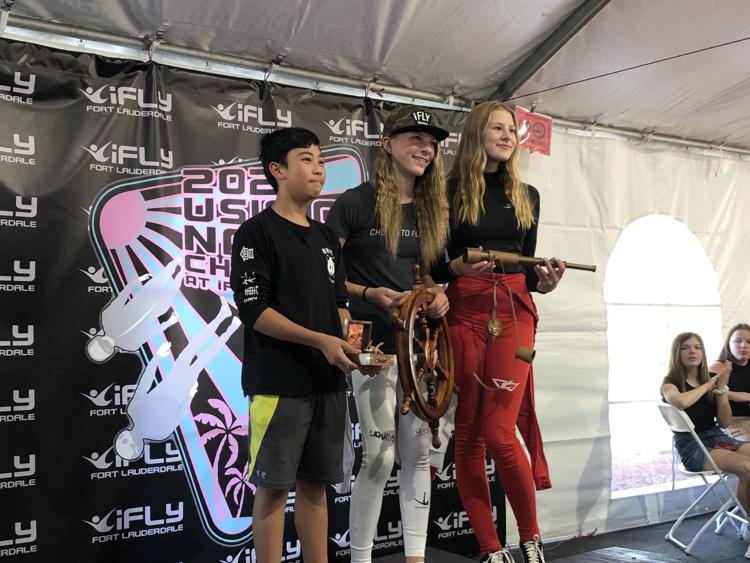 In the best trick discipline, competitors showcase various spins, flips and yoga poses while inside a wind tunnel.
Chambliss has been flying indoors for five years and really enjoys expressing herself though her own style.
"Everybody has their own style and it's unique, almost like ice skating," she said. "It's very unique to everyone and you make up your own style, so the judges will look at you differently."
According to the USIS National Skydiving Championships General Competition Rules, flyers have 30 seconds to perform their routine and are scored on difficulty, execution and creativity/entertainment. The competitors are penalized for coming into contact with the tunnel walls, the net or the door frame during a trick.
Choreographing a routine for competition takes many hours and Chambliss is the one who comes up with the ideas.
"I try to come up with something very fluid, that moves very well and the judges think is very graceful," she said. "That is more my style to try to come up with a dance. With a dance and gymnastics background it is very easy to incorporate those into my routine to make it look like I have a different style and different tricks, so I stand out more."
Nearly all of her training is done inside a wind tunnel but Chambliss also goes to the gym and does a lot of stretching in preparation for flying inside the tunnel.
"It takes a really long time to get everything perfect and the way I want it," she said. "It is all what I decide on and it is all exactly how I want it to look. My coaches help me with getting it to look more bold, but overall I'm the one who continuously looks at it and tries to get it perfect."
Chambliss added that the most difficult part for her is trying to stay calm before the competition because she doesn't want nerves to be the reason she doesn't score well when she's spent so many hours training and perfecting her routine.
As for balancing school and all her training hours, Chambliss mentioned that once she officially started competing, she started to change her lifestyle to support her craft so she could start training to win.
"It's sometimes hard but you just have to remember down the line how much you want this and you're willing to work really hard to balance it all out," she said. "It's lots of late nights."