ELOY — Nearly half the employees at the Eloy Detention Center have tested positive for COVID-19, the private company operating the facility says.
CoreCivic, contracted to run the U.S. Immigration and Customs Enforcement center, told NBC News Wednesday that 127 of about 300 total employees at the Eloy facility have tested positive since the start of the pandemic, although some have recovered and are back to work. ICE does not publicly report the number of contract employees infected, so it was not previously known how many staff members at Eloy had contracted the virus.
According to the Arizona Department of Health Services, the Eloy community had reported 572 positive cases of the virus as of Wednesday morning. The city has seen 34 new cases in the last two days.
It is not clear how many of the cases in the community include staff members at the facility. State health officials report locations on where an infected person resides, not where they work.
ICE reports that 242 immigrants held in Eloy have tested positive since the beginning of the pandemic, and immigrant rights groups have sued to see that more migrants are released out of concern that they could become infected, NBC reported. The population of the facility shifts constantly, but it can hold 1,500 detainees.
Pinal County had reported 4,959 positive cases as of Wednesday, up 167 since Tuesday.
The county's hot spot continues to be the San Tan Valley/Queen Creek area, which reported 73 new cases Wednesday for a total of 1,222.
Casa Grande reported 33 new cases for a total 1,053. The city of Maricopa reported 34 new cases for a total of 577.
There were 3,520 new cases and 36 new deaths reported statewide Wednesday. That brings the total number of cases to 108,614 and deaths to 1,963.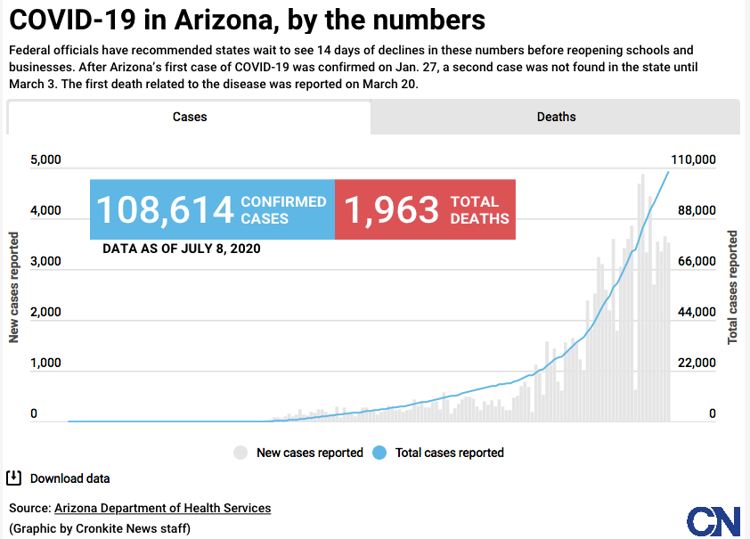 Figures showed a record 3,421 people being treated, filling up nearly half the available beds statewide. Intensive care units were caring for 879 patients, with 570 of them on ventilators to help them breathe. The numbers reflect Tuesday's hospital tallies.
All but 145 of the state''s more than 1,500 ICU beds are full, meaning hospitals have little room to treat more extremely sick patients without adding beds. State health officials say they're prepared to do that, with all hospitals required to have the ability to boost beds by up to 50%.
Hospitals reporting to the state said more than 2,000 people were seen in emergency rooms on Tuesday. Meanwhile, the number of virus tests coming back positive is at 25%, more than three times the national average.
The New York Times says the rate of new infections in Arizona, computed at a rate per million residents, is not just higher than any state in the country, but any other country in the world.
The surge of cases in Arizona began in late May and is now doubling every two weeks.
The coronavirus causes mild or moderate symptoms such as fever and cough for most people. But for some — especially older adults and people with existing health problems — it can cause more severe illness, including pneumonia, and death.