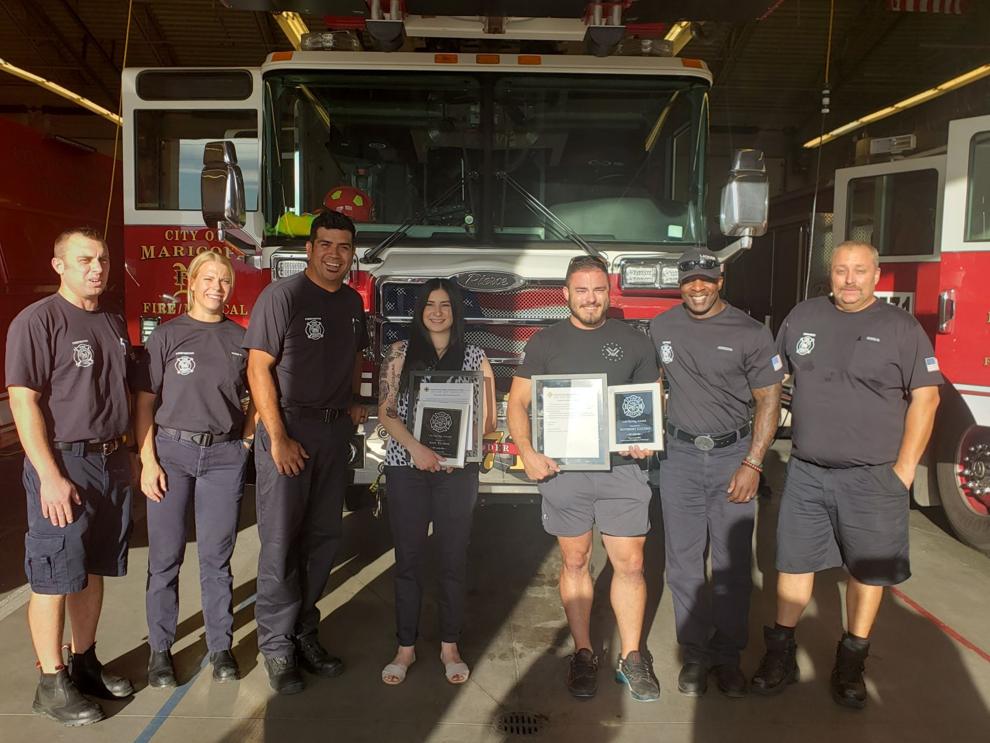 MARICOPA — A local man is alive today thanks in no small part to a pair of Maricopa residents who stepped up when the time called for some critical care.
Amy Flores and Anthony Lucero both happened to be at the Circle K on Porter Road on May 15 when they saw an employee behaving in an odd manner before collapsing. Lucero was the first to reach him and soon realized the man's airway wasn't open. While continuing to make sure the man had a pulse, Lucero tried to get him breathing, but to no success.
When Flores joined him after throwing all her things onto the sidewalk, they decided to start performing CPR as the man's pulse faded. They took turns with the CPR for the two and a half minutes it took the Maricopa Fire and Medical crew, led by Capt. Osheah Davis, to arrive on the scene.
"He wasn't breathing on his own, his pulse was gone by the time we arrived on the scene," Davis said. "His face was as blue as my shirt, so he was in dire need. There's no doubt in my mind that he coded."
Once the man was placed on an ambulance bed by the firefighters, it took 10 to 15 compressions before his pulse returned. And by the time they arrived at the hospital, he was alert and talking. That he got to that point, the firefighters say, is a credit to the two people who stepped in and kept him alive long enough for them to show up.
And the man turned out to be quite lucky to have Lucero and Flores there, as both were quite qualified to give him aid, to the point where they were giving each other feedback during the process.
Lucero works as an EMT for U.S. Border Patrol, stationed in Ajo. While this prepares him for situations just like this, encountering it outside of the job was a much different experience.
"It's definitely different, because I didn't have anything with me. It just kind of happened," Lucero said. "I just tried to make the best of the situation. That's why I became an EMT. I just want to help everyone any way I can."
Flores, meanwhile, is taking time off with her 7-month-old daughter from being a CPR instructor at HeartSavers. At that job, she prepares people to face these very situations, but as she learned, there's nothing quite like the real thing.
"That was my first time," she said. "When I go back to work, I'm going to tell everyone about my experience. In that moment, you can stay calm. You're not focusing on freaking out, you're focusing on saving someone's life."
The firefighters on the crew, on behalf of their union, welcomed Lucero and Flores on June 7 to the fire station on Porter and Smith-Enke to thank them for providing the critical care needed, and to present them with plaques and letters of appreciation.
Their families were also there for the presentation, including Lucero's daughter Riley, who was beaming with pride and excitement that she got to be in a fire station.
"She's really into my EMT stuff," Lucero said. "When I came home and told her what happened, she thought that was so awesome. It's nice to let her see that."
Flores said it took a while for the pride in what she had done to arrive, because she had just been doing what she felt was right.
"Obviously, my adrenaline was going strong after, so I was just like, 'Whoa,'" Flores said. "It didn't fully hit me until two days after that I came to the realization that I saved someone's life. It gave me a very good feeling."
Davis said in an ideal world everyone would get CPR certified. He called it a "basic skill set that can make a huge difference." As an extra plus, it typically doesn't cost a lot to get certified, and there are plenty of places that offer the necessary courses. He recommended calling a local library or community college — or even the local fire department — to be directed to where people can learn CPR.
The bottom line is nobody knows when a situation like this will take place, so it's best to always be ready to be a hero.
"Especially in this day and age, most people want to go to their phones before they step in to help their fellow man," Davis said. "So luckily we have two individuals who knew it was time to help somebody, and they stepped up and did it."