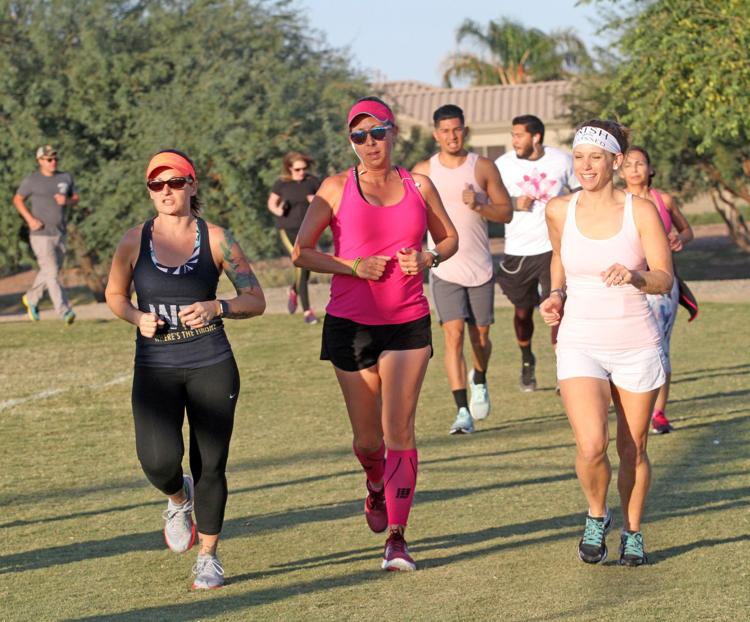 MARICOPA — City of Maricopa residents Jeannie Day and Donna Aguilar both lost women close to them to breast cancer — a mother and a close childhood friend, respectively.
While sharing their stories, they decided to do something for breast cancer patients. That is how Dance for Tatas began, with the two women connecting survivors with services they need. The third annual fundraiser took place Saturday at Pacana Park.
Aguilar, Day and Megan Telya partnered with Impact One for the second year "in an effort to keep the benefits local and not have a lot of money go to CEO salaries, as often happens in a nationwide group," Day said.
Dance for Tatas served 30 women at the Saturday event with mammograms on a mobile truck sponsored by SimonMed Imaging.
As a breast cancer survivor of 10 years, Elizabeth Cluff remembers feeling too exhausted to go to the store, let alone to find a prosthetic pad to fit a specialty bra, following her surgery. She founded Impact One five years ago by providing other women more information before surgery and more help afterward than she was given.
Cluff reaches out to every place she can to find goods, services, and donations for her ladies. Whether that's going to the boutiques at Banner Health or lobbying for a generous grant from sports teams such as the Arizona Cardinals, Cluff said she makes the extra effort.
"The Arizona Cardinals alone have helped over 400 Arizona women through Impact One," Cluff said. Through grant writing and donations, Impact One is able to ship help to a woman's doorstep whether she is in Globe, Flagstaff, Tuba City or out of state.
For $25 dollars, Impact One will ship $500 worth of needed items to women experiencing breast cancer surgery and treatment, women who may otherwise not be able to afford or who do not have the strength to shop for necessary items like breast forms, wigs, mastectomy bras, and other post-surgical clothing.
This box of needed items — called "Hope in a Box" — is shipped at a key time, following surgery, radiation or chemo when physical and emotional strength is at its lowest and need is high.
"Not everyone is a candidate for a breast implant or reconstructive breast surgery after breast removal," Cluff said. She explained this can be due to a number of factors, some of which interact to complicate candidacy, including a weakened immune system that will likely reject an implant or radiation treatments needed to halt the cancer growth that also results in a breakdown of skin tissue so severe, the skin will no longer hold a surgical breast implant or tolerate reconstructive surgery
About 50% of women are not candidates for reconstruction, sometimes even for financial reasons alone. As an example, Cluff cites an insurance plan with a large $10,000 or $20,000 deductible that may prevent a woman from reconstruction for a year or more.
"We provide help in the now," she said, "because there are so many variables that affect whether women can receive the help they need."
Impact One has served over 1,000 women from all over Arizona and some out of state, and 30 in Mexico through two clinic affiliations Impact One maintains there. Applying for help is easy, said Cluff. Just go to their website at impactone.pink to apply.
Impact One also provides the preparation, information, and open communication about what to prepare for prior to surgery that Cluff and so many other women wish they had.
"So many times women are given a piece of paper with a list of things to buy after their mastectomy surgeries and discharged," she said.
Through grant writing and donations, Impact One is able to serve. Impact One also holds a monthly support group in Gilbert. Find the location and time at the website impactone.pink under Resources.
At Saturday's event in Maricopa, Mayor Christian Price spoke of the importance of early detection and knowledge of early signs and symptoms, sharing with the crowd his own extended family's struggle with cancer.
Price disclosed that he was recently diagnosed with Melanoma on his ear and underwent surgery to remove the cancerous tissue.
Councilwoman Julia Gusse also shared her personal family experience with the crowd.
Her husband, Kevin, was diagnosed with breast cancer two weeks prior to his 50th birthday. He had his breast and 11 lymph nodes removed to prevent metastasis or spreading of cancer to other parts of his body.
"As a male, he never had any breast cancer screening even though his mother had breast cancer," said Gusse in an interview later that day. "At first, he told people he had 'chest cancer' because it was easier to explain and did not have such a stigma.
"Now, he finally is now able to share that he has breast cancer, but it has taken time."
His symptoms were unusual pain in his breast area and discharge, symptoms that can be similar in women. Any signs, sensations or symptoms that seem unusual or out of the ordinary may be cancer and should be followed with thorough testing.
Day told a story of how her mother discovered Stage 4 breast cancer in 2003 during a time when women were less likely to believe they needed regular mammograms and health care providers did not push them. The cancer had already spread to her bones, then later spread to her brain. She had only about a year in remission in between.
Aguilar shared her experience of losing a childhood friend to breast cancer at age 35 and watching her friend's children grow up without a mother. Her friend had noticed back and hip pain that was unusual for her.
"That's the key," Aguilar said. "Check anything, any symptoms that are out of the ordinary or unusual for you and follow up."
Aguilar said although her friend did act fairly quickly, her breast cancer was discovered in Stage 4 and she had only eight weeks to live.
"Listen to your own body and keep pursuing it, get a mammogram even if you're told you're 'too young' or insurance won't pay at your age or at this time," she said.
The mobile truck on site at Saturday's event charged $156 out-of-pocket for a mammogram, regardless of income. Women with fixed or moderate to lower incomes may qualify for free mammograms through the Pinal County office on Smith-Enke Road next to the library or through other organizations that may be found online, Aguilar said. Increasingly, mammograms can be found free at mobile sites throughout metro areas.
"You have to be your own advocate, and you may have to keep following up," said Aguilar, until you receive sufficient test results.