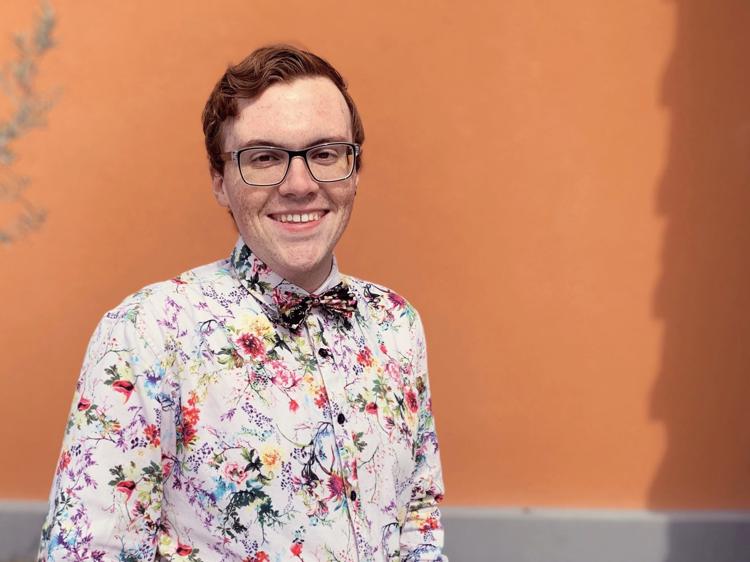 MARICOPA — At 24 years old, most young adults are leaving school, starting their chosen careers or moving out. For one young city of Maricopa employee, however, that was years ago.
Adam Shipley, economic development coordinator for the city, recently was named one of 20 young business leaders to look out for in 2020 by AZ Big Media for both his role in the city and his participation in the nonprofit Arizona Forward.
He was also the youngest to be selected; most other winners are in their 30s and 40s. Shipley said he was shocked by the win.
"I was really excited. I was really surprised. I didn't know at that point that I was the youngest," Shipley said.
Humbled by the award, Shipley still can't quite believe he was given the honor. He was quick to give the city of Maricopa credit for helping him on his journey.
"I think the environment in the city of Maricopa is so supportive and everybody will listen to your idea, even if it's not the idea that gets approved," Shipley said with a smile. "Everybody just wants everybody to succeed. So I think, honestly, the place I work is the reason that I got it."
Shipley was awarded the honor when he was still a planning and zoning analyst, but he has now been promoted to his new role as economic development coordinator as of Jan. 1. This is part of an effort by the city to unify departments and make it easier than ever to create a good climate for businesses.
"Our goal, in one line, is to be the best community in Arizona to do business," Shipley said. "Just making the development process super simple, super easy … continuing to simplify the process. It's nothing super fun or sexy to talk about, but (we're) making it super easy to come in and not be intimidated by the whole development process."
As part of his position, Shipley works closely with City Manager Rick Horst, with whom he has formed a great working relationship.
"We have a new city manager that has been in place for about a year and a half, and he runs 1,000 miles an hour and everybody's just trying to keep up with him. A lot of long-term projects or things that we thought were going to be long-term, he's gotten done a lot quicker than we thought," Shipley said. "He's great — and very busy."
According to Shipley, Horst has helped him believe in his own ideas and pushes him to continue his work both in the city and with Arizona Forward, where he is an emerging sustainability leader.
Arizona Forward is an organization dedicated to creating more sustainable and environmentally friendly cities through urban planning such as transit options, water supply and open spaces. It has operated for over 50 years and created the emerging sustainability leaders program to help prepare a new generation for addressing climate issues.
He is one of 15 students participating in the competitive program. As part of that team, he participates in climate change conferences, attends meetings and tours facilities that impact the environment. The program is designed to operate within the regular school year, but it's not restricted based on income — something that Shipley appreciates.
"I'm a part of some other groups similar to this and the content is not even close to what they (Arizona Forward) do. It's really top notch, and it's free," Shipley said. "I think it's really important that sustainability and other kinds of educational programs are not restricted based on financial access."
Though it doesn't directly correlate to his work in Maricopa, Shipley has found ways that the two intersect.
"One of my personal passions is sustainability and the environment," Shipley said. "That's not really my job at the city of Maricopa, but it's cool because a lot of the things that we do work on strive toward that goal. … It's just an extra benefit."
He gave the example of his work to create a thriving business community in Maricopa, cutting down on commuters and, as a result, air pollution.
Shipley is originally from Baltimore, where he lived with his younger sister and extended family. While working as a barista for Starbucks, he was accepted into Arizona State University through a partnership program the company has. After his first year online, it was clear to Shipley this was what he wanted to do.
"I thought I should do it for real," Shipley said. "I packed up my car and drove out here. I don't have any roots here or anything. I moved out here about three years ago, to the Phoenix area."
He earned his Bachelor of Science degree in urban planning and was accepted last August into a master's program at ASU. However, he deferred in order to focus his field of study more closely in line with his passions currently. He'll start his latest educational endeavor as a sustainable urban planning major in August 2020.
The business leader award is coming just at the beginning of what Shipley hopes will be a long career in the field he is most passionate about.
In the future, he would like to continue working on city issues with sustainability in mind. With his understanding of the needs of urban planning and his passions as an environmentalist, he believes the two can be achieved simultaneously.
"Sustainability does not have to exist in a vacuum, it can be incorporated into nearly any project a city is working on," Shipley said. "The environment of respect, hard work and innovation at City Hall is what has enabled me to be successful. What I'm working on in 2020 is developing small business services and tools to create a business climate that helps new and existing entrepreneurs achieve their full potential, so they have the same kind of environment that has empowered me."