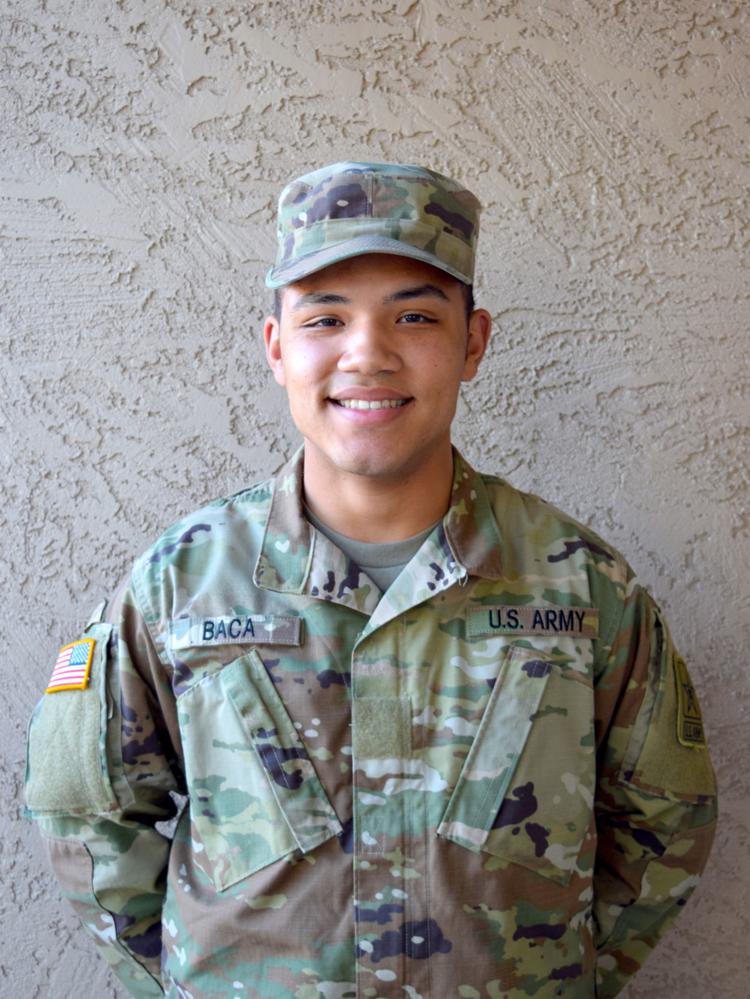 MARICOPA — Joe Baca may only be 18, but he's already got some big accomplishments under his belt. Upon graduating from Maricopa High School and JROTC in May of 2019, he was already committed to the Army at 17 years old.
He shipped off to basic training in 2019, and returned to Maricopa and his family after a grueling 10 weeks in Ft. Leonard Wood, Missouri, in January. On Feb. 14, he'll hop on a flight to South Korea, where he'll be stationed for the foreseeable future.
His parents, Joseph and Shawna Baca, adopted all five of their children, including their eldest son, Joe. Their other children — Izayah, 15, Iyana, 9, Ariah, 8 and Karmeleah, 4 — are all excited for their big brother to make the leap into adulthood.
When he left for basic, Baca was not only leaving the city he grew up in, he was also leaving his family, something that he says was especially hard for him.
"One of the challenges of going through basic (was) being away from home and family, because I've been here 14 years, it's all I know," Baca said. "Then for me to go from here, all the way over to Missouri and go through all that, it was pretty hard."
Though the change was abrupt, he took the lessons of his commanding officers, and what the Army can provide him over the course of his five-year contract, to heart.
"It was hard, but I picked up a lot of good traits from my drill sergeants," Baca said. "They taught us a lot — a lot about military discipline. It definitely prepared me for what I'm going to be doing in the next five years."
Baca took the stress of long training days in stride and made fast friends with the rest of his platoon, some even sharing his hometown connections.
"I was very lucky to get my platoon. All the guys, we went through it together. We brought each other up when some of us were feeling down," he said.
One of Baca's comrades in basic, and the only other Arizonan, was a young man from Casa Grande.
"He shipped out on the same day," Baca said of his friend and comrade. "He's got the same birthday as me, same situation. It's me and him. He was the one guy that I could really trust from the beginning."
He went through the Rites of Passage Ceremony last month, which marks the completion of their 10-week basic training course and awards Army hopefuls with the official title of military police (MP).
"They pretty much put this patch on you — this one says U.S. Army — and then you get to be called a soldier. That's been the most rewarding," Baca said, moving his left arm to proudly show the U.S. Army patch on his uniform.
Joseph Baca could hardly contain his excitement for his son. Though Joseph himself did not join the military, all of his brothers did. He is intensely proud of his son's choice to do the same.
"I tried to guide him in what he wanted to do. He needed to pick a profession, and he was interested in the military," Joseph said. "So I told him to join (J)ROTC because that would guide him in the right direction where he wants to go. So that really helped him out, (J)ROTC in high school. I highly recommend it to any of these kids."
Joseph recalls, as if it were yesterday, little Joe running around on all fours, pretending to be a dinosaur — his favorite at the time. He's grown up a lot since then, running all four years in track at MHS and earning the Sons of American Revolution bronze JROTC award for exceptional leadership qualities his senior year.
"He's just been the awesomest kid from day one. He's always listened, never talked back. I'm just so, so proud of him. I just burst with joy with what he's done so far," Joseph said. "He's gonna do really good in what he chose to do."
His son is most looking forward to experiencing a different lifestyle in South Korea than his American upbringing, especially, "the culture, the people there, the food."
"I can't wait to — after my shift — go out and explore," Baca said. "I see myself as an 18-year-old being able to go to Korea. You know, not a lot of people can say that, at least at 18 years old. So I'm going to try and see as much as I can."
His siblings are all excited for Joe too. His younger sister Iyana has taken to wearing an army hat around the house and his younger brother Izayah, a sophomore at MHS, is also considering a path in the military.
"Once he (Izayah) went to Ft. Leonard Wood and he saw his brother, that made his decision," Joseph said. "His eyes were wide open, it was awesome. It was really awesome. It's unbelievable what they do there. I'm just so proud of all our military, the kids that go there. You know, they do a lot for our country. And we need to help back 'em."