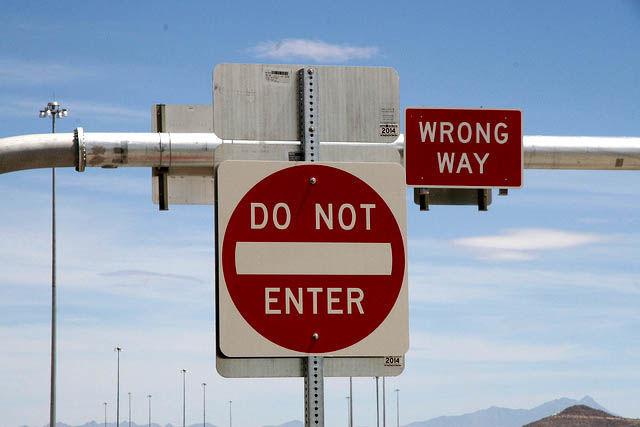 MARICOPA — On Feb. 23, Maricopa resident Matthew Ortega was traveling home on State Route 347 from his job at an Embassy Suites in Tempe. It was a usual night for him until he saw something strange coming toward him on the road.
"I saw this pair of lights just coming right at me and at first I'm like, 'No, it can't be,'" Ortega said. "It's mesmerizing, because you're like, 'This isn't right. I know what it is, but it just can't be happening.'"
It was a wrong-way driver, a 31-year-old Maricopa man later determined to be possibly under the influence, driving north in the southbound lanes of 347. Ortega moved all the way off the road to the right and watched the man pass him while he dialed 911.
The collision occurred moments later right around Casa Blanca Road, and the woman in the vehicle the driver hit, 67-year-old Ma Ponce from Mesa, died at a hospital from her injuries. The wrong-way driver was hospitalized with serious injuries.
On the phone with dispatch, Ortega didn't realize how close he had come to being hit until he checked the time stamp on his phone the next day — 11:40 p.m., the same time as the accident.
"The next night was when I was really apprehensive, especially getting back on the 347," Ortega said. "When I came home the next day, I saw the screech marks and where the accident was, and I must have still been on the phone with 911 when it happened."
In a recent study, Arizona was ranked highest for wrong-way drivers out of any state in the United States. Though wrong-way drivers have been a hot topic of discussion in local media, it was still a shock for Ortega to see one on the 347.
"Just bewildered," Ortega said. "I've seen wrong-way drivers on the I-10, but never on the 347 in the same lane as me."
Maricopa Police Department spokesman Ricardo Alvarado echoed the Department of Public Safety and the Arizona Department of Transportation's stances on what to do if someone comes across a wrong-way driver.
"The suggestion is obviously to get over to the slow lane, or the right lane, because the wrong-way driver coming in the opposite direction believes that they're in a two-lane road and they will be traveling in left-lane traffic," Alvarado said.
Alvarado knows this advice first hand, as he almost ran into a wrong-way driver on the way to his second job at Sky Harbor International Airport just a few months ago.
Alvarado was driving at around 5 a.m. on State Route 143 when he saw an ominous sign up ahead, the one many Arizona drivers fear.
"I look up and I see the sign flashing 'Wrong-way driver, please move over,'" Alvarado said.
He and several other cars were spread across the lanes of the highway, approaching a bridge they could not see over and had to react quickly to the sign.
"All of us, like snakes, we all get over and as we cross the bridge — here it comes," Alvarado said, referring to a speeding wrong-way vehicle. "I call my buddy at work and I'm like 'wrong-way driver, I just almost got hit by a wrong-way driver.'"
The driver was stopped further down the road and was found to be intoxicated. Alvarado is still thankful to have escaped so closely by following the official advice.
By doing the same, Ortega most likely prevented himself from becoming a victim in that crash. He understands the position of official entities, as his father worked at DPS for 25 years and has also seen his fair share of wrong-way drivers. However, Ortega hopes that in the future more will be done to prevent casualties as a result of careless driving.
"They've done everything they can to try to waylay it by putting up the wrong-way signs, but if a person's inebriated like that, they're not noticing signs," Ortega said. "I think other provisions can be made. I know we are trying to get the 347 expanded and a safer road for everyone to travel on, but this is something definitely to consider as we move forward with that project."