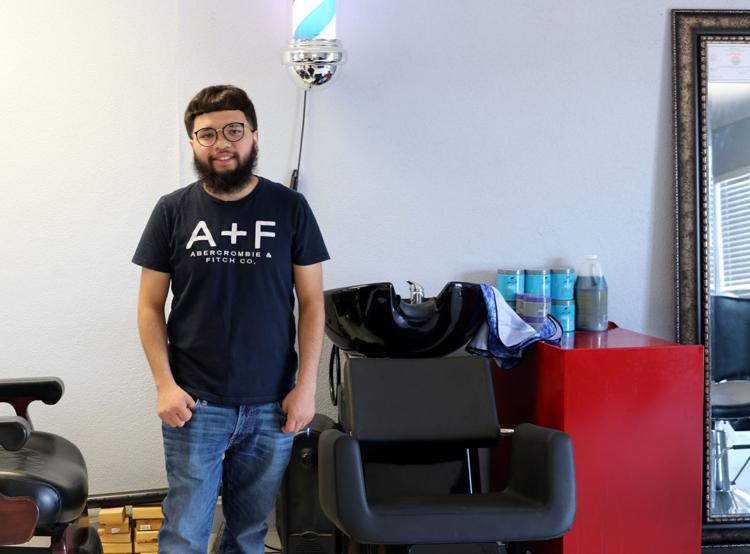 ELOY — Edward Sauceda always enjoyed going to the barber shop, so opening his own shop in his hometown is the realization of a dream.
"I always thought it was cool going to the barber shop," he said. "It was always my favorite thing to do. I was always wanting to go to the barber shop. I'd go every week if I could. I like hanging out and cutting hair. You meet cool people to talk to, see what's going on in their lives. It's always interesting, it's never the same. I mean yeah, it's the same people always coming in, but they always have good stories."
Sauceda graduated from Santa Cruz Valley Union High School and then went off to college for a year before he realized that college wasn't really his thing.
"I was just trying to think of jobs that I thought were cool and a barber is the only job that I thought was really cool and that I'd enjoy," he said. "There's not that many barber shops here, like Casa Grande has like 30 or 40. You talk to people here and they go to TA (truck stop) or Casa Grande, and I thought why don't I open up something here."
He added that he has always enjoyed the atmosphere of a barber shop.
"It was just a real cool place, the barber shop, I always liked it," Sauceda said. "It was a real good place to hang out and a real good place for the community. You meet cool people, and I felt like Eloy needed something like that."
He also admitted that his first few months of barber school were the hardest and there was a time when he thought he wouldn't be able to get the hang of things.
"I thought it was going to be a lot easier," Sauceda said. "The first two or three months is the most difficult part. There comes a point where you think dang, I'm going to have to quit because there is no way to get this. But as soon as it started to click, you just understand more and more. I still feel like I'm learning every day."
After a long wait due to many factors related to COVID-19, Sauceda finally opened his shop, Essential Cuts, last month.
"Essential employees," Sauceda said. "The coronavirus slowed me down, and I thought all the essential workers stuff was kind of fun, so I just figured Essential Cuts."
Along with having to convince his parents, Anna Bell and Edward, to sign off on his loan. Sauceda then had to wait for the bank to finish up with the small business loans related to the COVID-19 outbreak, which delayed his business loan.
Being close to his family was a big factor in choosing the location for his shop.
"My parents are just not leaving here; they're never going to leave," Sauceda said. "I asked them and they said they weren't leaving. I thought the city need it, and I wanted to be closer to my family."
Before officially opening, Sauceda was cutting hair at his house, so he's already built a steady clientele, which has made the transition easier.
"I didn't really like having people come to my house," he said. "You like to keep your personal life and your work life separate, and that's kind of hard when people start showing up to your house in the middle of the night asking for a cut."
As of right now, Sauceda is the only barber at Essential Cuts and he offers facial shaves and men's haircuts. Following CDC guidelines, he is only available by appointment, that way he has time to clean up between every cut.