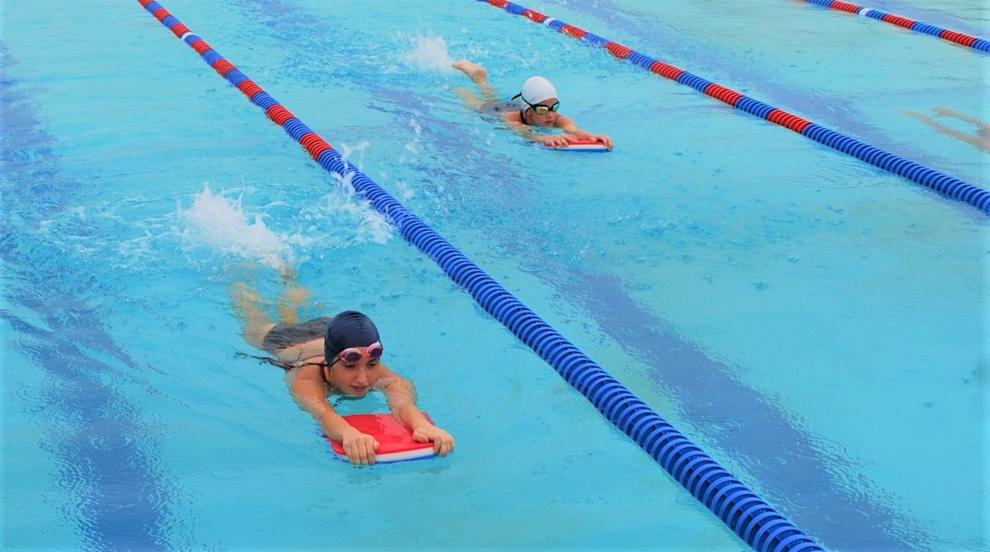 COOLIDGE — As the Coolidge Bears swim team gets its season underway, coach Noelle Minck does not know what to expect from her small team of 10 members.
Her goal is to see improvement throughout the year and to keep them interested in returning to the swim team next season.
The 10 members of the team, with four boys and six girls, is a vast increase over the past few years when even having a relay team was made impossible.
"That's still small, but I can get relays going," Minck said.
Last year the team consisted of two girls and two boys.
Minck said the addition of four intramural swimmers, who someday could become team members when in high school, would have been impossible without the new Coolidge Aquatics Center that opened in May after a $5 million bond passed in November 2019.
"The junior high stuff would not be happening," she said.
The new center features two pools, including an expanded competition pool for the high school, a rock climbing wall, younger swimmers' pool and playground, as well as a signature water slide that towers over the complex.
Minck said to keep the cost down a lot of the old pool and materials were used for the center. The pool was under construction all of last season, meaning the team couldn't practice near their own school, and the pandemic didn't help either.
"We are getting there, but COVID threw us off," she said. "I want to make sure my kids are improving."
Even with improvement she knows the difficulty her team will encounter when going against the competition.
"When we try to qualify for state we go against kids who swim all year round," she said. "It's hard in a 12-week program for kids to compete against (students) who swim all year round."
But she knows it can be done, as a few of her swimmers last year qualified for state.
"They can do it, but it relies on a lot of work and focus," she said, adding the top 24 times qualify for state.
One athlete bringing plenty of experience despite her age is sophomore Tatum Volk, who has been swimming for years.
"It makes me feel good about myself," Volk said. "It makes me feel strong."
Minck, who is retiring at the end of the school year, said she has been swimming since she was 10 years old.
"I enjoyed it, and I was good at it," she said.
From 1982 to 2006 she taught and coached in Casa Grande, and decided to retire after her daughter graduated from high school, before Coolidge contacted her a few years ago.