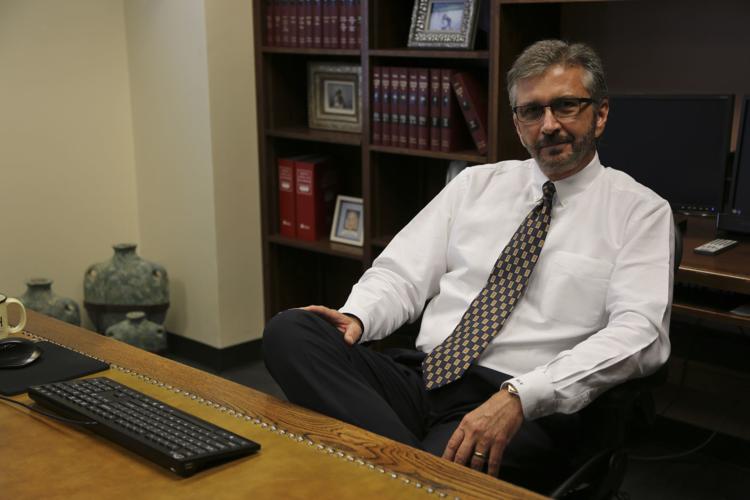 CASA GRANDE — Judge Garye L. Vásquez of Casa Grande has been selected by his colleagues to be chief judge of Division Two of the Arizona Court of Appeals.
Vásquez was born in Casa Grande and grew up in Eloy. After attending Central Arizona College, he went on to study at Arizona State University and the University of Arizona's James E. Rogers College of Law.
He was an attorney in Casa Grande for 21 years with the law firm Cooper, Vásquez & Rueter, during which time he served on numerous county and community boards and commissions.
Vásquez has served on the Arizona Court of Appeals since 2006.
Division Two of the Arizona Court of Appeals reviews legal challenges to trial court judgments entered in the Superior Courts of Pima, Pinal, Cochise, Gila, Santa Cruz, Graham and Greenlee counties.
Each year, the court resolves over 800 appeals and issues over 600 written decisions.
Vásquez will succeed Judge Peter J. Eckerstrom, who completed his five-year term as the court's administrative head on July 1.
"It is a huge step up and it is one that I am looking forward to," Vásquez said. "My time as chief is kind of unique. My predecessor Pete Eckerstrom, when he was first chosen by his colleagues to be chief, had taken ill. For about nine months at the beginning of his tenure I served as acting chief."
In 2018, during Vásquez's tenure as vice chief judge, he was instrumental in establishing and implementing the court's highly successful "Babies on the Bench" program, which permitted three employees who had babies in early 2018 to spend workdays with their babies at the court. Two of those employees were Vásquez's law clerks.
As chief, Vásquez plans to continue to expand the court's community outreach program, which he formally created and oversaw while he was vice chief judge.
The program provides educational and outreach opportunities for high school students, Superior Court judges and members of the bar in the seven counties over which Division Two presides.
Vásquez believes that "although members of the communities we serve as a court must come to us, it is essential for the court to go to those communities in order to foster a positive relationship between the two, enhance the public's understanding of the judicial system and facilitate the public's access to the courts."
As chief of the court, Vásquez's new duties are mostly administrative.
"The chief doesn't carry any more weight on decisions or on how cases are decided than any other judge here on the court," he said. "The chief is primarily the CEO, so to speak. We are responsible for personnel, budgetary issues, dealing with other courts and with the Legislature."
He also recognizes the importance of providing court staff with the tools, training and education necessary to do their jobs well, supporting opportunities for in-house training and continuing education.
Vásquez is a committed proponent of Division Two's nationally recognized electronic filing and case management systems, rendering the court truly "paperless." He is committed to continuing the tradition of maintaining professional excellence while resolving cases in a timely manner, exceeding the time standards for the resolution of appellate cases set by the Supreme Court of Arizona.
Vásquez will serve as chief of the court for the next five years.
"Once is enough and then it is time to pass the baton," he said.
In the Division One Court of Appeals, the chief is appointed for only two years. The chief of the Arizona Supreme Court is also selected for a five-year term.
Vásquez primarily lives in Casa Grande but also has a part-time residence in Tucson, where the court holds session. Under Arizona law, Vásquez is required to maintain residence in the county he was living in when appointed to the court, which is Pinal County.
He said his second residence is just a place to stay during the week when the court is in session.
"I have found the major distinction between a practicing attorney and being a judge is that judges are somewhat isolated from the public they serve," said Vásquez. "Attorneys meet with clients all the time. Attorneys have court appearances and phone calls. It is constant interaction with the public. Judges serving on a court — it is just different. We are isolated. The public comes to us to have their cases decided and to have their issues resolved."
He said judges have to make a direct effort to get out into the community.
"I really think that is important," he said.
Judge Christopher Staring has been selected to act as vice chief judge of the court.