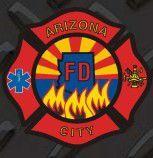 ARIZONA CITY —For a third year, the Arizona City Fire District held its Christmas Day Senior Dinner program.
The district delivered over 70 meals along with a gift and a card.
"For many of our seniors, we would be their only visitors during the holiday season," read a statement from the fire district.
Three years ago the district discovered that there wasn't a programs or resource for local seniors that are alone at home on Christmas.
Many volunteers come together to ensure the program is a success.
Big House Restaurant in Casa Grande provided the food on Christmas Day.
In the statement Fire Chief Jeff Heaton said that the program would not be possible without Chef Michael's help, who prepares and packages the meals so they can go out on Christmas Day.
Firefighters and Arizona City residents volunteer their time to deliver the meals and the entire fire district would like to thank everyone who make the program possible.
"There is no better gift than bringing joy to the faces of our seniors on Christmas Day," the statement read.