EDITOR'S NOTE: This is part of a series examining the lives of five Pinal County residents during the COVID-19 outbreak. Those participating in the project have agreed to share their lives with PinalCentral readers, and we will revisit them periodically during this health emergency.
MARICOPA — Laura Studebaker watched her business plummet in just a few days.
Studebaker is the owner of Happiest Vacations, an online destination travel broker. As the COVID-19 global pandemic health emergency spread around the planet, her company went from booking people on the happiest trips of their lives to seeing them seek the best way to get a refund or to reschedule their trips sometime in the future.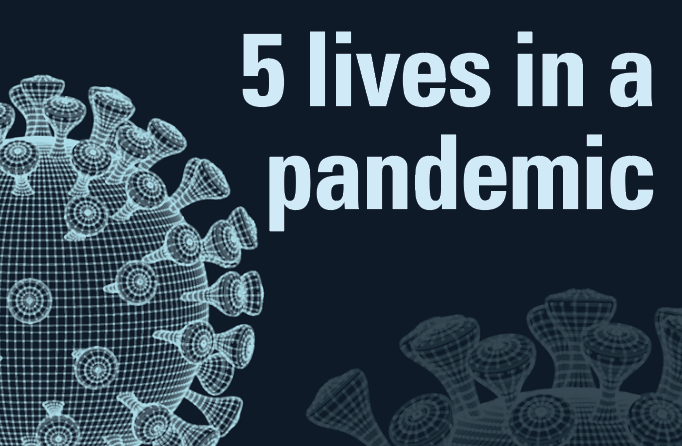 Studebaker, 41, is married to Scott, and they have two children, 12-year-old Sofia and a newborn son, Luke. They have lived in Maricopa only for a year.
They moved to Maricopa from California and she lived in Ahwatukee for 6 years before that.
"I own a vacation agency. I plan trips for my clients and my clients are all over the United States," she said, adding that the company only handles vacations and not business trips. Destinations are often the Caribbean, Mexico, Jamaica, Europe or Hawaii.
"With the current state of things, my business has crashed overnight. I went from happily booking people's honeymoons, vacations and destination weddings to just trying to figure out how to get my clients the best deal if they're not getting a full refund. How to apply their travel funds toward a new vacation or rebooking them on something maybe down the line," she said.
Studebaker said she only gets paid a commission once her clients travel.
"With everybody canceling their trips, all of my income is gone. It has been really stressful because we count on that income for our family. At the same time we don't want to encourage clients to be in a dangerous situation. We want to be able to help people out, but I don't want to book you right now. It's not that I don't want the money. I don't really feel comfortable having people traveling in March for sure."
But some people are still traveling in spite of advisements. "As long as the airlines will continue to operate and the suppliers will continue to take their money, people will find a way to get there," Studebaker said.
She said people don't want to be cooped up in their houses. She said many people are actually going camping just to get out of the house.
"Right now I am not booking people new reservations until the late summer. If they want to go in July, August, September, I will book them. It doesn't mean that the travel restrictions won't get extended to those dates. I do still have clients who are hoping to travel in July. I don't know with the way this spread has gone of the COVID-19 that we will be able to travel in those months," she said.
Globally, a lot of cruise lines have stopped operations though May.
"My parents are booked to go on a cruise May 23. We are just waiting to see what the travel restrictions will be at that time," Studebaker said.
Her husband is working from home.
"The kids see him and want to interact with him but he's not really here. He's working in my office upstairs. He has to be in a secured area. He is basically locked away in that room all day until quitting time. For him, it's business as usual, just from a different location," she said.
Studebaker said she is not concerned with her children's future because of the global pandemic.
"I am a Christian and I believe that God will take care of me. This too shall pass. My daughter's school released a plan for general learning, which they're adhering to through the end of March. Starting in April they will have distance learning available. Sofia has about two-and-a-half hours of school work a day that really is optional but she is choosing to do it so she can stay on track. She is gifted, so we are also providing her with a lot of enrichment opportunities," she said.
"I also taught her how to bake a loaf of bread. She baked one start to finish the other day. It was delicious," Studebaker said, adding now is a great time to teach children life skills because many people have plenty of time.
The family has stayed at home through the pandemic emergency. They have more family nights playing games and watch family-oriented shows and movies on television.
"We are taking advantage of all of those free resources online. Yesterday we drew murals in our driveway with sidewalk chalk. We haven't left and we're going to be here until at least April 1 or 2. We have stayed away from people. Luckily my parents live in Maricopa," she said.
As her parents have a business in town and are out daily, they often drop off supplies for the family.
"She has been delivering groceries as she finds them to our doorstep. She still has to keep her business afloat so she still has to be out there. They have been doing things like this for us because we need things like diapers, which have been very hard to find. Baby Wipes are also hard to find because people are hoarding them," Studebaker said.
She said people have been driven by fear.
"We are not doomsday-prepper kind of people, but we are always aware and over time we have always kept a little extra on hand because we have fallen on harder times as a family before. We haven't had the need to go out and bulk-buy anything. If people would just stay inside and deal with it for two weeks, other than essential businesses, I think we would be a lot better off. People can show no symptoms and can still be carriers," she said.