EDITOR'S NOTE: This is part of a series examining the lives of five Pinal County residents during the COVID-19 outbreak. Those participating in the project have agreed to share their lives with PinalCentral readers, and we will revisit them periodically during this health emergency.
ROSE BARRACKS, VILSECK, GERMANY — Verena Sullivan-Douglas went to Germany to help her daughter have a baby and she is now having a hard time getting back because of the global COVID-19 pandemic.
Sullivan-Douglas, 52, is married and lives in Casa Grande. She is a retired paramedic, and her husband was a law enforcement officer and is now retired. She attends Catalyst Church in Casa Grande and started a homeless ministry there a few years ago called Angels Unaware.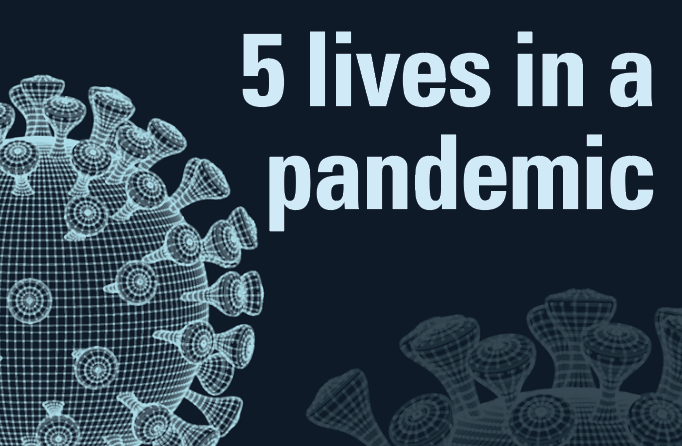 "We moved to Casa Grande two years ago. He wanted to be in the warm desert and it doesn't get much warmer than there. We moved to Casa Grande from Oregon but I was born and raised in California," she said.
She ended up in Germany, stuck on an Army base, because she was trying to help her daughter.
"My daughter Rose Marie (Lewis) is a sergeant in the Army and is stationed over here in a little town called Vilseck, on a base called Rose Barracks. She was pregnant and getting ready to deliver and wanted momma here, so I flew out on Feb. 12 to come and stay with her for a few weeks while she delivered and recuperated from having the baby," she said.
Sullivan-Douglas's husband is still in Casa Grande.
"My hubby is still at home, hopefully quarantined very, very well. He is 67 and he has some underlying health issues. When I left in February, of course we all heard a little about the COVID-19 but it was nothing like what it's ended up being. I wasn't afraid to travel. I am a reasonably healthy person. I rarely get sick. I got over here and within about a week of the baby being born, a month ago today, we started hearing stories from the Army about quarantining and travel restrictions," Sullivan-Douglas said.
She said the Army told all soldiers they could not travel outside the Bavaria area.
"Within a few days of that they said soldiers cannot even leave the base. Then a few days after that it was soldiers and their families can't leave the base and they are shutting everything down. Now no one can get on base without being prescreened and only essential personnel. We are literary on lockdown now. No one can come or go from the base without being screened first. Soldiers and their families cannot leave at all," she said.
Rose Barracks may just be an Army base but it has a population of 40,000 people.
The major Army training center has been described as the "school house" for the U.S. Army in Europe. Transition training and fielding of new equipment is its most visible mission. It is located about 30 miles west of the Czech Republic border and 50 miles northeast of Nuremberg.
The 409th Base Support Battalion is stationed on Rose Barracks at Vilseck, one of the most charming military installations in Germany.
"They're doing the same thing here that they are doing in the States. They're asking everyone to avoid non-essential travel. It is real easy to do with that new baby in the house. Her husband does the grocery shopping and any errands that need done," she said.
Getting food and supplies "is the scary part," she said.
"There is one commissary here on base. It is supplying all the food. All the groceries for every family here and it's only stocked twice a week. The shelves are bare. There is nothing. There's no meat. There's no dairy. There's nothing. No water. No bread. My daughter's husband is actually friends with someone in shipping and receiving at the commissary. When they get a shipment, they call him so he can get down there immediately before everything is bought out," Sullivan-Douglas said.
With a newborn in the house, the baby shower gifts have provided the child with all the diapers she needs for several months. The mother is breastfeeding, so that eliminates the need for formula.
"I am not afraid of getting COVID-19. I am afraid of societal breakdown. If the Army has a contingency plan for what to do if this all goes south, they are not cluing the soldiers in. The soldiers are not being very well briefed on what the plan is. That scares me," she said, adding she is also very concerned about her husband at home in Casa Grande.
"My greatest fear is my husband at home, who I can't get to. My flight out of here has probably been canceled. It's hard to know because I can't get through to anyone on the phone," she said.
With the airport three hours away, her only hope was to ride a train to the airport and arrive the day of her flight, March 31.
On Friday, she was finally able to get through to the airline on the phone after being on hold for more than three hours. She was able to get a flight out of Frankfurt on Saturday to London. She will then be stuck in the Heathrow Airport overnight and then hopefully be able to fly back to the United States Sunday or Monday.
"How am I going to get to the airport? It's three hours from here and my daughter and son-in-law aren't allowed to leave base. I don't even know if I have a flight. It is all very up in the air, undetermined and out of my control," she said.
Sullivan-Douglas said the entire situation is very fluid and changing hour by hour.
"They have a tent city set up at the airfield here now where they are quarantining people. Some of these soldiers who live off base have come on base to do their job and have ended up quarantined on the air field. I haven't been allowed to travel for two weeks, so I really don't know what the outside looks like. I hear the streets are bare and the European Union has shut down its borders. This is the epicenter of the new breakouts. The streets are bare. All tourism is gone. The airports are empty," she said.
Sullivan-Douglas said she remains concerned about the breakdown of modern society and still believes the pandemic is being blown out of proportion by the media.
"We need to make sure people are safe but there are other things that have come through that were much more deadly that we didn't take these precautions over. Why this one, why now? I pray every day. I know God has me in his hands. Whatever he decides to do is what is going to happen. I have faith in that," she said.