CASA GRANDE -- It's not uncommon for Mary Williams to open her front door to find bags of fabric scraps or piles of donated pillowcases on her front step.
Since she began making comfy and cozy pooch pillows for dogs at the Pinal County Animal Care and Control shelter, she receives bags of donations every day. And she urgently needs more.
"I started a few weeks ago with 12 bags of fabric scraps and a pile of pillowcases, and I went through them pretty fast," Williams said. "I'm going to the fabric store today to buy fabric remnants to make more."
The pillows are designed to be used as bedding so that dogs are more comfortable when they're in the shelter. They are especially nice for pregnant dogs, puppy litters and senior dogs, she said.
"The dogs love them," she said. "It makes their life in the shelter a little more comfortable."
Each pooch pillow is made with two pillowcases for a sturdy, double-layered bed. Rather than traditional polyfiber fluff filling, Williams stuffs each bed with fabric scraps as a safer alternative.
"Each bed is actually pretty heavy and nice and sturdy," she said. "It makes it harder for the dogs to tear them apart."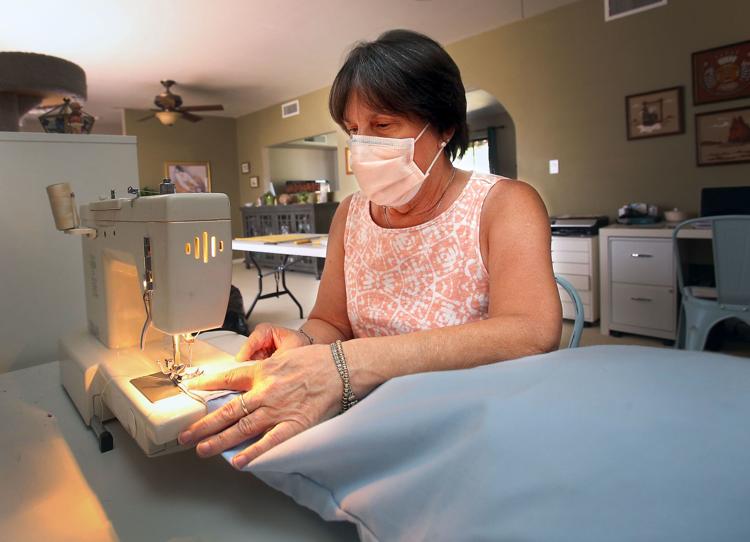 Williams has long been fond of animals. In the pre-COVID-19 days, she volunteered at the Valley Humane Society shelter.
"I stay home most of the time now because of COVID," she said. "I'm in that high-risk group that needs to avoid getting it."
She was looking for something to do when she learned that the county animal shelter at Eleven Mile Corner needed comfortable beds for dogs.
"An elderly couple was making the beds for the shelter for a few years until the wife recently died and the husband moved out of the area," Williams said. "I needed something to do to keep busy."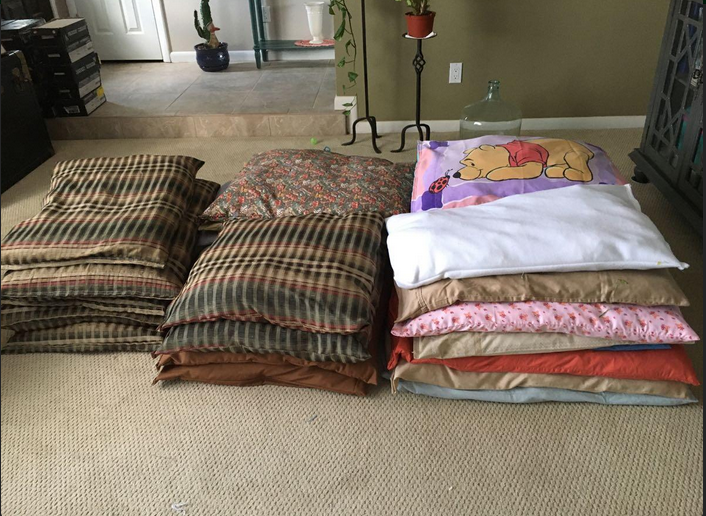 Williams spends about three or four hours a day making dog beds, averaging about 35 beds a week depending on fabric and pillowcase availability.
She turned to social media recently seeking more donations so she can keep sewing.
"Keep help coming," she wrote on the Nextdoor social media app. "I want to thank everyone who donated pillowcases this past week. I was able to deliver 35 dog pillows and the Pinal County animal control was very grateful. Please continue to donate pillowcases or material to the cause. The dogs and I thank you from the bottom of our hearts."
Any types of pillowcases or fabric scraps are accepted including cotton, PolarFleece, quilting materials and upholstery blends.
When pillowcases are not available, Williams, a former quilter, uses regular material or remnants.
"The beds made with pillowcases go much faster because three sides are already sewn up," she said. "When I have a pillowcase, I just stuff it and stitch it up. If I'm using fabric, I have to stitch up the other three sides too."
Williams, 69, retired a few years ago from a career as a mammogram technician. Her husband was ill and she wanted to stay home to take care of him.
"He had a very long illness and taking care of him filled my days," she said. "He passed away a year ago, and I needed something else to fill my days and feel purposeful."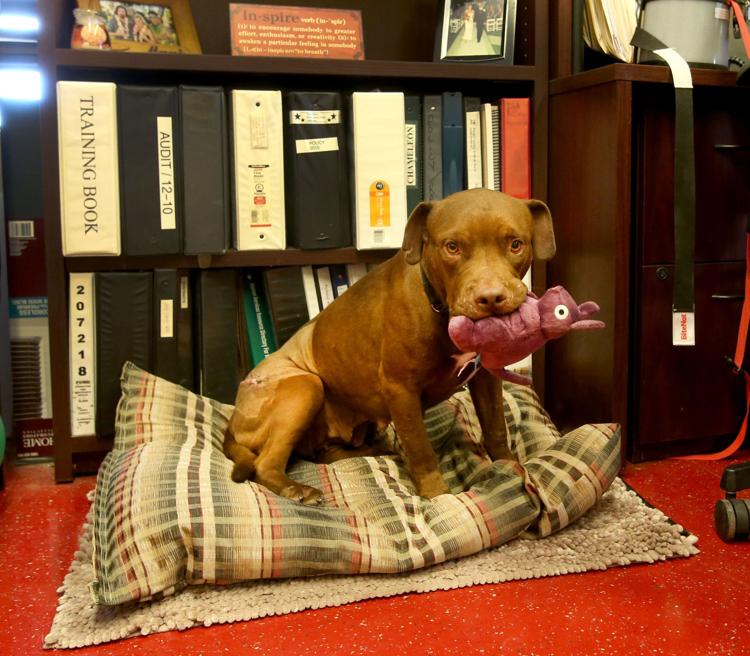 While the pooch pillows are for the dogs, making them helps Williams too, she said.
"I was feeling lost after losing my husband of 47 years," she said. "I think it's important for retirees or people who are home a lot and confined to feel that they have a purpose and to be productive. Retirees don't have to just sit around and play cards."
She said she knows the shelter animals appreciate the handmade beds because her own three dogs approve.
"I have three dogs and they each have their own bed, and they love them," Williams said. "It's important for dogs to feel that they have a bed of their own."
Those who wish to donate can drop donations off near the front door or in the carport at Williams' home at 1232 E. Cordova Ave. Those who wish to help may email Williams at rth2mw@gmail.com or send a text to 520-709-1949.