EDITOR'S NOTE: This is a series examining the lives of five Pinal County residents during the COVID-19 outbreak. Those participating in the project have agreed to share their lives with PinalCentral readers and we will revisit them periodically during this health emergency.
CASA GRANDE — As all of us have begun what is called "social distancing," one Casa Grande woman has already been doing it for the past five months.
Debra Castro, 54, has been fighting cancer of her appendix since October. She has been diagnosed with colonic-type adenocarcinoma that was discovered when she had surgery on her appendix.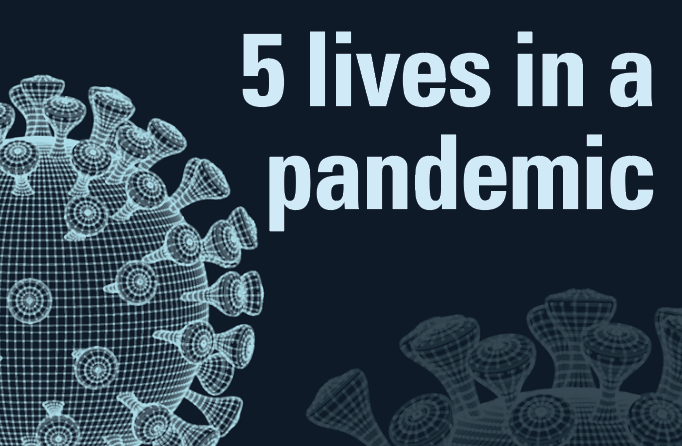 Colonic-type adenocarcinoma accounts for about 10% of appendix tumors and usually occurs at the base of the appendix. Appendix cancer looks and behaves like the most common type of colorectal cancer. It often goes unnoticed, and a diagnosis is frequently made during or after surgery for appendicitis.
"They thought I had an appendicitis. I was admitted into the hospital for dehydration and low potassium. I was in the hospital for eight days," Castro said.
She was in and out of the hospital several times over many months.
"They did what they thought was an appendectomy. They thought it was just an abscess. When they went in to try and take my appendix out, they couldn't find it. They let me out of the hospital and a couple days later I went back to my surgeon. He told me I had cancer," she said.
Castro said she expected it might be cancer but was still surprised by the diagnosis. Doctors quickly installed port access for chemotherapy and she had her first chemo treatment just a week later.
"Then this coronavirus stuff started coming up," she said. "My immune system is already compromised, so I don't go anywhere and I don't do anything. All I do is sit in this house all day long, every day."
When people visit her, including her grandchildren, they have to make absolutely sure they are not sick in any way.
"If they have a cough, they can't come inside this house. They have to stay away from me. Everyone even has to wash their hands before they give me a hug," she said.
Castro said her support system relies heavily on her longtime boyfriend, Michael.
"He's been taking care of me the past 29 years," she said.
Castro also suffers with seizures, which makes her cancer and its treatment all that more difficult.
"It makes it hard to have chemo. Hopefully, I won't have any seizures while I'm having chemo. That wouldn't be good. I really haven't left my house since last year — I'd say October. I didn't even know I had cancer until February. With my body, I can't go anywhere," she said.
The only exception to staying in her house is when she goes to doctors offices and hospitals for treatments.
"I'm going to stay isolated. I am going to go and get my lab tests here in Casa Grande and hopefully not catch anything. I have to have lab tests done before I go have chemo again," Castro said, knowing that simply going out of the house is not safe for her.
She goes out only while wearing an N95-grade respirator mask and sterile gloves.
"I have masks on order from Amazon. Everybody has been buying them up like crazy. You have to wait to get the good masks. I have two masks on order right now. I am washing my hands constantly. They say don't touch your face. How do you not touch your face? It is impossible. I don't know what's going to happen. I can't talk to my friends. I can talk to them on Facebook or call them, but I can't see them. I haven't seen my friends in months," Castro said.