CASA GRANDE — On the first day of school this year, Elijah Glickman, 14, plans to wake up early, put on his new school clothes and settle in for a day of classes, all without leaving his home.
As he starts his freshman year at Casa Grande Union High School on Aug. 17, he'll be seated behind a laptop computer in a newly designed workspace in his home.
"I'm excited to start my freshman year, but I'd rather be attending classes in person than online," he said. "I miss hanging out with my friends. I miss the social interaction I get when I go to school."
For parents, students and teachers, the back-to-school season amid the COVID-19 pandemic is unlike previous years.
"It feels surreal," said Sam Glickman, Elijah's dad. "It almost feels like we're preparing to send him off to work rather than to school."
The Casa Grande Union High School District — which includes Casa Grande Union High School and Vista Grande High School — begins the school year on Aug. 17 with all students learning from home until it's safe for in-person learning to resume.
Once the high schools reopen the classroom doors and welcome students back on campus, the district will offer two learning options including a 100% virtual curriculum and a modified in-person program in which teens attend classes on campus two or three days a week and learn remotely the other days.
Elijah plans to do the modified in-person program.
"I'm looking forward to playing in the band and that's something I can't do with the virtual program," he said.
Learning from home two or three days a week will be an adjustment for the teen, his father said.
"Elijah is a very social kid and he's been looking forward to high school for years. Normally during the school year, he's very busy with band and sports, which gives him a lot of social interaction. We know that will be different this year," Glickman said.
Knowing students will work from home much of the time, the annual back-to-school shopping list is very different this year, Glickman said.
Rather than the traditional pencils and spiral notebooks, this year's back-to school shopping list includes face coverings for in-person learning days as well as a workspace and efficient internet connection for learn-from-home sessions.
"It's very different than previous years," Glickman said. "We usually buy backpacks and basic school supplies. But this year, we bought ink for the printer, printer paper and new clothes. We also set up a little office with a computer desk for Elijah to use as a workspace when he's learning from home."
The National Retail Federation, which has been surveying nationwide back-to-school shoppers since 2013, said about 88% of consumers surveyed this year revealed that the coronavirus would affect their 2020 school shopping.
About 63% of parents with children in kindergarten through 12th grade reported that they expect to buy computers and other electronics this year, up from 54% last year, according to NRF.
Although spending on clothing is expected to be down this year, the average family expects to spend about $274.44 on overall school shopping this year, up from $203.44 last year, NRF said.
Teachers are also preparing for a different kind of school year.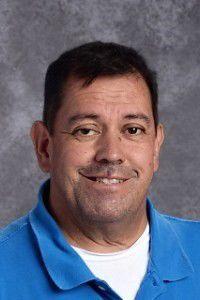 David Carter, who teaches marketing at CGUHS, said that his favorite first-day-of-school ritual is standing by the classroom door and welcoming students as they arrive to class.
This year, he'll welcome students to class from behind a computer screen.
"I'm an in-person type of teacher, and I love the first day of school," Carter said. "Starting school virtually this year will be challenging. It's going to be weird for the students and weird for the teachers."
Carter said he became a teacher in part for the difference a teacher can make in a student's life.
Although teachers have had plenty of training on how to adjust to virtual teaching, he said he's still feeling nervous.
"My class is a very social setting, and it's very hands-on," he said. "The first day of school, I'm usually showing the classroom to the students. And everyone is excited for a new school year. This year, on the first day of school, I'll be alone in my classroom."
But he said classroom social distancing, face coverings, modified learning programs and virtual classrooms are important steps to keep kids safe from COVID-19.
"If just one kid gets sick with COVID-19, I'll be heartbroken," he said. "But if we lose a kid to COVID-19, I'll be devastated. It's all about keeping the kids safe and making sure they don't take the disease home."