CASA GRANDE — With her new book, "Beautiful Is...," area author Lisa Perez hopes to share some of the inspirational words she learned from her mother while giving people hope in troubled times.
Perez began working on the book as her mother, Eloy resident Eva Valdez-Hernandez, was dying a few years ago. The book is not about grief but about finding beauty and inspiration in difficult times.
"My mother was beautiful," Perez said. "She got sick all of a sudden and as she was dying of aggressive lymphoma and her physical beauty started to fade, through her grace, I started seeing a different version of what beauty is."
"Beautiful Is..." is a reflective guide that features inspirational words of wisdom from Perez's mother.
"When she was sick, I started writing down some of her musings. The next thing I knew, I had written down more than 150 of her musings and that turned into a book," Perez said. "When I was writing the book, I felt she was inspiring me."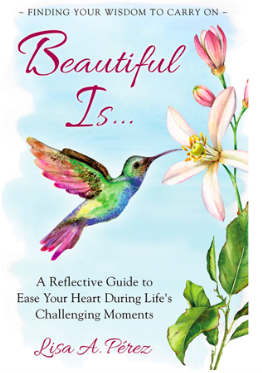 Through the book, Perez hopes to encourage people, when going through a difficult time, to:
Acknowledge the pain they are feeling
Accept healing
Affirm what is beautiful.
"Through those steps, people will discover their own wisdom to carry on in the most beautiful way, despite the challenges," Perez said.
As people struggle with the fear and uncertainty surrounding coronavirus, she said the lessons learned in the book can help.
"I had just launched the book when COVID-19 hit," Perez said. "I think the timing is perfect because it can help people who are struggling now.
"'Beautiful Is ...,' a reflective guide to ease your heart during life's challenging moments, is the loving story of the heart-felt insight gained from a daughter's journey with her mother as they faced their life-altering challenges together," a description of the book reads.
Perez is a speaker, life coach and founder of Vital Transformations, which provides professional leadership and well-being coaching and workshops.
"My mother was my best friend," she said. "In my professional life, I've fused some of my training with the wisdom I learned from my mother."
Although Perez lives in Chandler, she grew up in Casa Grande and attended local schools.
"Beautiful Is..." is her first book. It includes a journal section for people to write their own inspirational thoughts.
The book sells for $14.95 on Perez's website, lisaaperez.com, or on Amazon.
"The book is bittersweet to me," Perez said. "I lost my mother but something beautiful and helpful came from those final days with her."