MARICOPA -- Go to any of Maricopa's many points of interest, and a familiar form might greet you — a statue of a wild horse. But no two of them will look the same, thanks to the creativity of local painters.
The spirit of Maricopa runs free throughout the town thanks to the many artists submitting their wild horse art ideas to the city.
"The arts are a core service, integral to the health and vibrancy of our community," said City Manager Rick Horst. "A city with well-developed cultural amenities offers its residents an enhanced quality-of-life and is also an important criterion for the success of a community. The accomplishment of the Maricopa Wild Horses Project is a tribute to our heritage, to our community and to the talented artists and sponsors who made the project possible."
Most of the artists from the first round told their story about their horse art and the time, effort and feelings that went into creating it.
Friends of the Maricopa Library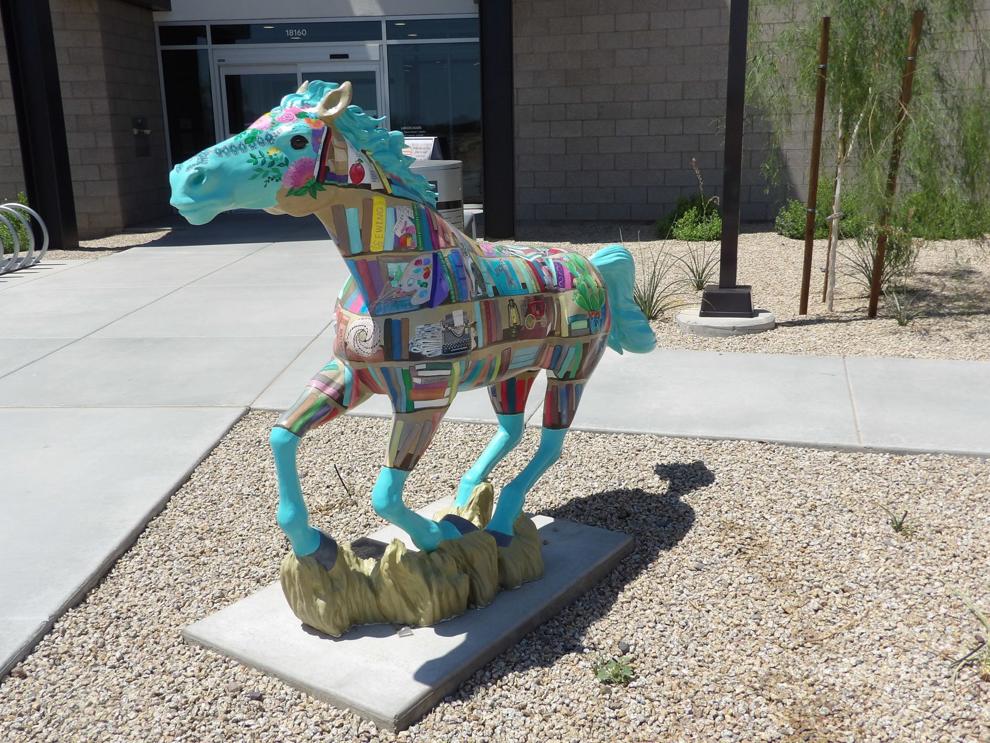 Location: 18160 N. Maya Angelou Drive, in front of the Maricopa Library & Cultural Center
The name for the horse came from its sponsor, The Friends of the Maricopa Library.
Koontz knew the horse was going to be placed in front of the new library and FOTL wanted a library theme. She painted three different designs and the bookshelf design is the one they chose.
The only change to her design they made was the color of the legs, mane and tail, which were originally brown. They went with turquoise, the color from one of her other designs.
"They were absolutely right, the color change really made an impact," Koontz said in an email interview.
She was chosen by a couple of FOTL committee members she considers "longtime friends" and "pillars of the community."
"To be chosen by them for such an important city art project, especially to be part of the brand new city library, has been the honor of my life," Koontz said. "I cannot express how much it has meant to me."
This project, like the other horse artists, took her three months to complete.
Koontz is an elementary school teacher, so she had to paint the horse in the evenings and weekends. The hardest part for her was the beginning when she was "drawing visually straight lines for the bookshelves on the 3D curvy sculpture."
At first, she tried painter's tape, but it peeled off some of the primer. She ended up carefully sketching the bookshelf lines with pencil.
She wanted the shelves to showcase items representing Maricopa, especially the way she knew it years ago. For each item she worked on, she made it almost like its own painting.
"I sketched with a pencil, then painted shelf by shelf, item by item," Koontz said. "It was intimidating and sometimes I worried that something looked odd, so I would stop often and walk around it, so I could look at it from all angles. It was really important to me that no matter where someone stood, they would have something pretty, or interesting or surprising to look at."
She's painted her whole life, but never a sculpture, so this was a new experience for her.
Her favorite part about the contest and project was the "camaraderie of the artists." The Facebook group created by one of the other horse artists helped each other communicate on how their progress was going, get ideas and ask questions. Before this social media group, Koontz didn't know many of the artists, so it was "a real bonding experience."
Koontz has lived in Maricopa her whole life, "from the old days when it was tiny, to now as a booming metropolis."
"To be included in this city-wide art project for a place so dear to me has meant everything," Koontz said. "I'm so happy and honored to have been included! And I hope my art has honored Maricopa."
When people see her horse art, she hopes they take the time to slow down, even if just for a moment, because life is busy.
"I hope they pause and really take a look," Koontz said. "There are so many little details and things to see. Some are obvious, some are hidden. Some represent the library, some represent Maricopa, and some represent my family. I hope they say, 'hey, did you see this?' 'did you see that?' I hope they feel like, 'wow, someone took a lot of care to create this just so I would stop a moment and look at it.'"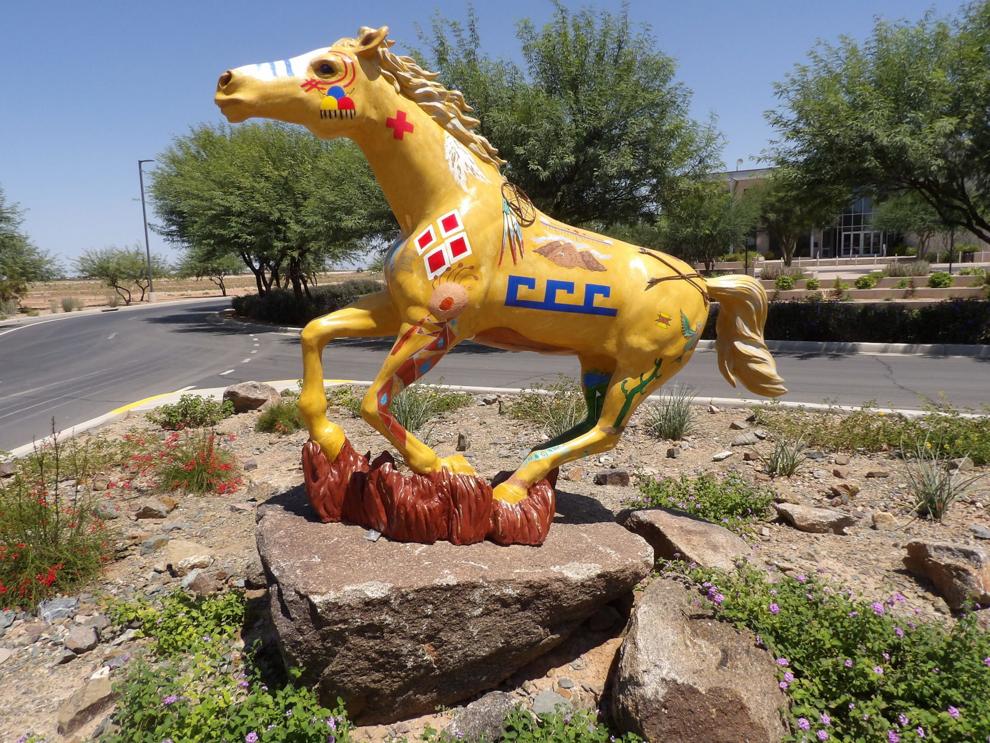 Location: 39700 W. Civic Center Plaza, in front of City Hall.
The daughter of the world renowned Native American artist Judy Tallwing, she was born in Phoenix of White Mountain Apache and Irish descent. She's lived in Maricopa for about 15 years with her husband and son.
"Few people are fortunate enough to have the opportunity to spend the time absorbing art technique in the presence of an art legend as she did with her mother," says her bio from the city of Maricopa.
She is one of the coordinators and creators of Kids Day Maricopa, which is a Health, Safety and Environmental Awareness day for children.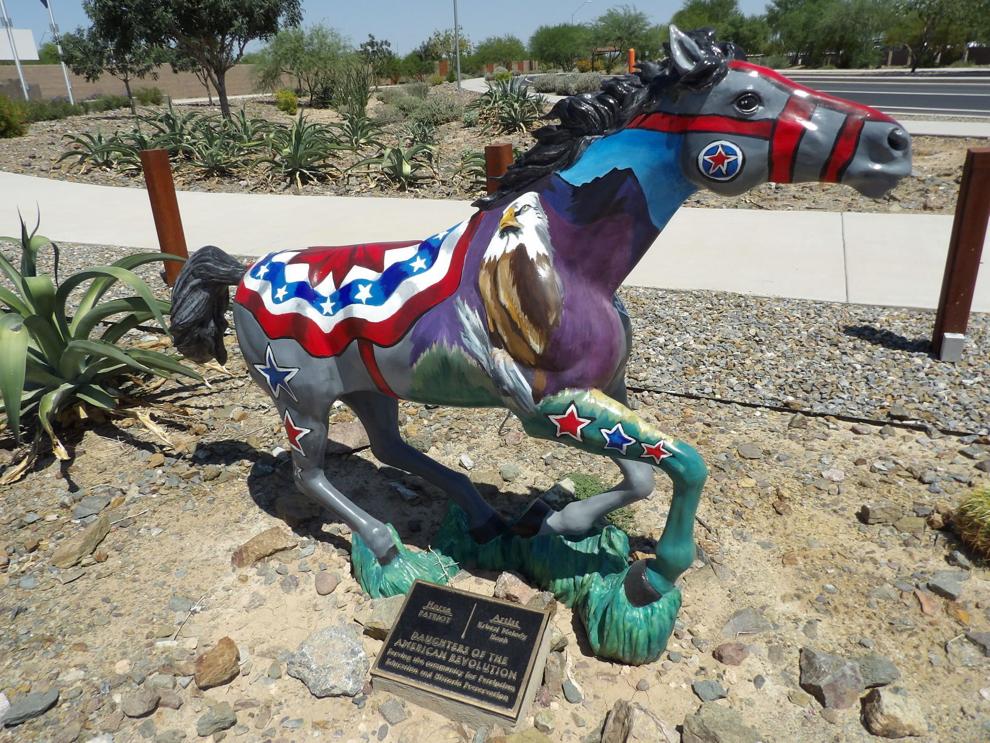 Artist: Kristal Melody Hoeh
Location: 17985 N. Greythorn Drive, in front of a Maricopa Police Substation.
Hoeh lived in Maricopa for 16 years before recently moving to Colorado. While in Maricopa, she did many art-related things in the community such as being a live painting demonstrator, former art council co-director and more.
Currently, she virtually teaches at Primavera High School and Central Arizona College in Maricopa.
There are two themes in her life, gratitude and endurance, which fuel everything else she does.
"I find happiness and renewal through the appreciation of nature," Hoeh said. "I like to capture the silky texture of flowers and the reflections of the sunset off a mountain lake. I am primarily a nature artist who works in watercolor. I am a triathlete who likes to do sprint triathlons and 5Ks. The endurance part comes from facing hard things in life and moving past them. I try to recognize and be proactive in things I can change, but when I run into things I can't, I try to endure and realize it is temporary."
In 2018, she decided she didn't just want to be an art teacher anymore; she wanted to be her own artist.
She's very big on nature art, like flowers and landscapes, and enjoys painting outdoors. She likes to be traditional, not very post-modern with her art, though she finds social issues important.
She moved to Denver because her husband got a job there last year. She told him they should wait to move, so she could be a part of the horse art project. Everything worked out because COVID slowed things down for them, so they were able to stay and she painted her horse.
Her sponsor, Daughters of the American Revolution, contacted her wanting her to paint a horse for them.
Since Hoeh's a nature artist, she wanted to incorporate an eagle in her design, especially since it symbolizes America. She also enjoys making objects look realistic with shadows and highlights.
"I think the whole idea of people just trying to do their best with 'life, liberty and the pursuit of happiness,' that's what I was thinking about when I was painting the horse," she said. "Making your own life, finding your own happiness and the idea of democracy with being able to have a voice. I think that's important. Be grateful for my own liberty."
Her sponsor talked with her a bit about what they were hoping for when creating the horse art, like the stars and their motto, 'historic preservation, education and patriotism.'
She said she feels like her country is a bit fractured lately and hopes people can look past their differences for the greater good. When people look at her horse, she wants them to reflect on "our shared goals and values as a nation and work towards those."
When she was asked to do a horse, she felt honored and excited. She loved that people recognized her skill and that it was a message she believed in.
Her original design had the horse white, but the sponsor gave her feedback and said it would look more bold with gray, which she agreed on. She said all the ladies were really sweet and supported her throughout the process.
Whenever she would see them, they would give her fun gifts they'd made. At the City Hall reception, they all wore matching shirts and gave her one to wear.
"Right before we moved, it was July 4th and I had gone to the Copper Sky celebration and they had fireworks," Hoeh said. "It was just so rewarding to drive by that horse and just be so grateful for all of the wonderful things that we can celebrate in America and Maricopa."
Originally for her design, she hand-drew everything, so it was all placed. Since the stars were so geometric, she thought it would be obvious if they were hand drawn and she wanted to get the proportions right. She found some clip art stars online, printed them out, cut them, traced them and then painted them.
She let her kids participate a little bit in the painting of the horse. She had them paint the first coat of gray.
At one point, she accidentally sprayed her horse with white paint, on the side of the eagle, and had to repaint it.
She worked on painting the horse mostly over holidays because of her teaching jobs.
She was really inspired by the other artists and was glad to have the Facebook page to see all the time and effort they put into their creations.
"There's a lot of amazing, talented artists that come out of the walls in Maricopa that you don't even know are there," Hoeh said.
Her art captures the magic of the world around her. She believes it's inspiring, but also depicts life experiences.
"Art is, for me, it helps me capture the magic of living, the magic of the world, the fascination of the world around us, continuously discovering the things that are in the world around us, the experience of life," she said. "I think art is to inspire, but also having us see the good things in the world and even enduring the hard things. I don't think all art has to be beautiful. I think artwork can depict life experience too. Some life experiences can be really hard to get through, but recognizing you're not alone in the world and not only see beauty in the world around us but also have shared experiences from one human to another."
Hoeh's family still lives in Maricopa, so she plans on making trips back to visit them, the city and people in it she misses.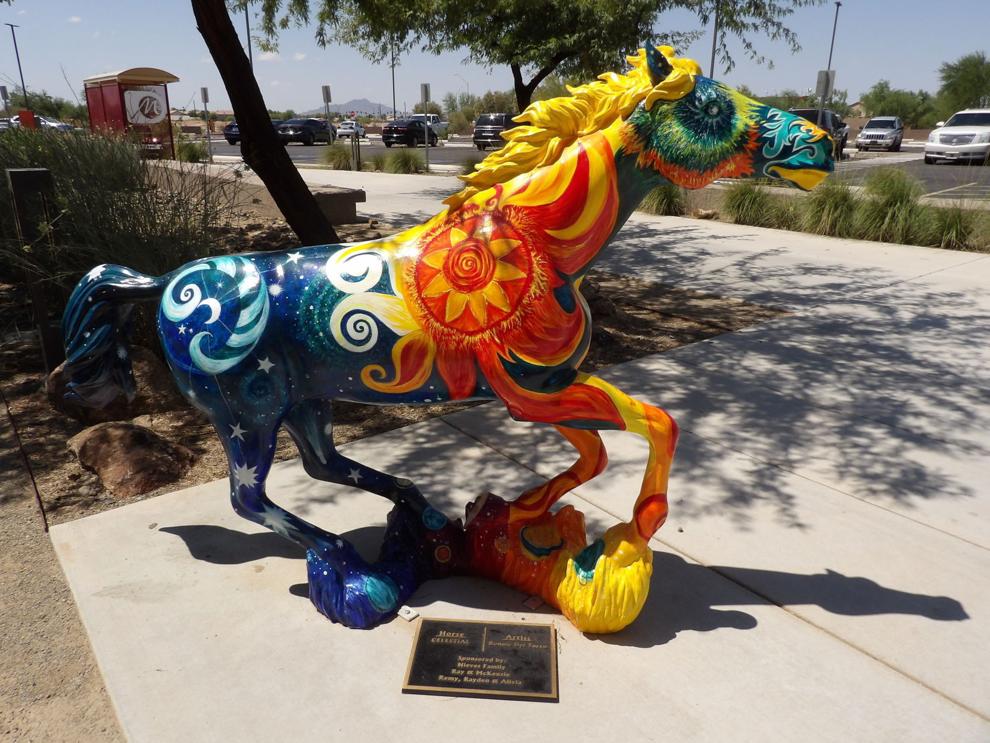 Location: 44345 W. Martin Luther King Jr. Blvd., at the front of the Copper Sky Recreation Complex.
She first came up with names of angels of the sky and other ideas but decided to use the name Celestial. She really wanted people to look to the skies and receive their courage.
"That is what encourages me, the sky, the planets, the universe," she said. "We get really caught up in down-here stuff, so I just wanted to put something colorful and bright and beautiful and also encouraging like 'there's more, look up.'"
She also thought of children when she painted her horse, thinking the world needed more astronomers.
She submitted eight designs, but Celestial was her favorite one. She said it was amazing to have a favorite design and that one be chosen.
When her art was chosen, she "couldn't believe it" and she was very humbled.
She's lived in Maricopa under 20 years. Back when Seven Cups Coffee was open, she used to do art shows there.
This led her to meeting other artists and starting Art on the Veranda, which used to be a big show for four years in a row at the Duke.
She sees her horse being chosen and publicly displayed in Maricopa as a "blessing" and something that will "always be there."
"It's very nice to live in a small town and be an artist because there's more opportunities the more involved you get," Turco said.
It was fun but difficult for her to paint the horse. She had it hauled up to her art room upstairs, where it barely fit, and worked on it day and night.
She said she feels she could do another one because it would be easier and better.
"When you first start on a project like that, you're terrified," Turco said. "You've never done it before. You don't know if people are going to receive it."
She said it was definitely a learning experience for her, but she "wouldn't trade it for the world."
Before she painted her horse, she only knew a few of the artists, so it was nice getting to meet those she didn't know. Her favorite part about the project was the reveal because the city did "such a beautiful job."
Her grandchildren came and painted miniature horse replicas. There were caterers as well. Different restaurants provided various elegant desserts.
"Now, I know the city really supports the arts, just from that opening," Turco said.
In high school and college, she was an artist. Then, as life went on and became more busy, she quit art entirely.
When she met her friend and did art at Seven Cups, she was inspired to paint again. She painted the big coffee roaster bags, which she believes was a trend at the time, and loved it.
She painted desert scenes or animals on them. This was how her art started in Maricopa. Then, she bought canvases and that's all she does now.
"When I paint, I'm painting the beauty of God's creation and that's how I look at it," Turco said. "There's no other way to look at it."
She's originally from Cleveland and was tired of seeing lakes, trees, rivers and green. She moved to Arizona to go to the University of Arizona.
"I just fell in love," she said. "I'll never look back. It's me saying 'God, thank you for your beautiful creation.' I love the desert and I see the abandoned, wild beauty that shouldn't be beautiful, but I just see the beauty in it, every cloud."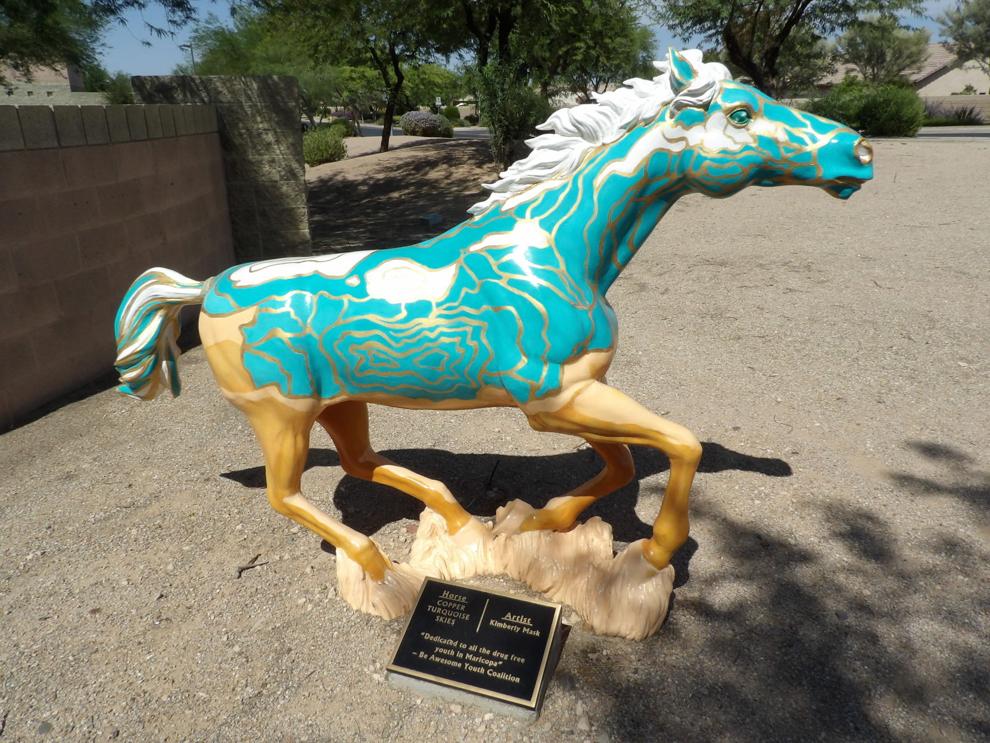 Location: 18150 N. Alterra Parkway, in front of Maricopa Elementary School.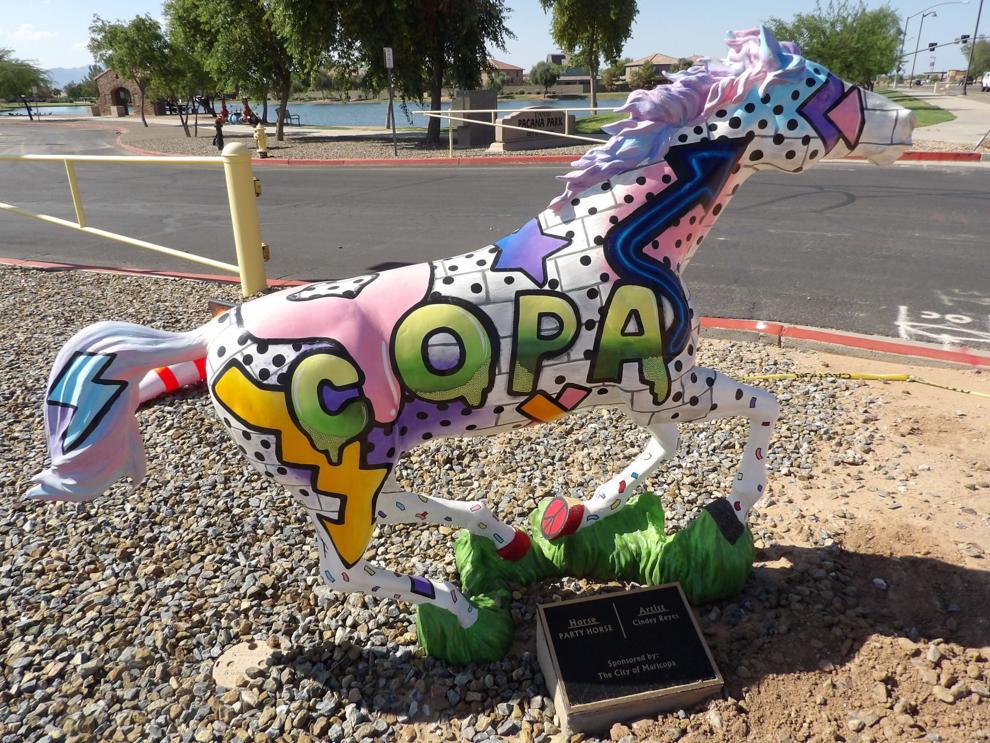 Location: 19000 N. Porter Road, at the entrance to Pacana Park.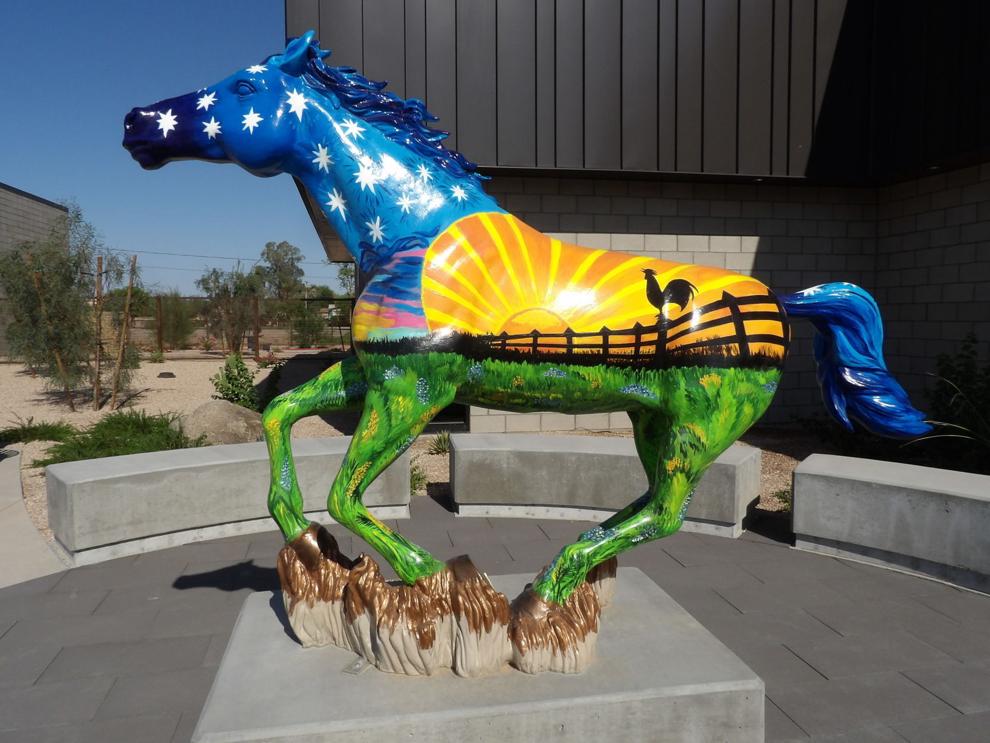 Location: 19955 N. Wilson Ave., Building 200, in front of Pinal County Justice Court
Cameron received a phone call from City Councilwoman Nancy Smith, asking her to paint a horse with Smith as a sponsor. Smith had a specific idea in mind for the design of the horse. She wanted to honor Anthony Smith, who was the Maricopa mayor before Christian Price and later a county supervisor.
The idea was all "hush-hush" because they wanted it to be a surprise for Nancy's husband.
Smith wanted the sunset part of the horse and said Cameron could create the rest of the design.
"At first when the project came out I thought 'wow, that looks like the biggest thing I could tackle,' but once she (Smith) asked me and told me what it was for I was like 'oh, absolutely, not a question," Cameron said.
In order to get all the horses to everyone's houses, they were put in the back of a pickup truck, which were very awkward to lift.
One of the artists stood in the back of the truck holding the horses, so they wouldn't "go overboard." When they drove through town, everyone was honking at them like 'where is she going with those?'
When the horses were completed, they were hauled back the same way. People honked again because they were "all painted and looking gorgeous."
Cameron had to sand the fiberglass horse a little bit to get rid of some of the rough spots, so when the acrylic paint was put on, the bumps wouldn't stand out. She said the paint was so thick that "you could turn it upside down and it doesn't move." It was needed because the horse would be outside in the sun all the time and blasted with sand from the dust storms.
When she painted the sun rays, she put down tape, painted a row, then waited for those to dry and continue. A health condition caused her to only be able to paint for half an hour to an hour a day since she couldn't stand or sit too long.
After painting the first coat, she realized she needed to paint two coats. Once she realized that, she told everyone else on the artist group Facebook page.
"It was good to stay in touch with each other," she said.
They would share all sorts of things with each other about the progress of their horse, what kind of paint they used, what they clear-coated with and more.
"One of the things about artists, especially myself, once I get in there and start painting, all of the sudden I'm like 'have I had any water yet today?' and then it's like 'I've been in here for three hours!' but that's how it goes," she said. "You get lost in it and you just don't realize how much time goes by."
She doesn't know if she would do this project again, plus she wants to leave the second round of horses for other artists. She said "it's only fair."
Trying to get other artists to do it, especially younger ones, is hard because they don't feel confident enough to do it. Cameron would say that they would surprise themselves on what they're capable of doing if they tried.
"They turned out amazing," she said. "The city was pleased like you wouldn't believe about how each horse turned out."
Her favorite part about the project was knowing that the city was moving forward with the arts. Art programs reach out to high school students, so they can use their creativity, ask questions and have a place to go.
"Let's engage them in something they might have a talent for," Cameron said. "And it's not just painting, it's anything, sculpture, music, theater, all that kind of stuff comes out all the time."
At a young age, teachers thought Cameron had a talent for art.
"When I was in kindergarten, my kindergarten teachers told my mom 'I can tell by the way she uses a crayon that she's got some talent' and so my mother was big on getting me involved in classes," she said.
She could have gone to college, but she chose to do other things with her life. She's pretty much self-taught with her art skills.
"Expression through artwork is part of what keeps me balanced," she said. "I realized when I don't do it, I don't feel right. It's just part of who you are."
She said people have to let their art, whatever it may be, flow out and not suppress it. It's a great feeling when doing artwork. Sometimes she'll stand back and take a look at her work and say 'wow, I am good!' and she'll feel proud of it and show it to people and they'll also compliment her on her art.
"It feels so good in your heart that you did something good for somebody and it was easy for you because you're an artist and it just comes out," Cameron said.
Even if there are times when she doesn't like her art and tosses it out, she doesn't stop. She keeps on doing it.
She's a realist painter, which is why she does a lot of research for her drawings. For example, when she paints wolves, she studies the swirl of their fur. It's important for her to capture the look of an animal, its personality, when she paints.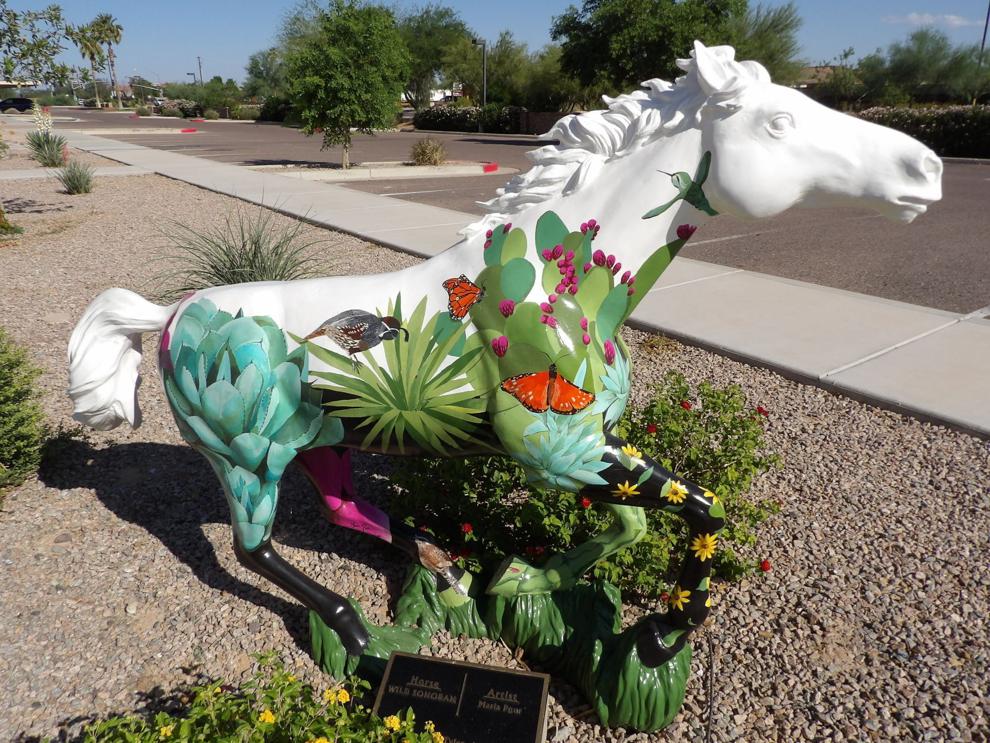 Location: 41600 W. Smith-Enke Road, Building 14, at the west end of Maricopa Grand Professional Village
Pour spent a lot of time brainstorming ideas for her horse art. At first, she wanted to do something "daring and unconventional" but then realized it didn't resonate with her, so she tried to think about a personal connection, what the city meant to her, what makes it so important.
She hasn't lived in Maricopa her whole life, though her kids have their roots here. Her biggest connection to Maricopa was taking care of her mom before she passed away.
Those two had the strongest bond, and Pour wanted desperately to be connected to her and what she loved and enjoyed.
"She loved the desert," Pour said. "She thought the plant life was so beautiful, that the animals were cool and mysterious."
Pour didn't like Arizona at first because of how dry and plain it seemed, but then she took a deeper look and saw "how gorgeous and intricate the cactus" were. She noticed the "yellow butterflies in the fields in the early morning when the water is going."
She said that was where the inspiration for her horse art came from, in the magical moments. She made the horse seem as "if you're moving through a kind of landscape." She wanted it to have so much detail that something different could be seen every time it was looked at.
She passes the horse on her way home and on her way to work as a graphic design teacher at Maricopa High School. She works with some photography students as well. She thinks it's "cool and creative" and makes her think in different ways.
She still paints at home and creates art for the Art 4 Heart festival in February 2022, along with other paintings and drawings for other festivals.
"The first thing I put out there was the horse art," Pour said. "It was a very cool art moment for me. I'm a girl who likes to draw and paint and then it was like, 'oh, now I'm a real one.' It was really exciting. I felt beyond honored that they thought mine was good enough to be actually made."
Now that she's taken this step forward with her art, she doesn't want to slow down. She wants to see what she'll do next.
At first, it was "scary and a lot of pressure," but she learned to get in her role and trust in the fact that they chose her because they saw something in her. She had to "just do her" and she would be fine.
Her horse was sitting on a giant desk in an office she converted just for this project and had her husband help her rotate the horse as she worked on it. She had some close calls where it almost fell off the table.
"It was really fun, you bond with the material and the horse," Pour said. "I would walk by and pet it and talk to it while I was painting it. I had a connection."
Her son is interested in painting as well and set up a mini desk to do his own paintings while his mom worked on the horse, so she always had company. She would ask her son's opinion about the horse and he had some "awesome insights and ideas." He didn't get to help her paint the horse though.
Her favorite part about the project was the reveal outside City Hall with all the artists along with their designs and families. They would 'oo' and 'ah' over each other's art and compliment the artists on their work.
Pour created the Facebook page, Maricopa's Wild Horse Project Artists, for her and the other artists to keep tabs on each other. It was a fun way for them to communicate with each other, a "nice camaraderie."
"I honestly, truly believe art is everything," Pour said. "It's everywhere around you. If there's something you feel you can't do or not quite there, you can play, experiment and explore. You can bring things into reality that don't exist with your brain and physical body."
She believes each artist is unique. It's like a thumbprint whenever she looks at the art to see who created what. She looks at her past art and can see exactly who she was back then.
Some artists feel the need or desire to create, but Pour does it just for fun and enjoyment. She considers it "therapeutic."
She doesn't feel like she wants to start an art project sometimes, but when she does start, she doesn't understand why she didn't want to start in the first place.
The horse art is her favorite piece she's done "hands down." She's really proud and excited whenever she makes something because it's what she liked. She made it and it's what she wanted.
Pieces of our Past, Windows to our Future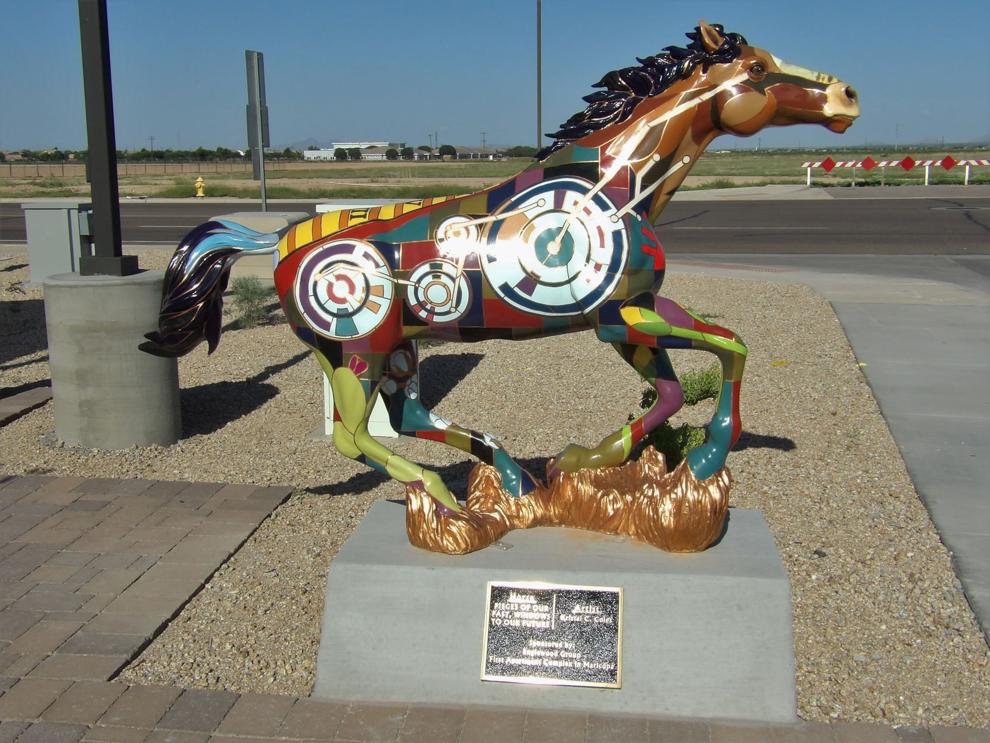 Location: 41535 W. Shea Way, south of Building D at the driveway between some apartments and Walmart. Oasis and Horizon at the Wells is the first apartment complex in Maricopa.
Coles' inspiration for her creation was being asked to create a piece of art that honors Maricopa's past and future, not just Maricopa, but also the Ak-Chin tribe.
The art on the horse is set to mimic stained glass with the pieces representing a window. She took all the different pieces and put them together to show what brought Maricopa to what it is now and looking forward to the future and what's coming to the city, like new industry.
Coles feels very honored and humbled to have been chosen to have her art displayed in Maricopa. She's lived in Maricopa for 12 years and raised her children here. She enjoyed contributing to a place she loves so much.
It took a lot of research on Maricopa to put her horse art together. She kept learning new things.
She had to take a 2D design and transfer it to a 3D object she'd never seen before, but she found the challenge fun. It took her countless hours to paint the horse by herself. It took a couple weeks to just put the copper leaf design on the horse.
Her horse art took three coats of paint. The first time she painted it, she didn't like the look, so she changed it the second time. She wanted to make sure the colors were saturated enough to withstand the sun and being outdoors all the time.
"It was definitely a labor of love for sure," Coles said.
Coles enjoys driving by her horse art around sunset and seeing it catch the light.
"Art is a way to connect with the world around us that transcends time," Coles said. "When I make my art, especially the horse, it's a way for me to share my love of the community."
She hopes her art will be around long after she's gone. Even if her art isn't around physically, there will still be photos of it.
When her grandkids come back to see their grandmother's art, they can say "look, grandma made the world a better place."
"If I can make somebody smile or make their day better, that's incredible," Coles said.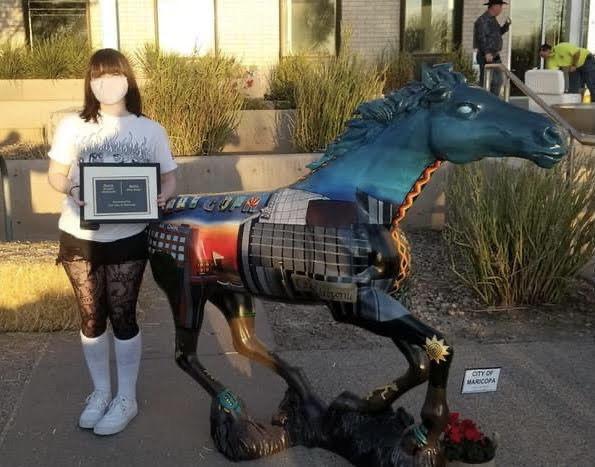 Burke bounced between ideas for the horse art while observing it for a time.
Desert fit Arizona, which is how she came up with the first part of the name. Then, she needed an adjective to describe the piece. She chose freedom because horses are "pretty free and wild."
When reading the requirements for the horse art application, she realized it was up to her to figure out what she liked about Maricopa and Arizona. She did some research on the town and discovered how significant Native tribes are to the town, so she wanted to include something Native related.
She lives out in the middle of nowhere, so she gets to see wildlife and the sunsets. She decided she wanted to reflect on Maricopa now with one side of the horse portraying a popular city and tourist spot, the movie theater. Then, she painted the other side with the old Maricopa, where there's wildlife.
She's lived in Maricopa for 10 years and before that she lived in Phoenix. She said she's "very much from Arizona."
The day her art design for the horse was chosen was a mixed emotion day. Good and bad things happened to her, so it felt surreal being chosen.
"I didn't think I would be picked," Burke said. "There are a lot of artists in town. I was iffy about my submission. Eventually, I thought, 'wow, this is real! I'm really going somewhere with my art!"
She'd never done any art 3D before, so it was "way out of her comfort zone." She's been drawing for about 11 years and taken art classes her whole life.
"The overall experience from making something significant art-wise for the town, students, adults, aspiring artists, to be inspired by my art and to look up to me," Burke said.
She said it was "extremely tiring" to paint the horse and trying to balance her social life and school work. It was lots of physical work and not easy to work with since the horse isn't a flat surface; getting the lines straight and accurate took a "bit of tweaking" with the design to get it to work.
Her art always goes toward a purpose, like her portfolio, where she did it on everyday problems such as gender inequality. This is why she wanted her horse to represent the town in a different way than before. She believes these types of situations need representation.
She's considered putting her art into local contests and when she hears more about them, she "definitely would."
Those participating in the second round of this project must submit at least two positions of their design in color with their application on or before Oct. 7.
The wild horses will be 51 inches tall at the head and 84 inches long from the nose to the tail, weighing around 50-60 pounds.
The city wants the art submissions to honor its roots and look to the future. This project is in celebration of Maricopa's growth.