SACATON — The Arizona Department of Transportation has announced that it will be installing traffic lights at three different intersections near Sacaton along State Route 87.
According to a press release sent out by ADOT, the project will add traffic signals with "advanced warning beacons" at the intersections of SR 87 and Olberg (SR 187), Gilbert and northbound/southbound Sacaton roads.
The changes, ADOT Public Information Officer Garin Groff said in an email, are the result of an analysis of the intersections. To determine if the signals were warranted at the intersections, the department examined data such as crash history and delays from on a five-year period as well as current traffic volumes, projected traffic volumes and potential to improve traffic flow.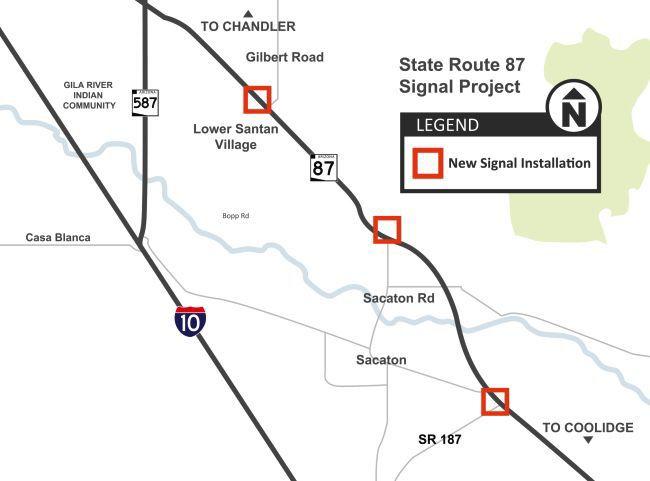 From 2012 to mid-2017, there were 21 crashes that occurred at the SR 87 and SR 187 intersection. Groff noted that the decision to install a traffic signal was based primarily on crash history and delays at the intersection during "peak travel times."
Though the traffic volumes over a five-year period fall shy of the threshold used to justify the need for a traffic signal, he stated that the number is close and is anticipated to reach that level soon.
Likewise, at Gilbert Road, ADOT also took future traffic volumes into account when examining the need for a signal. Over a five-year period, the intersection was the scene of 24 automotive crashes.
However, while the number of accidents was high, the volume of traffic on Gilbert Road falls short of what would warrant a signal by ADOT's standards. Rapid growth in traffic volume and the expectation that it will meet the threshold to justify a signal in the near future was the primary factor behind the decision to move ahead with the light, Groff said.
Sacaton Road had the fewest amount of auto wrecks, eight, out of the three intersections. However, the decision to add the signal was made based on delays caused during peak travel times.
ADOT said crews began preliminary work at the intersections Monday but added that motorists likely will not see traffic impacted in the initial stages. Construction on the project is anticipated to extend through the end of 2020 and may result in shoulder closures and speed limit restrictions.
In later phases, motorists should anticipate intermittent delays and flaggers, ADOT said.