COOLIDGE — Many lofty goals to complete personal projects during the pandemic fell by the wayside as the months dragged. But Tucson-based jack-of-all-trades David Membrila — he's an educator, a comedian and a musician — saw his lengthy tome, "Finally…Soup for the Chicken!," through to fruition.
"I was getting fat from watching Netflix," Membrila said. "I cranked out 18 pages one night, and my sister said it was an entertaining read. A friend said just sit at the computer and the ideas will start flowing, it'll be 2 a.m. and you're writing. And that's exactly what happened!"
"Soup for the Chicken" recounts Membrila's life growing up in Tucson and his career teaching throughout the area. Membrila's first job was in Coolidge, from roughly 1982 to 1987.
"It's like having your first kid," Membrila said of his coming to Coolidge. "Everything is going to be the first time for everything."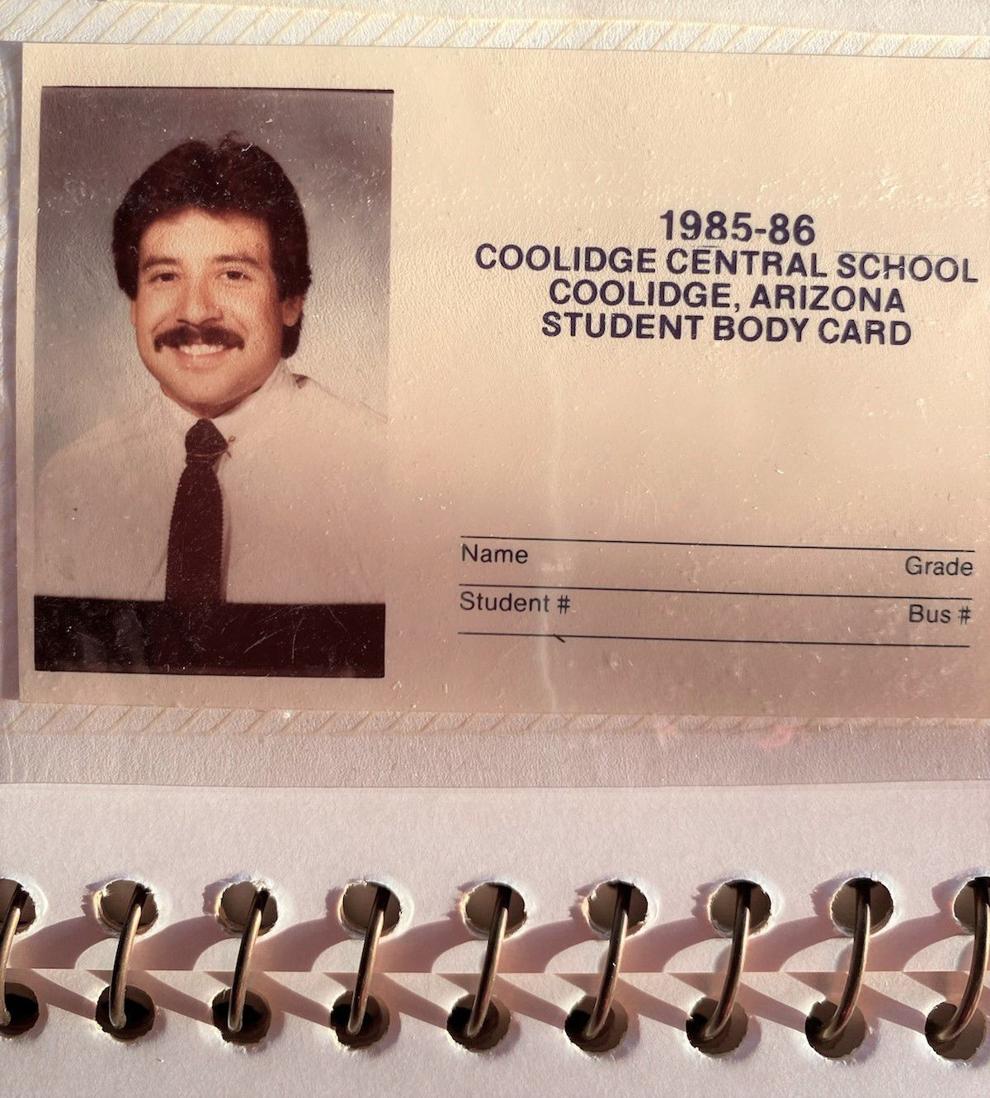 According to Membrila, he was initially the beneficiary of low expectations. Membrila said the Coolidge district was expecting a "bad" program and that "anything I did at the time would have been the Midas touch."
Initially, Membrila says his high school band numbers were so low he had to incorporate eighth graders into the mix. As a 22-year-old fresh out of college, Membrila recalls being overwhelmed in his first years as a teacher, trying to foster students' respect.
"My kids in general were great," Membrila said. "But most of them were 18. My biggest fear was that I had to make sure they understand I'm their teacher first, and an ear second. If I had acted like I was their friend, I would have lost it."
Some of the most notable episodes during Membrila's time in Coolidge included contending with a student's kidnapping by an abusive parent and a runaway bus trip to Globe where the brakes stopped working, a story that got him in trouble when he mouthed off to the Coolidge Examiner.
"That ended up getting me in a lot of trouble," Membrila said. "I didn't realize relaying what the bus driver said would reflect negatively towards the district. I was just happy everybody had gotten home safe."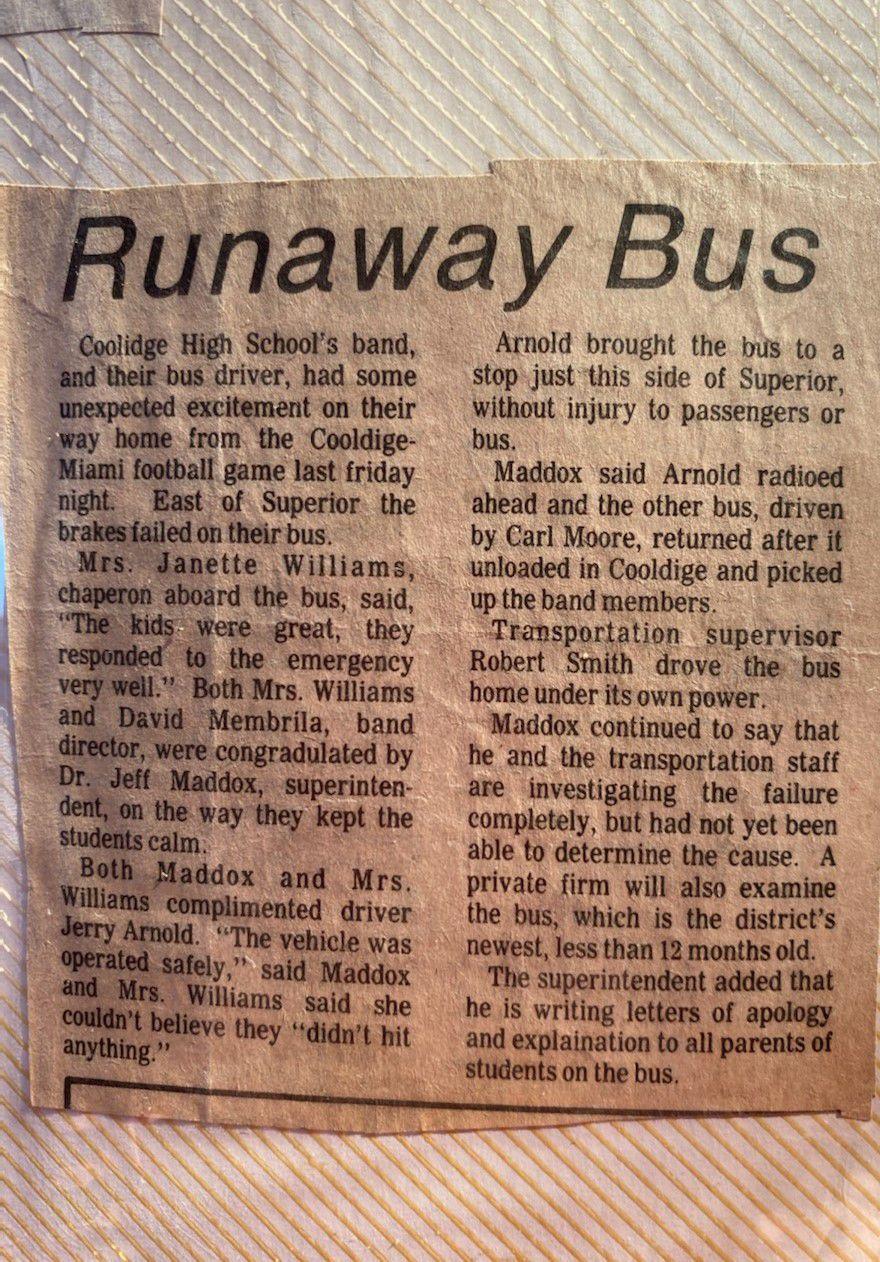 Membrila writes in his book that he was quickly embraced by the townsfolk and that he made many lifelong friends during his time in Coolidge, including some of his former students.
"Everybody knows everybody's business in Coolidge," Membrila said. "We'd go to Shorty's (bar) and friends would get divorced and be there the next weekend with somebody else."
While Membrila hasn't lived in Coolidge in decades, he's returned often, including for comedy shows at the Gallopin' Goose and American Legion, or emceeing the Cotton Days Parade. Membrila fondly recalls some of the town's past restaurants and bars, such as The Roadrunner or Frog's. A few places such as the Goose and Tag's Café have carried over from Membrila's time.
"Coolidge really grows on you," Membrila said. "It was such a special part of my life for a while that when people asked me where I was from I'd say here. The people in Coolidge are the greatest people I ever met in my life. I miss the closeness and daily connection I had with families."
Membrila said that family circumstances forced him to head back to Tucson; Membrila's mother died in the late 1980s and he had to return home to help his father.
According to Membrila, the book's title comes from memories of his mother making chicken soup for any and all maladies when he was a kid.
"I always associated chicken soup with feeling good," Membrila said. "Headache? Stomach hurts? Chicken soup. But I thought: When does the chicken get soup?"
The title also alludes to the prevalence of chickens and roosters in the neighborhood where he grew up.
Membrila hopes readers will find important lessons from the book, including advice for teachers about overcoming mistakes.
At the moment, "Finally…Soup for the Chicken!" is available on Amazon, and Membrila is working to get the book on shelves at stores in the Tucson area. The Coolidge library will also have copies later in the spring. Membrila said he has toyed with the idea of making an audio version.
Membrila said his next big project is to finish raising funds to erect a statue for his friend, retired teacher Alfredo Valenzuela, or "Dr. V," who Membrila said has been an integral part of the mariachi scene in Tucson for more than 35 years. Membrila said he wanted Valenzuela to be able to appreciate the statue while he was still active, as opposed to making it a posthumous tribute.