CASA GRANDE — Visitors to the Zombie Apocalypse in Casa Grande venture inside a frightening world where zombies roam in search of fresh prey and humans must travel with armed guards through darkness and danger to a safe place.
But while the Zombie Apocalypse, organized by Victory Chapel, aims to frighten and delight it also offers a message of hope during the Halloween season.
"If people didn't know it was a church putting this on, coming in, they'd never realize it," said Pastor Angel Morales of Victory Chapel. "We've made it very scary so it's a Halloween event that people want to go to."
About 20 actors are involved in the Zombie Apocalypse with roles that range from zombies, doctors and military guards to a few surprise characters. Creating the Halloween venue was a chance for members of the church to express themselves artistically while having fun, Morales said.
But visitors to the haunted house also play a role. The Zombie Apocalypse is set in a fictional place in which a renegade virus has erupted, turning ordinary humans into blood-seeking zombies.
"The visitors to the haunted house are survivors," Morales said. "They're not infected yet but they have to go through an infected place to get to the place where they'll be safe."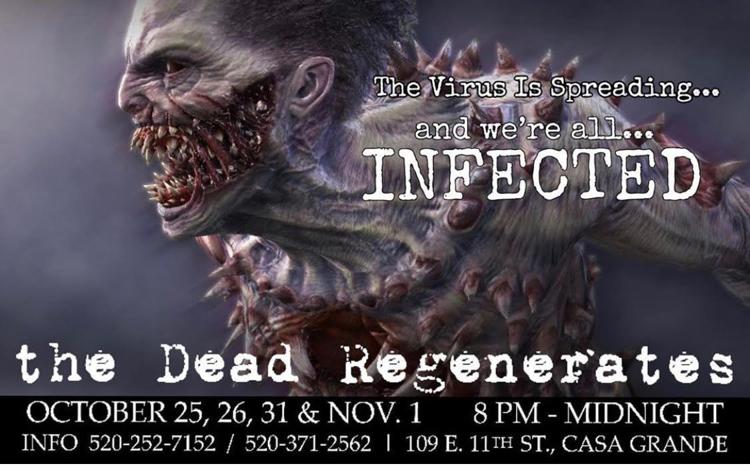 The survivors travel through the danger zone and although they're escorted by guards, they face peril every step of the way as they're hunted by zombies and risk becoming infected.
But at the end, there's hope.
"The hope is in finding a cure. The infection has to have a host to survive," Morales said.
Morales wrote the script for the haunted house. As he was writing, he said he tried to work in the feelings of despair and fear people would feel in a zombie-infested world that had given rise to corruption and decay.
"I had to contemplate how to associate zombies with what we believe," Morales said. "All of us, in our lives, we say 'Oh, I'll never do that,' then we find ourselves in a situation that's overwhelming and corruption manifests itself. While corruption and decay are a part of the plot, we wanted there to be a lightness too. At the end, the visitors come out of the darkness and there's hope."
The Zombie Apocalypse experience is an outreach effort for Victory Chapel, which often produces plays, concerts and other events aimed at inviting the community to get to know the church.
"We figure not everyone will come to a church service, but they will come to a haunted house, especially during Halloween," Morales said.
While the haunted house will be held at the church on 11th Street, the group held practices and run-throughs in various spots throughout the community, including at the abandoned structures known as Casa Grande Domes on Thornton Road.
The haunted house is suitable for all audiences but visitors younger than 12 must be accompanied by a parent or guardian.
Following a walk-through of the haunted house, visitors will be ushered into a zombie-free courtyard where cookies and snacks will be served.
The Zombie Apocalypse is offered on four days only, Oct. 25, 26, 31 and Nov. 1, at 109 E. 11th St. Admission is free. Doors are open from 8 p.m. to midnight.
Call 520-252-7152 for more information.