SIGNAL PEAK — Joe Castillo is a storyteller and an artist. When he's on-stage, he hopes to tell a tale that captivates the audience both visually and emotionally, illustrating his story with a series of images in sand.
Castillo, whose sand art storytelling show earned him a spot as a finalist on Season 7 of "America's Got Talent," will perform his routine, Sand Stories, on Feb. 9 in the Pence Center at Central Arizona College, 8470 N. Overfield Road.
"For this show I do vignettes from around the world, weaving in stories in the sand," he said. "There's music. The show opens with Elton John's 'Circle of Life.'"
Castillo's stories are often devotional, patriotic or inspirational and he tailors each show for his audience.
"His performances include brilliant artwork with projectors to display the artist's progress. He uses the sand-table to create art that illustrates the story as he's telling it in real time," said Michael Armendariz, director of the Pence Center.
Castillo began using sand storytelling as a form of performance art about 10 years ago. Since then, he has performed Sand Stories in 45 states, 27 countries and in front of Pope Francis, he said.
Art has been a central part of his life since childhood.
"I grew up surrounded by art and culture," he said. "My first food was a crayon."
As a toddler, he experimented with art and later, as a teen, he developed a passion for storytelling and attended the Ringling School of Art.
"I spent some time trying to figure out how to make a living as an artist," he said. "I tried a few other forms of performance art where I could create artwork fast and on-the-fly."
After a few years as a struggling artist, he founded an advertising agency.
"I spent 20 years in advertising and it was exhausting," he said. "I had my own agency with 13 employees."
He sold his agency after 20 years in the industry and changed careers, enrolling in seminary school and becoming a pastor.
"I had a church in Kentucky and would try to incorporate art into my sermons to help people remember the sermons. I'd do some sort of art, either with spray paint, acrylic on canvas and other ways. We had a grand time but after a while, we began to run out of ideas," he said.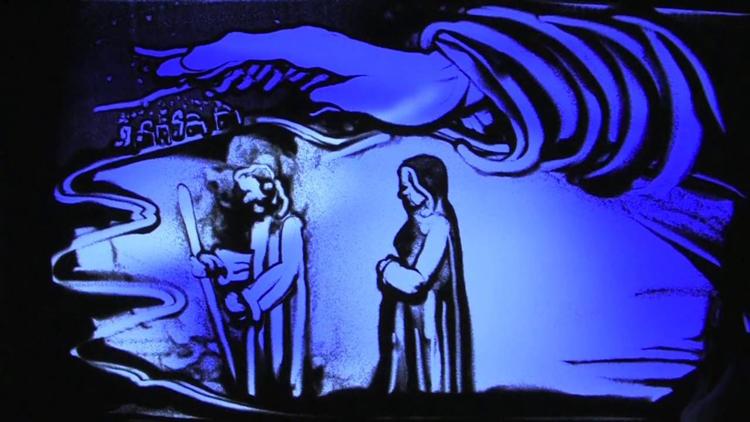 He began combining storytelling and sand art in his sermons and said it had a huge impact on his congregation.
"I began experimenting with images," he said. "My first sand art performance was an Easter service I did in which I told the Passion of the Christ story in sand in church."
Castillo now works as a motivational speaker and performance artist, creating live art with his Sand Stories routine. He is the author of three books and several articles. He and his wife, Cindy, have four grown children and six grandchildren. They live in Atlanta.
His show at CAC, he said, is meant to entertain and inspire audiences.
"I think people will like it," he said. "It's an entertaining show."
The 70-minute show begins at 3 p.m. Tickets are $10 and may be purchased online by visiting the eventsatcac.com website.