CASA GRANDE — With a concert on Saturday at the BlackBox Foundation theater, Sabra Faulk will bring her sometimes melancholy, sometimes happy country-meets-blues-meets-rock style of music to Casa Grande.
Faulk, a regular at the Tucson Folk Festival, said her songs are a little bit like life.
"They're eclectic," the Willcox-based singer said. "Sometimes life is happy and sometimes it's a little sad. My music is like that."
Faulk's show is part of the BlackBox Foundation's concert series, which features musicians from a variety of genres performing at the organization's theater on Sacaton Street.
Faulk's show features all her own, original music.
"It's a lot of music from my five CDs," she said.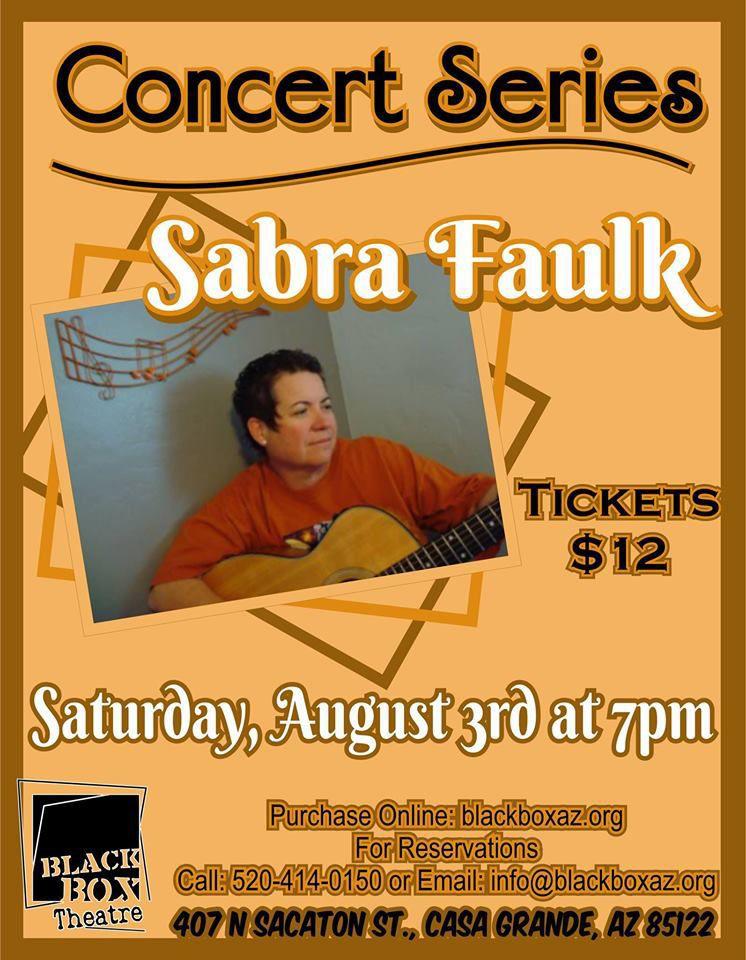 Faulk has been immersed in the world of music since childhood. Her parents performed in a band and her mother taught her to play the guitar and sing melody when she was about 8.
"I later taught my mother to play bass," Faulk said. "My mother is 80 years old and still plays bass in a band in Tucson."
Faulk began playing in country bands in Tucson when she was 18. After a few years, she went solo and began writing her own music.
As well as performing solo, she also plays with her all-female group, Angel Band, in venues in Tucson and Phoenix.
"All members of the Angel Band are really amazing musicians," Faulk said.
Over the years, Faulk has performed solo across Southeastern Arizona and with artists such as Amber Norgaard, Peter Dalton Ronstadt, Connie Brannock, Don Armstrong and others.
She has opened for America, Trace Adkins and Ernest Tubb.
Her performances have earned her several Tucson Area Music Awards for best bassist, best folk artist and best country band as well as in the Girls With Guitars category.
Whether she's performing alone or with Angel Band, Faulk said she's just happy to be on stage, performing her music for others.
"It's an amazing feeling every time I'm on stage," she said. "I'm in awe every time."
Faulk's concert begins at 7 p.m. Saturday.
The BlackBox Foundation concert series began a few months ago as part of a vision shared by the organization's artistic director, Ken Ferguson, and local musician Nancy Elliott.
"They wanted to enhance the quality of life of people in our community by providing them with opportunities to experience the arts through performance and education," said BlackBox Foundation Co-executive Director Dawn Hunter. "We have so many Arizona singers, songwriters, musicians that play in Tucson, Phoenix and in local restaurants and cafés. It is nice to be able to bring them into more of a concert setting. BlackBox Theatre provides that setting yet is still quite intimate."
Concerts are at the BlackBox Foundation theater, 407 N. Sacaton St. Tickets are $12 each and may be purchased online at www.blackboxaz.org.
Other upcoming events at BlackBox are:
Don Armstrong, Saturday, Aug. 10, at 7 p.m., part of the concert series.
"Sylvia" a comedy by AR Gurney, opening Aug. 17. The play is about a dog, the man who adopts her and the drama that results.
Tony Vicich and Comedy School comedians, Friday, Aug. 23, part of the stand-up comedy series.
Eric Ramsey on Friday, Sept. 6, part of the concert series.
Steve Spurgun on Saturday, Sept. 21, part of the concert series.