CASA GRANDE — Few things in life are as delicious as freshly baked homemade bread. And few aromas stimulate the senses like baking bread.
There's something about making bread — and sharing it and eating it — that feels good. The art of bread-making has science on its side. Studies have shown that baking bread, and smelling the scrumptious aroma, makes people happier, less anxious and more creative.
And while making bread can be fun, enjoyable and deeply satisfying, it can be work. From the kneading to waiting for the dough to rise, good bread takes time and patience.
So I was skeptical when I saw a recipe for fluffy, no yeast, no rise dinner rolls. These rolls take only minutes to mix together and 15 minutes to bake. There's no kneading. No waiting for yeast to activate and rise.

The recipe calls for five basic ingredients — flour, baking powder, salt, milk and a surprise ingredient, mayonnaise. I've made lots of breads over the years, including several quick breads and biscuits, but I've never run across a recipe that called for mayonnaise.
I was curious about the recipe and how mayonnaise would affect the flavor (I'm not a huge mayonnaise fan) and texture of the bread, so Simple or Not Kitchen put the recipe to the test to see if it would produce a soft, fluffy and flavorful dinner roll.
The results were not disappointing.
While not a standard bread ingredient, using mayonnaise in baked goods isn't uncommon. It's a baking trick that has been used for decades. Because it's a simple combination of eggs and oil, mayonnaise can add moisture to baked goods and has long been used to bring a richer flavor to cakes and cookies. It can also be used as an egg substitute.
In breads and dinner rolls, mayonnaise adds a very subtle flavor and helps to create a roll with a slightly crunchy exterior and a soft, fluffy interior.
These rolls are so easy to make. We added them to our Thanksgiving lineup this year but they are easy enough to make that they can whipped up quickly and easily any day of the week, for dinner, lunch, brunch or breakfast.
While the recipe I followed called for simply mixing the ingredients and baking them in muffin pans, I added a little bit of melted butter to the tops of the rolls before baking them to add a little bit of butter goodness.
Below is the recipe we followed for Simple or Not Kitchen. It makes about six good-sized rolls. While the rolls are very good, they seemed a bit salty to me. The amount of salt could easily be cut back to ½ a teaspoon or even 1/3 of a teaspoon for those who use less salt in their diets.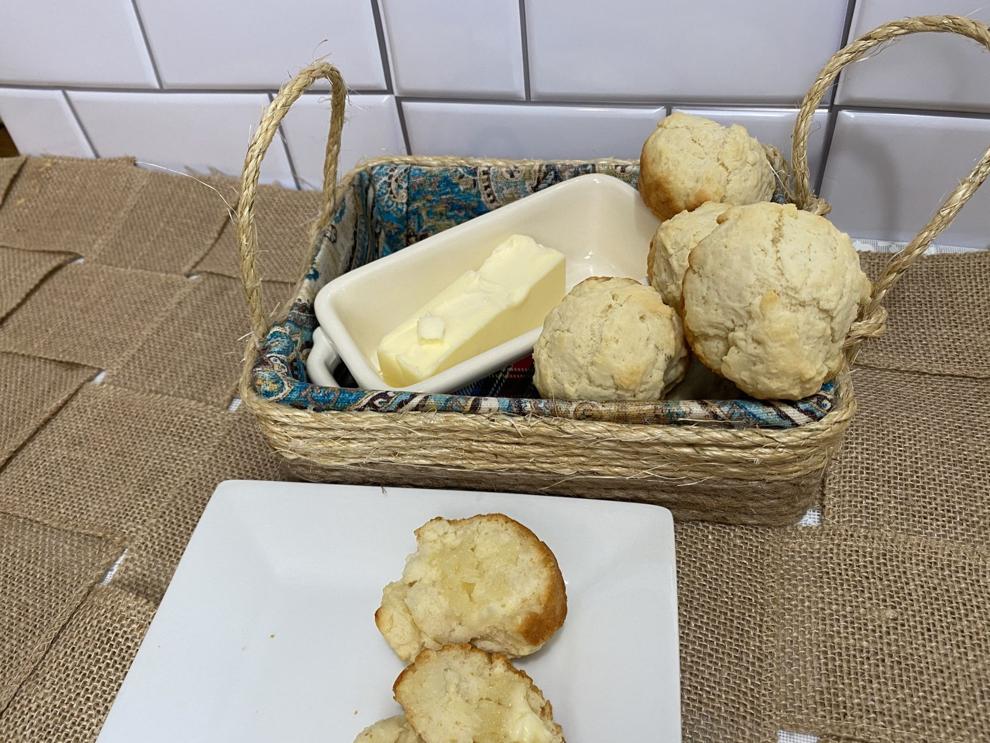 Easy no-yeast dinner rolls
1 teaspoon salt (use half for a less salty roll)
Mix dry ingredients in a bowl. Add milk and mayonnaise and stir until well combined. Mixture will be very sticky.
Drop by spoonful into greased muffin pan.
Brush with melted butter if desired.
Bake in a 350-degree oven for about 15 minutes, until golden brown.