CASA GRANDE -- Making eggs, whether poached, fried, scrambled or boiled, isn't difficult, but there are plenty of hacks and tricks that aim to make the job even easier.
Simple or Not Kitchen put a few popular egg hack tricks to the test recently to see if they are really any easier than traditional methods.
In a previous video and article, Simple or Not Kitchen analyzed different ways of making a hard boiled egg. In this one, we analyzed three popular internet versions of making poached eggs but we also put the "baked fried" egg method to the test.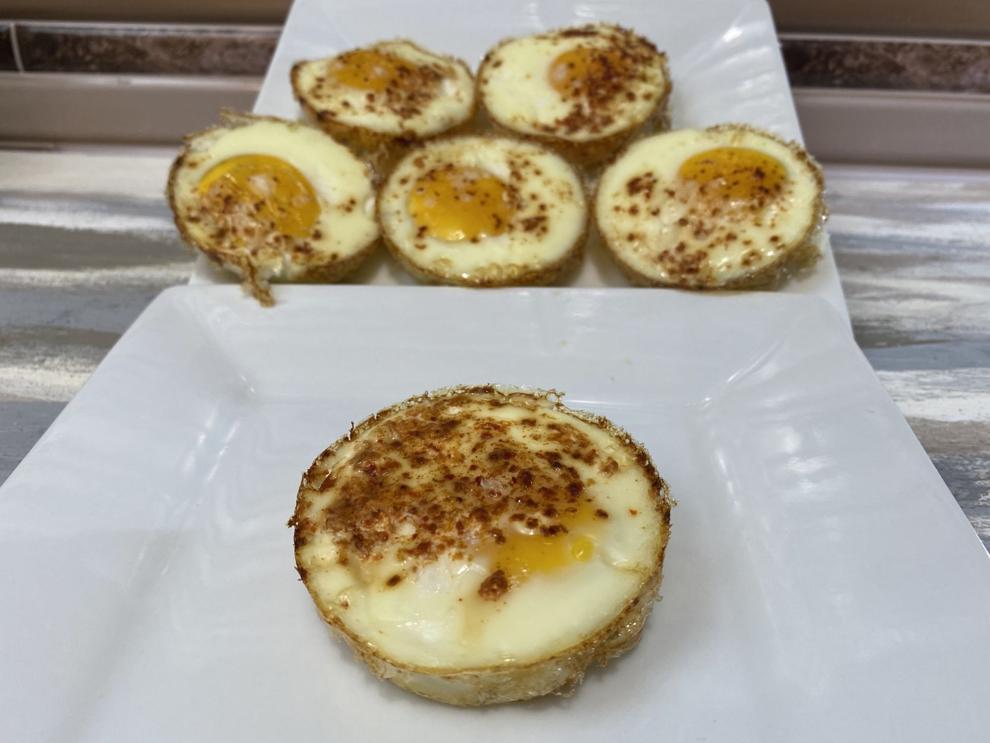 In this method, eggs are baked in muffin tins in the oven rather than fried in a pan on top of the stove.
To bake eggs, add one cracked egg to each cup of the muffin tin and bake at 350 degrees for 10 to 15 minutes depending on the firmness of the yolk that's desired. We baked ours for about 15 minutes for a nice firm, not runny yolk.
The only drawback to this method that we encountered was that the eggs were a bit difficult to remove from the tins — and we used a nonstick muffin tin that we greased slightly with vegetable oil. Bits of egg stuck still stuck to the muffin tin. But it's still a method I'd use again.
It was super simple and a great way to make a batch of perfectly round fried eggs in only a few minutes. It's perfect for those who make meal-prep breakfasts a week in advance or for making egg sandwiches. It's also great for times when there are several people to feed, such as a breakfast gathering or brunch.
The baked method can also be used for scrambled eggs. Scrambled eggs may be poured onto a baking sheet and baked for a few minutes, then cut into sections or baked in individual proportions in a muffin tin.
Fill a sauce pan with water and on top of the stove, bring water to a boil. Add about a teaspoon of salt. Reduce heat to a simmer. Crack egg into a bowl and slide the egg into the simmering water. Allow to simmer for about 4 to 5 minutes, depending on desired yolk runniness.
We saw several sites on the internet that called the microwave method for poaching an egg a "game-changer."
And this method sounds simple. About a half a cup of water is placed in a microwave-safe mug. The egg is cracked into the mug. A saucer is placed on top of the mug and then placed in the microwave for 45 seconds.
When I tried this method — and I'm still trying to figure out what exactly went wrong — the plate blew off the saucer during cooking and the egg exploded ... bits of egg ended up in every corner of the microwave. But the remaining egg in the mug was poached perfectly.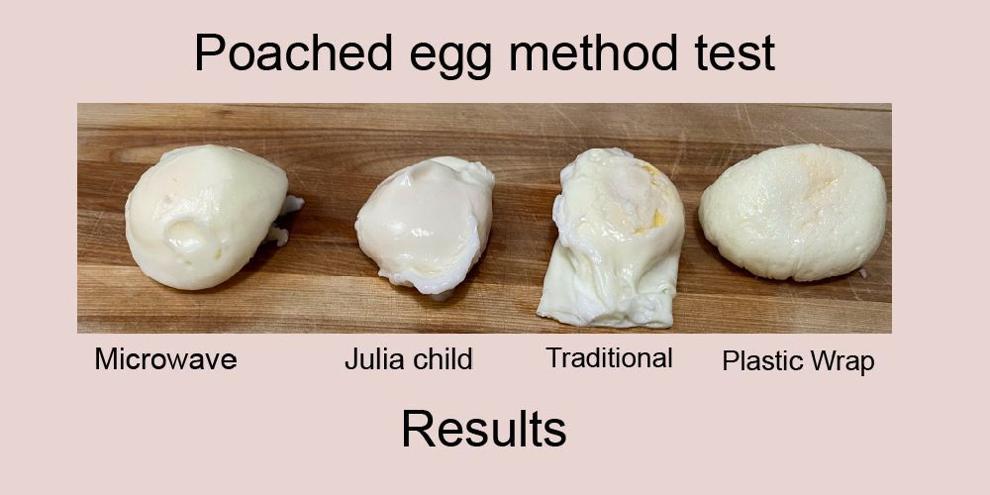 The plastic wrap method also claims to be a game-changer and maybe it is.
In this method, a piece of plastic wrap is placed in a cup and greased with cooking spray or vegetable oil. The egg is then cracked into the plastic wrap. The corners of the plastic wrap are then tied to create a cooking pouch.
The plastic wrapped-eggs are then placed in simmering water for about five to six minutes.
The method is super simple, but I was hesitant as I thought the plastic might melt or that chemicals would seep into the egg.
There are different types of plastic wrap and some are safe for cooking. The plastic wrap I was using did say on the label that it is microwave safe. The label didn't say anything about boiling with it.
Water boils at 212 degrees. Most plastic wraps don't melt until they hit a temperature of 220 or 250 degrees.
Our plastic wrap did not melt and this method did turn out a perfect-looking poached egg. My advice to those who are considering trying this method is to make sure the plastic wrap is safe for boiling or cooking with. Even though the plastic didn't melt when using this method, I was also afraid to eat the eggs I prepared using plastic wrap as I wasn't sure if the chemicals in the plastic would seep into the eggs.
Poached using the Julia Child method
This method turned out the best poached egg and as a lifelong Julia Child fan, I was surprised I had never tried it.
This method is similar to the traditional way of making poached eggs. The difference is that before the egg is cracked, it's dipped in boiling water in the shell for about 10 seconds to slightly harden the whites.
The egg is then removed from the water, cracked into a cup then gently slid into simmering salted water for the remaining cooking time. Because of the 10-second preboil, the whites don't spread out as much as they normally would using the traditional method, creating a perfect poached egg.
Of all the egg-making techniques tested, this made the best egg. It is easy, but it required a few extra steps than the other methods and probably had the longest prep and cooking time.
So why even bother with poaching an egg? Because poached eggs are simply delicious.
Poached eggs are perfect when eaten on their own or on top of a piece of buttered toast, with or without a dash of Parmesan cheese. They also add a great bit of protein to avocado toast.
They're also a yummy addition to a salad or to pasta dishes, such as peppery carbonara.
But eggs Benedict and the savory croque madame sandwich are probably the most popular ways for using poached eggs.
For eggs Benedict, all it takes is a few poached eggs, some Canadian bacon, English muffins and a dreamy, creamy Hollandaise sauce.
While the origin of eggs Benedict is a mystery — there are conflicting accounts of who actually created it — the classic combination of poached eggs, muffins and Hollondaise sauce has been around since at least the mid- to late-1800s.
The croque madame is a classic French dish much like the croque monsieur. The croque madame and croque monsieur are grilled ham and cheese sandwiches with white sauce, but the croque madame has the addition of a poached (sometimes fried) egg on top.
Eggs Benedict with Hollandaise sauce
Hollandaise sauce (blender method)
1½ tablespoons lemon juice
½ teaspoon cayenne pepper
½ cup unsalted butter, melted
4 English muffins, split and toasted
8 slices Canadian Bacon, cooked
Parsley, chives and paprika, optional for topping
To make Hollandaise sauce, add egg yolks, lemon juice, salt and cayenne to a blender and blend on medium until the color of the eggs begins to lighten, about 30 seconds. Lower the blender setting and drizzle the warm, melted butter into the blender while the blender is running. Blend for a few seconds, only until the butter is well incorporated into the eggs.
Adjust flavor with salt and pepper to taste. The sauce should be creamy and buttery with a hint of lemon flavor.
To assemble eggs Benedict, lay a slice of bacon on top of each English muffin half and top with poached egg. Drizzle Hollandaise sauce over the egg. Sprinkle with paprika, chives or parsley if desired.
A keto-friendly version can be made by simply omitting the English muffin.