CASA GRANDE — Pride Rock and its cast of African savannah-dwelling characters, including Simba, Rafiki, Nala, the hyenas and others come to life on stage this weekend as Casa Grande Youth Theater presents "The Lion King Jr."
Between actors and crew, more than 40 local children and teens are involved in the production, said director Noelle Wells.
"Our cast faced the challenges of learning to move and dance as animals as well as learning to sing in four different African languages," Wells said.
From stage production to choreography, the production is a showcase of the work kids and volunteers in the city's youth theater program have done over the summer.
Participants in the program learn all aspects of producing a show.
"The Lion King Jr." is based on the popular Disney movie. It follows young lion cub and prince Simba, who flees into exile from Pride Rock after his uncle tricks him into believing he caused his father's death.
While in exile he befriends a meerkat named Timon and a warthog named Pumbaa who become his companions and eventually accompany him on his return to the Pride Lands.
"The Lion King Jr." features music and lyrics by Elton John and Tim Rice. It's based on the book by Roger Allers and Irene Mecchi and on the Broadway production.
The Casa Grande Youth Theater production of the musical includes many of the much-loved songs, dances and lines associated with the movie.
Volunteers with the program made many of the set pieces themselves including a large papier mâché Pride Rock.
Actors in the production auditioned and began rehearsals in June.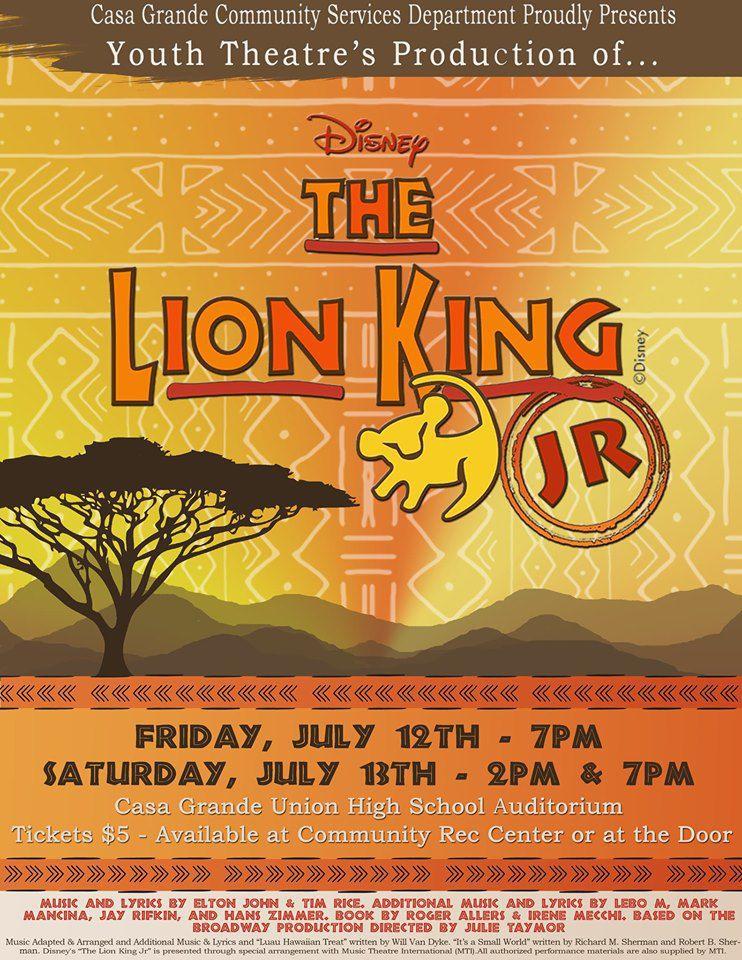 There are three chances to catch the show:
All performances will be held in the Casa Grande Union High School auditorium, 2730 N. Trekell Road.
Admission is $5 per person. Tickets are available at the door, payable with cash only, or may be purchased in advance at Casa Grande Community Services, 1905 N. Peart Road.