CASA GRANDE — A painting by local artist Duffy Sheridan was chosen for inclusion in a project that will send art into outer space.
"Something I Don't Know," an award-winning oil on linen painting by Sheridan, was chosen to be included in an upcoming launch of Lunar Codex, which aims to put some of the Earth's best representations of humanity on the moon.
The oil-on-linen painting won first place in the figurative category in the recent 15th annual international Art Renewal Center salon competition.
The painting is among 23 works from the ARC salon exhibition selected for inclusion in the Lunar Codex, Nova Collection.
For the project, art images will be laser-etched on a nickel microfiche, enclosed in a time capsule on a lunar lander and placed on the moon in perpetuity.
In total, the project includes more than 3,000 items such as contemporary books, stories, poetry, music, essays and art work. It will be the first significant placement of contemporary art on the moon in 50 years, the Lunar Codex website said.
The Lunar Codex project launches via the Nova-C lunar lander on the Space X Falcon 9 in early 2022. It is expected to land near the moon's Oceanus Procellarum (Ocean of Storms). The launch and landing will be livestreamed, according to the Lunar Codex website.
"The Lunar Codex started as a project to spread hope during a dark time — the years of the COVID-19 pandemic on Earth," Samuel Peralta, curator of the Lunar Codex project, said on the website. "The codex instills the moon with some of the heart of humanity, our art, so that when we look to the sky, the moon is a tangible symbol of hope, of what is possible when you believe."
Peralta believes the project is similar to a message-in-a-bottle for future travelers to the moon.
"Travelers who find these time capsules might discover some of the richness of our world today. It speaks to the idea that, despite wars and pandemics and climate upheaval, humankind found time to dream, time to create art," he said.
"Something I Don't Know" is currently on display in New York City and is on the cover of the June issue of Fine Art Connoisseur magazine.
From Oct. 8 through Dec. 12, the painting will be in Barcelona, Spain, to hang on display in the European Museum of Modern Art.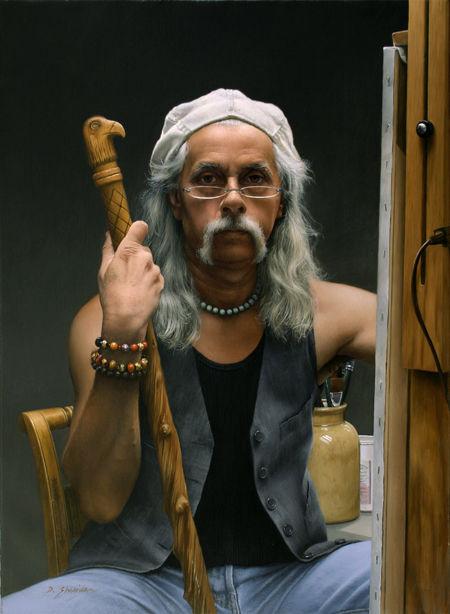 Sheridan is an internationally known realist painter who lives in Casa Grande. He and his wife maintain a studio at the Desert Rose Baha'i Institute in Eloy.
His work often focuses on the subtleness of human expression and explores his fascination with the human form. Most of the originals of his works are in galleries and museums or sold to art buyers.
"Artists are the light of the world," Sheridan said in a PinalCentral interview in 2019. "We have a responsibility to shine a light on goodness. Art can have a beneficial effect on people. It can elevate their spirit."