PHOENIX – Scott Sixkiller-Sinquah (Gila River Pima, Hopi) of Phoenix earned 230 points of a possible 250 to win his first adult world hoop dance title at the 30th Annual World Championship Hoop Dance Contest on Feb. 8 and 9 at the Heard Museum.
Sixkiller earned a spot in the finals after two preliminary rounds of competitions and took home the grand title and $4,000.
Sixkiller faced 22 of the best hoop dancers in his division including past champions Dallas Arcand (Cree, Sioux, Metis), Tyrese Jensen (Diné, Pima-Maricopa) and Tony Duncan (San Carlos Apache, Arikara, Hidasta). Sixkiller has been part of the top 10 hoop dancers for the past three years and came back this year prepared to win it all. The 26-year-old master of hoop dancing outshined the other contestants in precision, timing, rhythm, showmanship, creativeness and speed.
Tyrese Jensen (Diné, Pima-Maricopa), 2017 champion, placed second in the Adult Division with 227 points and James Jones (Tall Cree First Nation) finished in 3rd place with 223 points.
For the 30th consecutive year the Heard Museum has been home to the World Championship Hoop Dance contest, a competition that grows every year in difficulty as dancers continue to refine their routines integrating difficult manipulations of the hoops. This year, more than 5,000 people came to support a roster of 97 hoop dancers representing more than three dozen tribes from the U.S. and Canada, a record high in the number of participants, far exceeding expectations.
"The Heard Museum continues to be honored to host the World Championship Hoop Dance Contest and we could not be more thrilled with the turnout for the 30th anniversary event," said David M. Roche, Heard Museum Dickey Family Director and CEO. "This year's competition drew in the largest number of participants in its history. We're delighted to provide a home to the members of the hoop-dancing community."
The Teen Division was won by Nedallas Hammil (Diné) from Phoenix, who faced 14 contestants in his division. The Senior Division title was taken by Moontee Sinquah (Hopi, Tewa, Choctaw) from Mesa, Ariz. Mr. Sinquah is the father of Adult Champion Scott Sixkiller-Sinquah.
There was a record number of Youth competitors this year – 33 dancers in total. First place went to four-time Youth Division champion, Kailayne Jensen, (Diné, Maricopa), from Mesa. Jensen is the daughter of 2019 Senior Champion Lane Jensen and the sister of second place Adult winner, Tyrese Jensen.
The museum also had 18 participants in the Tiny Tots division (age 0 to 6 years), which included a shared cash prize of $500 sponsored by the Lightning Boy Foundation.
The World Championship was split into five divisions — tiny tots (5 and younger), youth (6 to 12 years old), teen (13 to 17), adult (18 to 39) and senior (40 and up). Contestants were judged by a panel of five who gave out points based on speed, agility, timing and precision. The contest was emceed for the 28th year by beloved Pow Wow and Hoop Dance legend, Dennis Bowen Sr., (Seneca), with support from Arena Director Eric Manuelito Jr., (Diné).
The 30th World Championship hoop dance competition was broadcast live by the Gila River Broadcasting Corporation and live streamed on Facebook, reaching people across the U.S. and internationally including viewers from Australia, Hungry and Hong Kong among others.
30th-Annual Heard Museum World Championship Hoop Dance Contest Final Results: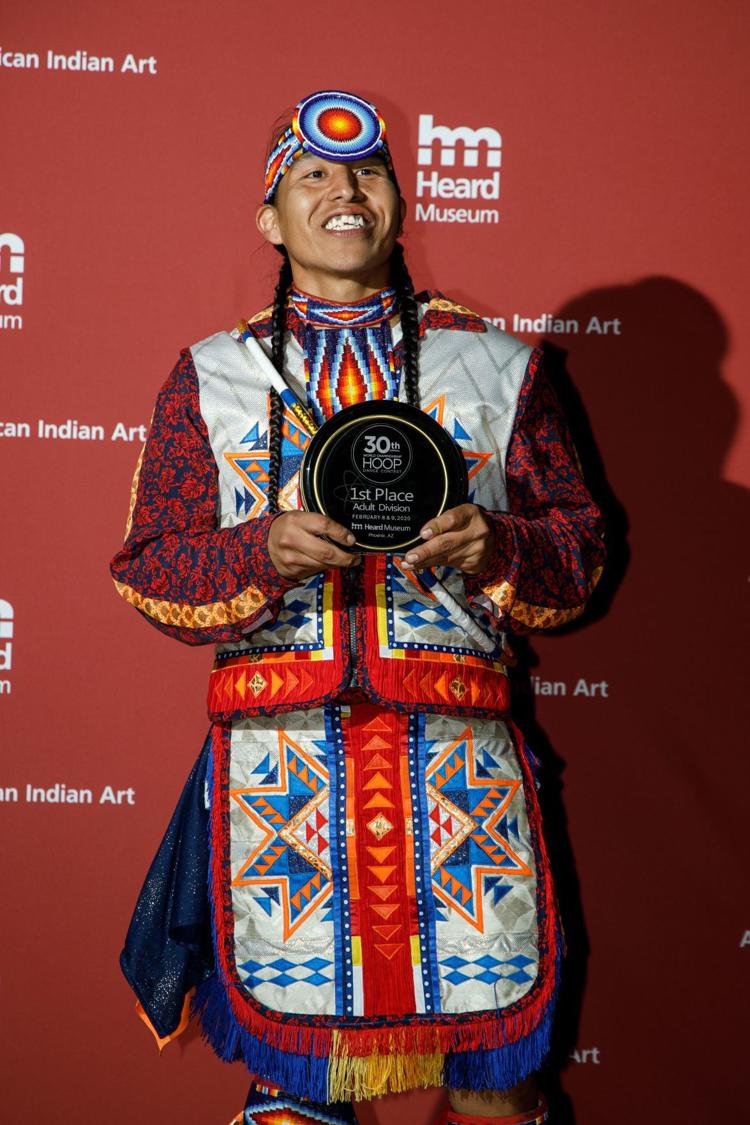 World Adult Champion: Scott Sixkiller-Sinquah (Gila River Pima, Hopi) 233 pts, Phoenix, AZ
2nd Place: Tyrese Jensen (Diné, Pima Maricopa) 227 pts, Winslow, AZ
3rd Place: James Jones (Tall Cree First Nation) 223 pts, Vancouver, BC
4th Place: Sampson Sixkiller-Sinquah (Gila River Pima, Hopi, Cherokee) Phoenix, AZ
5th Place: Talon Duncan (San Carlos, Apache, Arikara/Hidastsa/Mandan) Mesa, AZ
6th Place: Patrick Willie (Diné) Orem, UT
World Senior Champion: Moontee Sinquah (Hopi, Tewa, Choctaw) 218 pts, Second Mesa, AZ
2nd Place: Lisa Odjig (Obijwe, Odawa, Pottawatomi) 217 pts, Toronto, CA
3rd Place: Terry Goedel (Yakama) 208 pts, Rancho Cucamonga, CA
World Teen Champion: Nedallas Hammill (Diné) 205 pts, Phoenix, AZ
2nd Place: Josiah Enriquez (Pueblo of Pojaque) Sante Fe, NM
3rd Place: Joseph Romero (Pueblo of Pojaque/Nambé) Sante Fe, NM
Youth Division Champion: Kailayne Jensen (Diné) 202 pts, Dilkon, AZ
2nd Place: Isaiah George (Santa Clara Pueblo) Espanola, NM
3rd Place: JaiP'o Harvier (Pueblo of Pojoaque) Espanola, NM