CASA GRANDE -- Girl Scout cookie season is in full swing. And while the annual sweet treats are great for eating straight out of the box, the cookies are the secret ingredient in some recipes ranging from mint brownies to peanut Thai chicken.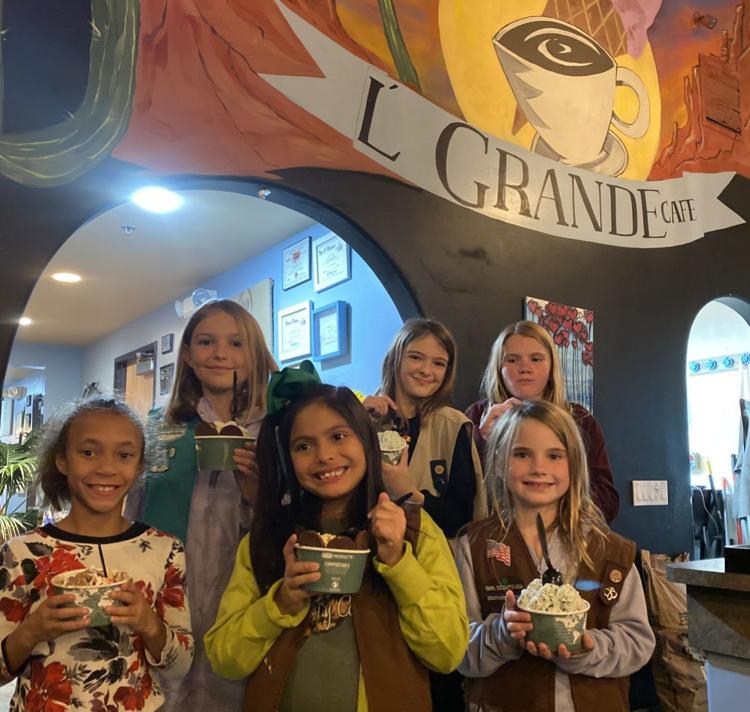 Below are some of the recipes found online that use Girl Scout cookies as an ingredient.
The first one, Tagalong and Do-si-do cake, is a creamy peanut butter-meets-ice cream concoction that's easy to make and delicious to eat. As well as two types of Girl Scout cookies, the recipe calls for ice cream, vanilla pudding, cream cheese, peanut butter and a few other ingredients.
Combined, these ingredients create a very decadent dessert, so when I made it, I tried to give it a healthier edge by substituting ice cream for lower fat frozen yogurt as well as using all natural (no sugar added) peanut butter and a reduced fat cream cheese. I used 2% milk, rather than whole, but didn't skimp on the half-and-half.
I also used my own homemade hot fudge sauce and caramel sauce (both super easy to make). They may not be healthier than the store-bought versions, but they taste a lot better.
This recipe took less than an hour to whip together, despite all the steps — crushing cookies, mixing ingredients, then layering. But the directions call for freezing the cake for about eight hours, so making the dessert requires some patience.
Cookie season for Girl Scouts of Southern Arizona runs through March 1.
For area troops, the annual cookie sale is the biggest fundraiser of the year and helps pay for various projects and learning experiences. All the money raised by troops during the fundraiser remains in the local community.
There are more than 8,000 Girl Scouts from Pima, Cochise, Santa Cruz, Pinal, Graham, Greenlee and Yuma counties in Girl Scouts of Southern Arizona. The organization is one of 112 Girl Scouts of the USA councils.
The cookie-finder feature on the Girl Scouts of Southern Arizona website, girlscoutcookies.org, maintains a list of scheduled cookie booths aimed at helping buyers find the closest cookies.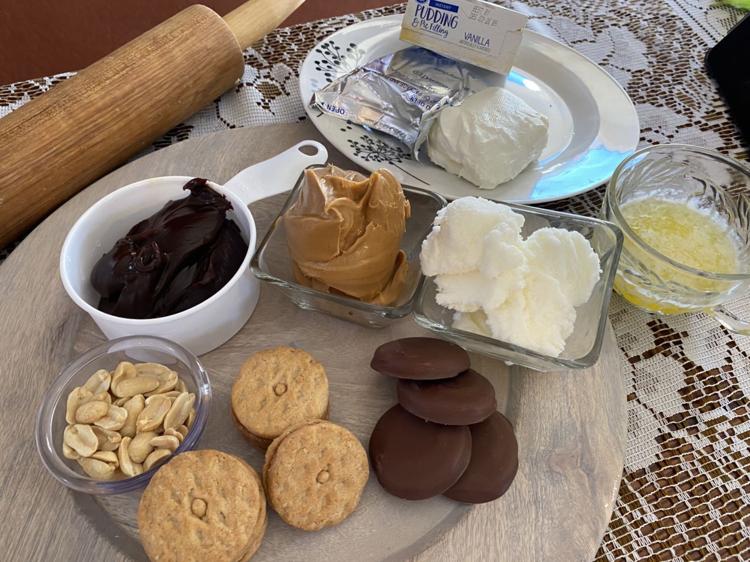 Tagalong and Do-si-do cake
1 box Do-si-dos, reserving 2-3 for top decoration
5 tablespoons butter, melted
1 jar (11 ounces) hot fudge
5½ ounces cream cheese, softened
1 cup natural creamy peanut butter
11/3 cups cold half-and-half
1 package (3.9 ounces) instant vanilla pudding
2¼ cups vanilla ice cream, softened
1 box Tagalongs, coarsely chopped, reserving 2-3 for top decoration
2-3 tablespoons caramel sauce
4 tablespoons salted peanuts, coarsely chopped
Line a loaf pan with plastic wrap.
Make the crust by putting the Do-si-dos and peanuts into a double freezer bag. Using a kitchen mallet (flat side), break them up into a medium-fine texture. Peanuts may have larger chunks, and cookies will break into fine crumbs. Transfer into a medium-sized bowl and stir in the melted butter. Put half of this mixture into the bottom of the lined baking pan and press flat. Reserve the rest for the top of the cake. Cover the crust in the pan with the hot fudge evenly. Put pan in freezer for at least 20 minutes.
Make the cake batter in a mixing bowl by creaming together the cream cheese and peanut butter. Set aside. In a new bowl, whisk together the half-and-half, milk and pudding mix until combined. Allow to stand for 2 minutes, so the pudding can set slightly.
Add the pudding and ice cream to the cream cheese mixture. Beat until smooth.
Layer the cake by removing the crust from the freezer. Top with half of the cake batter and spread evenly in the pan. Cover evenly with Tagalongs chunks. Then layer the remaining batter and top with remaining cookie crust. Pat smooth, covering the entire top. Freeze for 8 hours or overnight.
Do-si-dos peanut Thai chicken
8 crushed Do-si-dos Girl Scout cookies
2 pounds boneless, skinless chicken tenderloins
1 box of pad Thai noodles
Grill chicken tenderloins on wood skewers, brushing occasionally with teriyaki glaze. Prepare pad Thai noodles according to directions on box. Serve chicken tenderloins with four crushed Do-si-dos cookies sprinkled on top.
Mix remaining Do-si-dos cookie crumbs with peanut sauce. Pour peanut sauce over chicken and noodles, or serve as a side dipping sauce.
½ box of crushed Thin Mints Girl Scout Cookies
2 eggs or 3 eggs for cake-like brownies
Crush cookies into medium-size chunks. Mix all ingredients into mixing bowl. Do not use electric mixer as it will make the batter too stiff. Spread batter evenly in greased 13-by-9-by-2-inch baking pan. Bake in center of oven at 350 degrees for 30 to 35 minutes. Allow to cool before cutting. Serve with mint-flavored tea.
Lemon Shortbread cheesecake
1 package (9 ounces) Girl Scout Shortbread/Trefoils cookies
2 packages (8½ ounces each) Lemon-Ups cookies
1 package (8 ounces) cream cheese, softened
1 teaspoon vanilla extract
1½ cups heavy whipping cream
Place cookies in a food processor; pulse until fine crumbs form. Add butter; pulse just until blended. Press onto bottom of a greased 9-inch springform pan. Freeze 10 minutes.
Place cookies in a clean food processor; pulse until fine crumbs form. In a large bowl, beat cream cheese, sugar and vanilla until smooth. Gradually beat in Lemonades cookie crumbs. In another bowl, beat cream until soft peaks form; fold into cream cheese mixture. Spread over crust. Freeze, covered, for 1 hour.
Meanwhile, in a small heavy saucepan, whisk eggs, sugar and lemon juice until blended. Add butter; cook over medium heat, whisking constantly, until mixture is just thick enough to coat a metal spoon and a thermometer reads at least 170 degrees. Do not allow to boil. Remove from heat immediately. Strain through a fine-mesh strainer into a small bowl; cool. Press plastic wrap onto surface of lemon curd. Refrigerate until cold.
Spoon 1 cup lemon curd over cheesecake. Freeze 1 hour longer. Remove rim from pan. Serve with remaining lemon curd.