CASA GRANDE — With its array of colorful lights, festive holiday atmosphere and lineup of marching bands and decorated entries, the Casa Grande Electric Light Parade returns this year.
The procession will begin at 5:45 p.m. Saturday, Dec. 4, starting at North Colorado Street and winding its way west down Florence Boulevard and into downtown via Florence Street, concluding at Second Street.
To accommodate the parade, some street closures will be in place on Dec. 4, including:
Florence Street to Florence Boulevard and Second Street, 10 a.m. to 10 p.m.
Pottebaum Avenue between Ninth Street and Florence Boulevard, 2:30 to 10 p.m.
Florence Boulevard between Colorado Street and Peart Road, 3 to 10 p.m.
Colorado Street between Ninth and Florence Boulevard, 3 to 10 p.m.
Florence Boulevard, Peart Road to Florence Street, 4 to 10 p.m.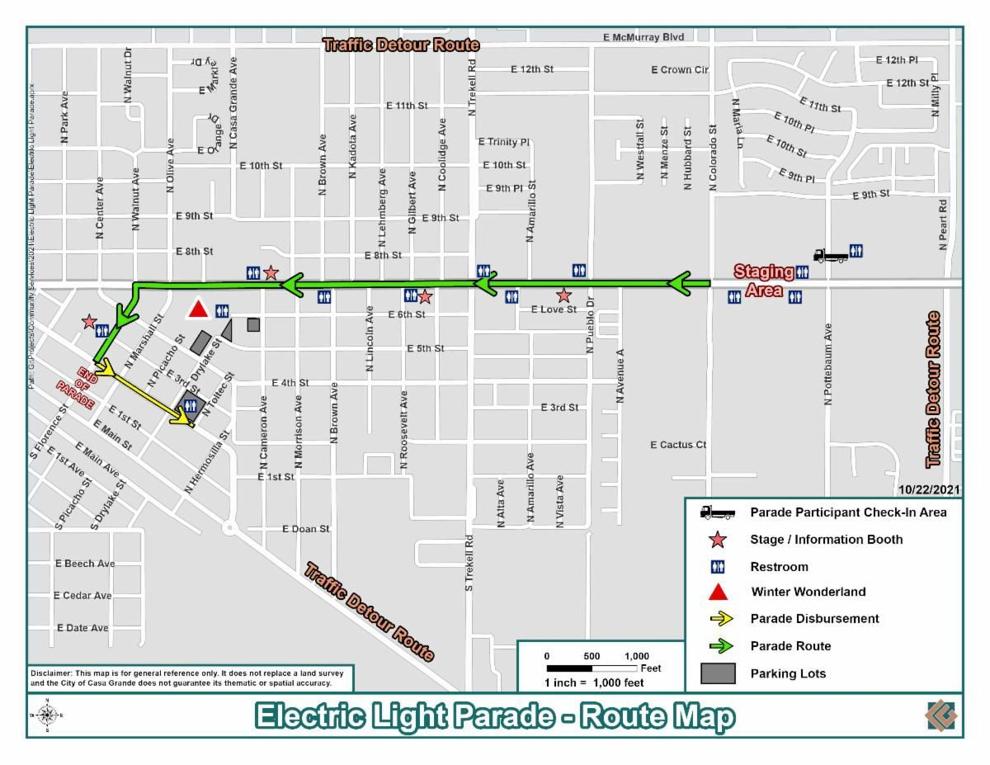 This year marks the 27th year for the event, which has become a Casa Grande tradition.
Last year, due to the COVID-19 pandemic, the parade was replaced with an Electric Light Tour, in which stationary holiday displays were set up throughout Casa Grande and area residents drove to each one, viewing them safely from their vehicles.
The parade is the most popular city-hosted event, a press release from the Casa Grande Community Services Department said.
Other festivities will be held prior to the parade.
From 1 to 3 p.m., historic downtown Casa Grande will host "Candy Cane Lane," in which people may enjoy holiday activities and collect treats from participating merchants.
From 2 to 4 p.m., the city's Winter Wonderland event will be held in Peart Park, 350 E. Sixth St. The event features holiday games, an ice skating rink, pictures with Santa, a craft area and music.
Food vendors will be in Peart Park for the event.
The tree lighting ceremony in front of Casa Grande City Hall begins at 6 p.m.
Parade-watchers may vote for their favorite entry online at www.ELPVOTE beginning at 7 p.m. on Dec. 4. The winner of the People's Choice Award will be recognized at an upcoming meeting of the Casa Grande City Council.